This Kim Kardashian Tweet Has Fans Convinced She's Welcoming Twins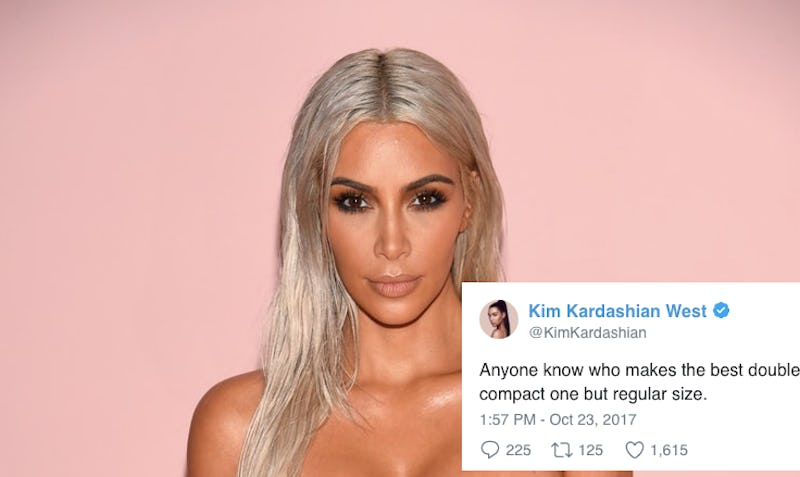 Getty Images/Bustle
Reality star, entrepreneur, and current mother of two Kim Kardashian sparked speculation that she is expecting twins via surrogate when she posed a question to her Twitter followers on Monday, Oct. 23. "Anyone know who makes the best double stroller?" Kardashian tweeted. "Not a tiny compact one but regular size." Immediately, people began wondering if the 37-year-old was confirming that she and husband Kanye West were having not one, but two children.
Following months of speculation, Kardashian only recently confirmed that she was expecting a baby a month ago, on Sept. 28. In a promotional clip for an episode of Kardashian's hit show, Keeping Up With the Kardashians. she was shown FaceTiming with sister Khloé Kardashian, and said, "We're having a baby!" Although she did not directly address the surrogate, it was assumed when her sister Khloé was referring to the couple's surrogate when she said "the person's pregnant," during their conversation.
Kardashian had frequently spoke about her desire to have a large family, but as was documented on KUWTK, she suffered from a pregnancy condition known as placenta accreta. As The American Pregnancy Association states, placenta accreta can be life threatening to the mother, and can also cause premature delivery and other "subsequent complications" for the baby.
Back around the time it was first reported that Kardashian's surrogate was pregnant, sources claimed to Us Weekly that she was three months along in July. That would suggest that Kardashian's new baby could potentially be due in January of 2018. With the due date just around the corner, fans are eager for additional details about the new baby. Clearly, Kardashian is under no obligation to reveal anything, but when she asked for advice about a "double stroller" many people quickly assumed she might be hinting that she and West are expecting twins.
However, Kardashian clarified her first tweet with a follow up message. "I have two kids people!" she said in her response to the speculation, followed by "LOL".
Kardashian also responded to another tweet from a fan asking if the star preferred a stroller that was "side by side or front and back."
Based on her followup messages, it doesn't necessarily seem like Kardashian was hinting that she and West are expecting twins. She does indeed have two children (North and Saint), as she tweeted, one of whom is less than two years old. North, is four years old, and son Saint will be turning two in December.
Additionally, it's been reported that sisters Khloé Kardashian and Kylie Jenner are also both pregnant. However, neither of them have confirmed anything, and currently Kardashian is the only member of the family who has publicly acknowledged that she is expecting a baby. But if either of the rumored pregnancies involving Jenner or Khloé Kardashian are true then there's a chance Kardashian was asking about double strollers so that she would have one available for her future child and a future niece or nephew to use. Or it could be for just her new baby and her son Saint, since he's still so young? There are plenty of options that have nothing to do with twins.
So, let's focus on what's already confirmed — Kardashian is expecting a baby with her husband, Kanye West, and she is in need of stroller advice, so if you have a recommendation for a regular sized double stroller then let Kardashian know! Otherwise, if the rumored due date is true, then it'll only be a few months before Kardashian and West welcome the newest member of their family.