How This New 'Legends Of Tomorrow' Villain Is Being Resurrected From Another Series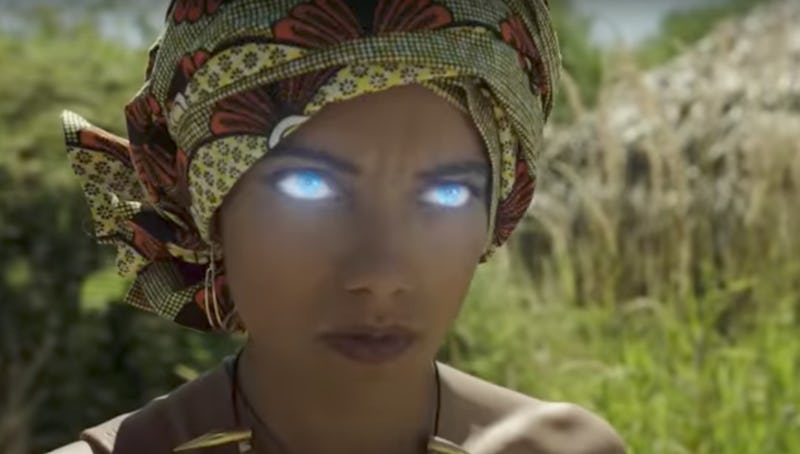 The CW
Legends Of Tomorrow Season 3 is kicking off on Oct. 10, and the new round of episodes promise more time-hopping, zany adventures, and new characters, including the villainous Kuasa. Is Kuasa from Legends Of Tomorrow in DC comics? While many of the Legends have their origins in the books, Kuasa actually originated in the CW's animated online original series Vixen, which is the origin story of Mari McCabe, the comic hero who uses an ancient totem to give her the powers of all the animals in Africa.
In Vixen, Kuasa (voiced by Princess Tiana herself, Anika Noni Rose) is Mari's sister, though the two did not grow up together — after the deaths of their parents, Mari was adopted into an American family, while Kuasa, who is older, remained in Africa. While Mari's comparably simpler and more comfortable life allowed her to remain the pure-hearted hero Vixen, Kuasa was morally compromised. And while her heart is in the right place, she ultimately dies in the animated series before being able to fully embrace the side of the light.
Legends of Tomorrow might change that fate. Even though she died in the animated series, executive producer Marc Guggenheim told Entertainment Weekly that Kuasa's Vixen storyline will affect her new arc. And they won't ignore that Ray and Kuasa actually met in the animated series. "She's always been morally questionable," Guggenheim explained. "But I think that's what makes it interesting as far as Amaya is concerned is that Ray, at the appropriate moment, will accurately tell her that there were moments where Kuasa was capable of selfless good, so I think that gives Amaya a little bit of hope.
Tracy Ifeachor will be taking on the live action role of Kuasa, and, according to Bleeding Cool, Guggenheim wants Mari to appear in Legends Season 3 as well, if Vixen and Arrow actress Megalyn Echikunwoke is available to reprise her role.
There's one more angle here, and that's that Kuasa is not the only relative of Vixen that has coveted her powers and sought to take them. In the comics, Mari's uncle, General Mustapha Maksai, kills Mari's father and caretaker in order to take the Tantu totem for himself. In Justice League of America Vol. 1: 234 as a part of the Justice League Detroit arc, Mari's origin story as a former citizen of the fictional African country Zambesi is sketched out, but only just. The character has only had one solo comic, Vixen: Return of the Lion, which dives into Mari's past and the death of her mother. Legends will be continuing the character's canonically established precedent for having jealous relatives who want to take the totem from her, also adding Amaya's connection to Mari's homeland and to her family. The Legends character, played by Maisie Richardson-Sellers, is actually Kuasa's grandmother.
Entertainment Weekly reported from the Legends of Tomorrow San Diego Comic-Con panel that Guggenheim hinted at the connections. "We're really excited," the producer said. "We're looking forward to the inevitable confrontation between Maisie's character [Amaya] and her granddaughter [Kuasa]." This will be a grandmother-granddaughter meeting for the books, with the elder Vixen armed with the knowledge that her descendant, at least in one timeline, becomes villainous, while also knowing that she does have the potential to become good, based on what Ray observed during her Vixen run.
Amaya, the original Vixen on Legends of Tomorrow, is certainly going to be invested in whether or not Kuasa can be redeemed — and, based on Guggenheim's comments, it sounds like there's potential for her to become a complicated, but good person, if she's willing to accept the fact that she doesn't hold the totem. But with the possibility that there could be two totems floating around in Season 3, Kuasa will certainly be tested in this new incarnation. Whether or not this character becomes a part of the team or stays a villain remains to be seen.