Kylie Jenner Is Reportedly Having A Baby Girl, But The "Clues" Say Otherwise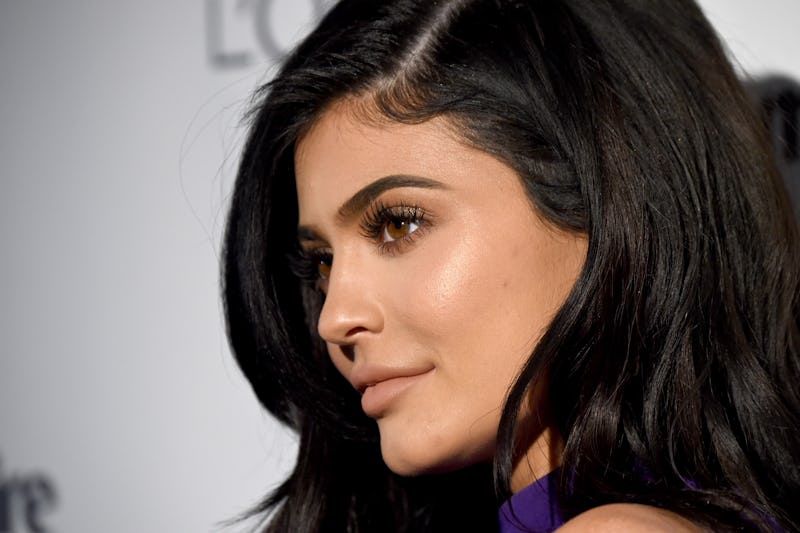 Frazer Harrison/Getty Images Entertainment/Getty Images
Reality star and makeup entrepreneur Kylie Jenner is reportedly expecting her first child with Travis Scott. And now, insiders close to the lip kit mogul have claimed that Kylie Jenner is expecting a baby girl. Us Weekly reports that multiple insiders all say Jenner is pregnant with a girl. (Bustle has reached out to Jenner's rep for comment, but did not receive a response at the time of publication.) Sources first reported that Jenner was pregnant a month ago. Jenner has yet to publicly confirm or deny the reports herself, but her mother, Kris Jenner, told The Cut, "She's not confirmed anything ... I think it's kind of wild that everyone is just assuming that that's just happening."
UPDATE: In a post on Twitter, Kylie Jenner confirmed she gave birth to a healthy baby girl on Feb. 1. In the tweet, Kylie wrote:
"I'm sorry for keeping you in the dark through all the assumptions. I understand you're used to me bringing you along an all my journeys. my pregnancy was one I chose not to do in front of the world. I knew for myself i needed to prepare for this role of a lifetime in the most positive, stress free and healthy way i knew how. there was no gotcha moment, no big paid reveal i had planned. I knew my baby would feel every stress and every emotion so I chose to do it this way for my little life and our happiness."
EARLIER: Jenner's older sister Kim Kardashian has, however, confirmed that she is expecting a child via a surrogate with her husband, Kanye West. On top of that, it's being reported that Khloé Kardashian is expecting a child with her boyfriend, Tristan Thompson, which she has not confirmed or denied. It was also recently reported by Us Weekly that Khloé is expecting a boy. So, yes, there is lot of Kardashian and Jenner baby news going around, but let's try and stay focused.
Although Jenner has not even confirmed the reports that she is pregnant, she has posted a few things to Snapchat over the past couple of weeks that followers think are clues about the gender of her baby. For instance, she once shared a photo of lip kit-themed phone cases featuring pink and blue lips with a caption that read, "Which one? I'm thinking blue..." She ended the message with a blue heart emoji. Fans quickly began wondering if her mention of the color blue instead of pink meant that she was expecting a baby boy.
Around the same time, Jenner also shared two photos to Instagram of herself wearing an oversized blue shirt, and in the caption she included the same blue heart emoji. Although many thought Jenner was suggesting that she and Scott are expecting a boy, it could all just have meant that she was currently enjoying the color blue — or that she was teasing all of us.
The family does seem to enjoy poking fun at all of the media attention surrounding their rumored pregnancies, so if Us Weekly's report that she's expecting a baby girl ends up being true, perhaps Jenner was intentionally trying to mislead followers with her posts.
Aside from claiming that she is expecting a baby girl, sources shared other details about Jenner and her reported pregnancy with Us Weekly. One source claimed that Jenner is "a bit relieved" that the world knows about her pregnancy, but she still isn't ready to publicly discuss the topic. Sources also said that she is currently decorating a nursery and preparing her home for the birth of her daughter. Us Weekly also reports that Jenner is getting help stocking up on supplies from sisters Kim and Kourtney Kardashian and from her mother.
Jenner is also reportedly leaning on Khloé for support and a source claimed that she "has been her rock." The source added that the sisters "are now in this journey together and are so elated to be pregnant at the same time. They both couldn't be happier."
Unfortunately, until the sisters confirm any of the pregnancy stories all we can do is speculate — and wait for Kim's baby, who we know is actually on the way.