Lana Del Rey Just Chopped Off Her Signature Long Hair & She Looks Totally Different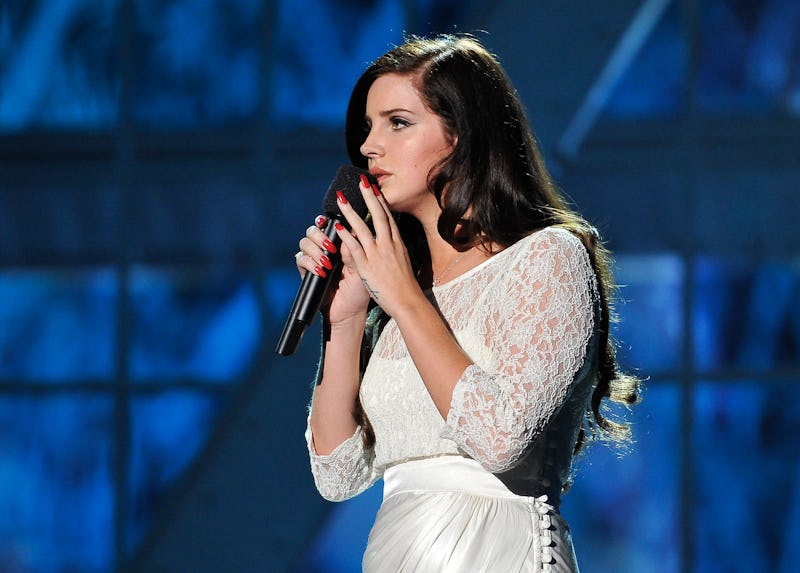 Steve Jennings/Getty Images Entertainment/Getty Images
If there's just one thing that Lana Del Rey is known for other than singing songs that make everyone inexplicably sad, it's her super, super long hair. But as most of the "Summertime Sadness" singer's songs seem to touch on, all good things must eventually come to an end. Yes, it seems Del Rey just chopped all her hair off, and she basically looks like a totally different person. Her signature long hair complemented her general throwback sense of style, which always seems to be pegged to a certain decade — '50s, '60s, '70s, you name it. No matter what she's wearing in particular, Del Rey always looks like she's from a totally different (better) era than everyone else. And this is partly because of her hair, styled with a signature bump in the back. Long locks no more, though, because a new Lana has arrived.
At a recent concert in New York City, Del Rey debuted the new 'do, much to her fans shock. While the mesmerizing, melancholy singer was as talented as ever, I'm sure, her haircut is what has people talking. If you aren't quite convinced that the "Young and Beautiful" singer's hair really did make an impact on her overall style, look at the new photos of her long bob. Del Rey goes from looking straight out of the '70s to as modern as it gets pretty quickly. Given the frequency of celebrity hair changes, it's possible Del Rey's new look could be fake — but it doesn't seem likely. This is a first for the star, so it seems like a pretty serious (and real) choice.
With a super chic straight part down the middle, and a definite lack of volume compared to what the singer is usually rocking, Del Rey looks gorgeous. But it's less, "Wow, this person looks like she just time traveled from laying in a daisy field in 1967," and more "Wow, this girl I saw at Starbucks was so cool." Personally, I'm a fan of whatever style Del Rey wants to rock, and even more so a fan of Del Rey embracing some change while still staying true to her roots. And by roots I mean her uncanny ability to always keep people (and fans) guessing.
Of course, die hard fans of Del Rey will probably be relieved to know that her other signature beauty staples (extra-long lashes, a thick black cat eye, bold brows and little else) don't seem to be going anywhere anytime soon. Del Rey's makeup at her big haircut reveal seemed to remain unchanged from her past looks. In changing times such as these, it's nice to know that something like a good AF cat eye can remain the same.
Del Rey's hair also looks a little bit darker than her usual auburn, rose gold-hinted shade of brown. Even if her lob is a little more modern than fans are used to, it's clear that the singer is staying as quirky and her than ever, pairing her blue jeans and black T-shirt with a sparkly choker and matching statement earrings.
Plus, she still has enough hair to change even more from this point. Whether that means wild vintage-style updos, even shorter hair, or adding in extensions, the possibilities are endless. At the end of the day, this simple hair change is just Lana being Lana — impossible to predict, a bit of a mystery, and totally unique. Even if you miss the 1970's-vibes version of the singer, you have to admire her ever-changing persona. Now that part of Del Rey's vibe just includes her hair, and it seems to fit her perfectly.