MAC Is Giving Away Free Lipstick Again & The Shades Are Super Iconic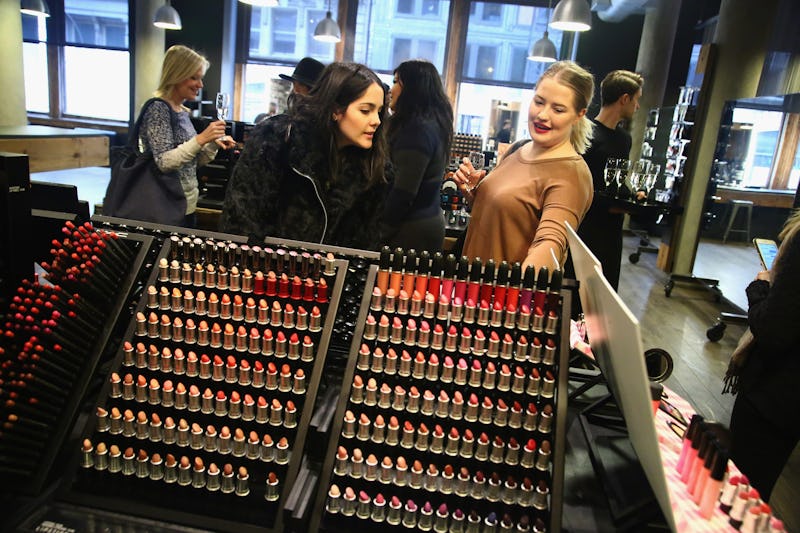 Astrid Stawiarz/Getty Images Entertainment/Getty Images
Thanksgiving has its yummy perks and Christmas can make anyone feel like a jolly kid again, but no holiday gets the blood running through a makeup junkie's veins quite like National Lipstick Day. The July 29 holiday is just around the corner and it has MAC giving away free lipstick.
No, your eyes are not deceiving you. You actually just read that the brand known for producing the best-selling Ruby Woo lipstick and one iconic celebrity collaboration after another is really giving out free merch. Sure, it sounds too good to be true. But when it comes to the national holiday dedicated to lippies, anything could happen for your beauty stash.
The big day is like Christmas in July, as beauty brands host major giveaways and offer BOGO lipstick promotions that you just can't beat. MAC Cosmetics does the holiday justice, having absolutely no catch to snagging one of their full-sized lipstick freebies. But consider this your warning that the National Lipstick Day lines at MAC stores and counters— and Ulta Beauty locations that carry the brand— will be bonkers. Free product just doesn't happen often at MAC, so when word gets out the the brand is practically throwing away a selection of cult-classic shades, the beauty community will surely rally.
For one day only, MAC is sharing a vault of throwback shades to the masses at no charge. The brand plans to give away over half a million lipsticks at locations from coast to coast across the U.S. Bringing back a selection of nine artist-favorite shades, MAC will have a trendy range of light nude, deep red, and bold berry hues available for lucky customers to grab without any purchase necessary. That's really something, considering MAC tubes typically sell for $18.50 each.
The shades up for choosing are some of the best lippies the brand has dug up from their archives. The barbie pink "Moxie" is just what the summer season calls for. You can never go wrong with a peachy-nude like "Delish. And let's not even get started on a deep stunner like "Epic". When MAC does a giveaway, the brand does it incredibly right, offering up such on trend shades.
A lipstick lover could only hope for a successful trip to MAC when the major holiday arrives. Supplies are available for one per customer and they will be extremely limited, as there's expected to be just over 100 giveaways per store. That makes the odds of trying one of the iconic shades for nothing very slim.
But there is still hope for getting a freebie if you shop MAC's virtual inventory. The giveaway will extend online while supplies last, as customers will have the option to choose one of the nine lippies with orders over $25. There's even free shipping included in the deal. Of course, that means the National Lipstick Day offer isn't completely without a catch if you choose to shop online, but hey! A free lippie is a free lippie, and that's what really matters to true lipstick lover.