Everything We Know About Maura Murray's Disappearance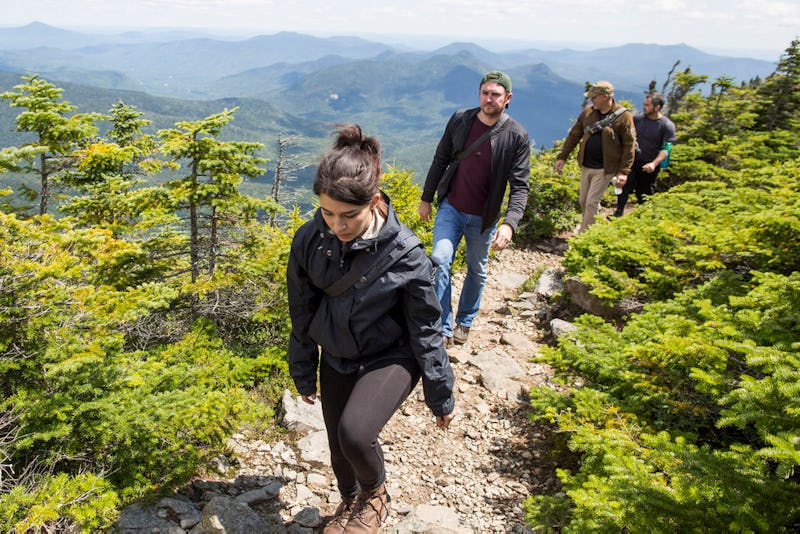 Scott Eisen/Oxygen Media
It's been nearly 14 years since Maura Murray mysteriously vanished, leaving behind little more than a trail of confusion and a string of tangled theories. But as Oxygen prepares to rehash her long-cold case for its latest true crime docuseries, one central question still remains: Is Maura Murray alive in 2017?
Over the last decade, many have speculated about what could have happened to the then-21-year-old nursing student. Many think she was killed as a result of foul play, others believe she ran away, and some think she died of exposure after fleeing from her car, which she crashed into a New Hampshire snowbank just before she officially went missing. According to Missing Maura Murray, a podcast focused on her disappearance, the few witnesses who spoke with police claimed that she denied their assistance, and when the authorities arrived on scene 10 minutes later, Murray had seemingly vanished without a trace. She has not been seen or heard from since. That was Feb. 9, 2004.
According to Boston Magazine, she'd emailed her professors and employer at the University of Massachusetts asking for time off to deal with a death in the family. She then reportedly packed up her textbooks, toiletries, a week's worth of clothes, exercise gear, a stuffed animal given to her by her dad, and a necklace from her boyfriend. Police claim she also withdrew $280 from an ATM — almost all of the money in her account — and purchased Baileys, Kahlúa, vodka, and box wine from a nearby liquor store. At 4:37 p.m., she checked her voicemail — her last known call — and proceeded to drive three hours from her dorm in Amherst, Massachusetts to the White Mountains of New Hampshire, where she crashed her car after taking a shaky turn on Route 112.
Boston Magazine goes on to report that the police officer who responded to the accident found the car locked, its windshield cracked, and the air bags deployed, but no sign of Murray. Many of her belongings remained in the car: some alcohol; a MapQuest printout of directions to Burlington, Vermont; and a book titled Not Without Peril: 150 Years of Misadventure on the Presidential Range of New Hampshire, which chronicles more than a dozen hiker tragedies in the White Mountains from the 19th century until its publication in 2009. But, per Oxygen, her debit card, credit cards, and cell phone were all reportedly missing. According to the Boston Globe, there were no footprints in the snow, a heat-seeking helicopter spotted nothing, search parties repeatedly came up empty, and tracking dogs lost any scent of Murray within 100 feet of where her car sat abandoned by the side of the road. To this day, her body has never been found.
The evidence leading up to Murray's disappearance is wide-ranging, but it's that last detail that makes her case so tricky. Without a body, it's impossible to say definitively whether or not Murray is alive, and if she is, where she might be. Many have claimed that there are clues that seem to suggest she was planning to run away and start over, and maybe she did, but it's just as likely that she was killed or died in the woods. With little to no leads, what could have happened to her on that fated night back in February 2004 is no better than an informed guess.
Oxygen's The Disappearance of Maura Murray, which premiered Sept. 23, hopes to turn over a new stone, and perhaps it will. But if, in 13 years, little progress has been made, it feels more like what happened to Maura Murray is one of those mysteries forever destined to remain unsolved.