The Brow Pen That Gives You The Look Of Microbladed Brows Is FINALLY Available In The U.S.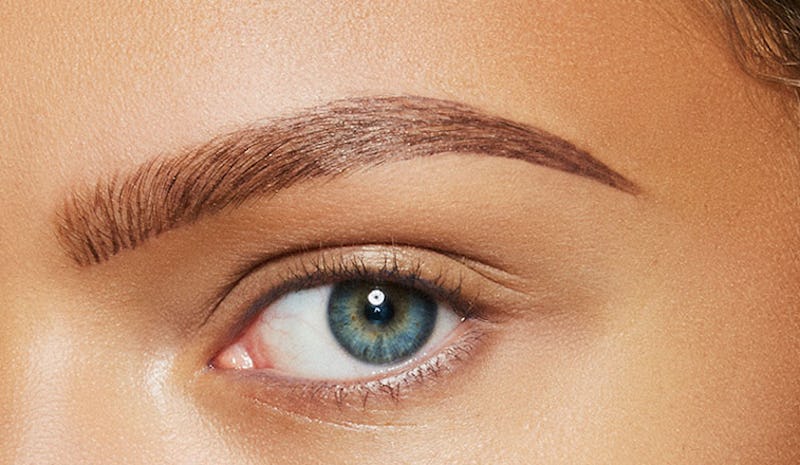 Maybelline
Big, bushy brows have been in style for a long time now, where unplucked arches took over everything from Vogue covers, to London catwalks, to the bartender pulling you a draft at your Friday night bar. But if you're not blessed with naturally thick brows, there have been a parade of products that aimed to help — and now Maybelline's Tattoo Studio Brow Tint Pen is about to revolutionize the game even further for you.
Filling in your arches is an art, and it takes a good amount of skill to make them look natural and full, instead of artificial and penciled. Over the years you probably have watched countless of YouTube videos, practiced hundreds of hours with makeup wipes, and tested everything from gels, to crayons, to pomades, to pens just to perfect that look. But it's not always easy — and many of us still have no idea how to make those quick pencil swipes mimic real hair. And that's where the Tattoo Brow Tint Pen comes in: It's going to save you so much time and heartache.
Rather than coming in the form of a felt tip pen, this new tool has a micro-fork applicator that looks like a tiny fork, featuring four prongs. These prongs will not only draw on hairs four times as fast, but they promise to mimic the look of microbladed arches, helping you pull off deceivingly natural brows.
The pen first launched in Asia, but seeing how well it did in the Singapore market it is now coming Stateside, much to the delight of makeup lovers. While it hasn't hit store shelves yet, there are reviews on it by Australian beauty bloggers who had access to it on their side of the world, so we already have the inside scoop on whether the pen lives up to its expectations. Specifically, vlogger Tina Yong test drove it on her segment "Tina Tries It," where she explores whether a product is a gimmick or worth the purchase.
In the video we got to see the ink in action, gauging whether it was easy to apply, whether it blended in naturally, and whether or not it would bleed out or stay put. While Yong admitted it took a moment to become comfortable with the pen and get into a groove of stroking on hairs, it swipes on really naturally and creates a fuller brow within minutes. To give you an idea how it fills in the arches, below is a screen grab with one of Yong's eyebrows filled in and the other makeup free. As you can see, the pen really does give a microbladed-like look.
Having oily/combination skin, Yong was curious to see how budge-proof the ink would be, so she checked in at the end of the day to show viewers how the product held up after hours of work and errand running. While the ink did wear off a bit and lost some of its definition after six hours, it still looked natural and well filled in.
If you haven't tried the hair stroke technique before and want to become more familiar with it before buying the pen, the YouTube video from makeup artist Wayne Goss is a great introduction. While he uses pomade, you can easily mimic his strokes and placements with the new Tattoo Brow Tint Pen. And for those who have thin eyebrows, don't worry — it won't look artificial on you! Fast forward to the three minute mark to see him fill in pencil thin, sparse brows and transform them into bushy wonders.
If you're excited to try out this product yourself, you'll be happy to know that you won't have to wait long. Launching in June, it will come in four different shades — blonde, light brown, medium brown, and dark brown — and will cost $9.99, making it an affordable beauty staple. Prepare to have your thickest brows yet!