Will Michelle Obama Attend The Inauguration?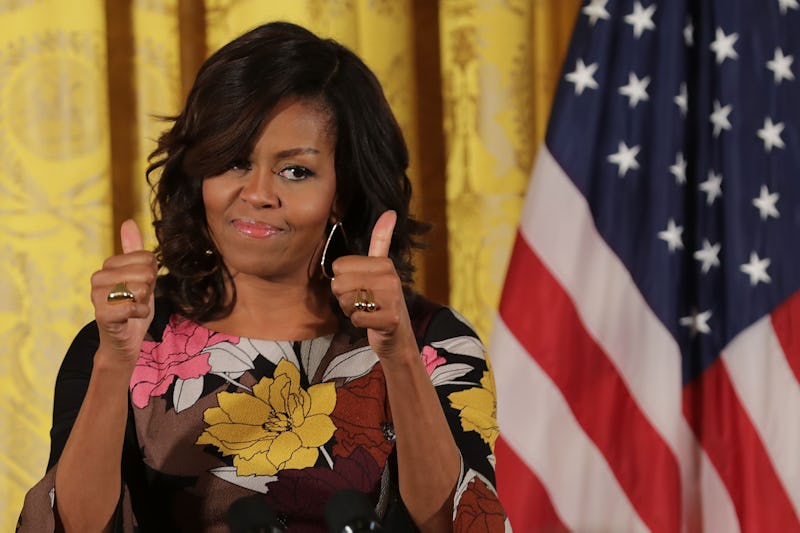 Chip Somodevilla/Getty Images News/Getty Images
Soon, Donald Trump will be sworn in as the next president and Barack Obama, well, he's going on a long vacation. Obviously, we know Obama will be at the Capitol to officially pass the torch to Trump on Inauguration Day, but will Michelle Obama be at the inauguration? Given that the president's inauguration is a historic day for our nation and given that Michelle is the First Lady, I can't imagine why she wouldn't be there. Update: According to multiple news outlets, Michelle Obama attended the inauguration along with President Obama after greeting President-elect Donald Trump and Melania Trump at the White House.
Not surprisingly, the Obamas have a busy schedule on Friday, Jan. 20. Before the actual swearing-in ceremony begins at noon, Obama and Michelle will enjoy a cup of morning tea with Donald and Melania Trump while movers rustle about the White House, loading up one family's belongings and unpacking another's. As per tradition, the president and his family will gather round with their staff one last time to say their goodbyes. I'm sure this moment will be a little emotional for both the First Family and their staff, after working together for the past eight years.
Afterwards, the "outgoing family" and "incoming family," as the Obamas and Trumps are called, respectively, will ride to the Capitol together. Since Inauguration Day mainly focuses on the incoming president, Michelle won't be making speeches at the event or anything like that (her final speech as First Lady already took place on Jan. 6). It's a rather quiet affair for the Obama family, whose presence is a symbolic support of the president's transfer of power to the next leader — an essential feature of American democracy.
Once Trump is officially declared the next president of the United States, Obama and Michelle will fly to Andrews Air Force Base together in the presidential helicopter (typically called Air Force One, but only if the current president is seated inside) for the last time, another longtime inauguration tradition. From there, the couple will fly to Palm Springs, Calif., for a much-needed vacation after eight years of running the country (and doing a pretty awesome job, I might add). Considering all the traditions that the president's family is required to partake in, it's pretty much a given that Michelle Obama is going to be there. She kind of has to, anyway.
Honestly, I am equally sad about the Obama family leaving the White House as I am about Donald Trump becoming the nation's next Commander-in-Chief. As the First Lady for so many years, Michelle has played a crucial role in making the United States a better country to live in. She's advocated for women's rights, fought against childhood obesity, and created a resource program for veterans, just to name a few. She's one of the most eloquent, motivational speakers of all time (her words have made me cry on more than one occasion). She's also more popular than her husband, according to a recent poll by Pew Research Center and NPR.
Love letters have been written to Michelle Obama by notable figures like Rashida Jones and Chimamanda Ngozi Adichie. They pointed out her role as "mom-in-chief" to Malia and Sasha Obama, her model parenting skills, her ability to exude grace under pressure, and so much more that makes Michelle an outstanding First Lady. Not to mention, she and Obama make a pretty awesome power couple:
Excuse me, I need a moment to wipe a few tears.
Even though Trump's inauguration is the last time we'll see Michelle Obama in public as the First Lady, I'm confident that she will continue making moves long after she and Obama have left the White House. In fact, she told Vogue in a November 2016 interview that she would "always be engaged in some way in public service and public life."
No matter what she's advocating for, whether that's education, women's rights, the end of poverty, or children's health care, her legacy is far from over.