Michelle Obama Won't Be At The D.C. Women's March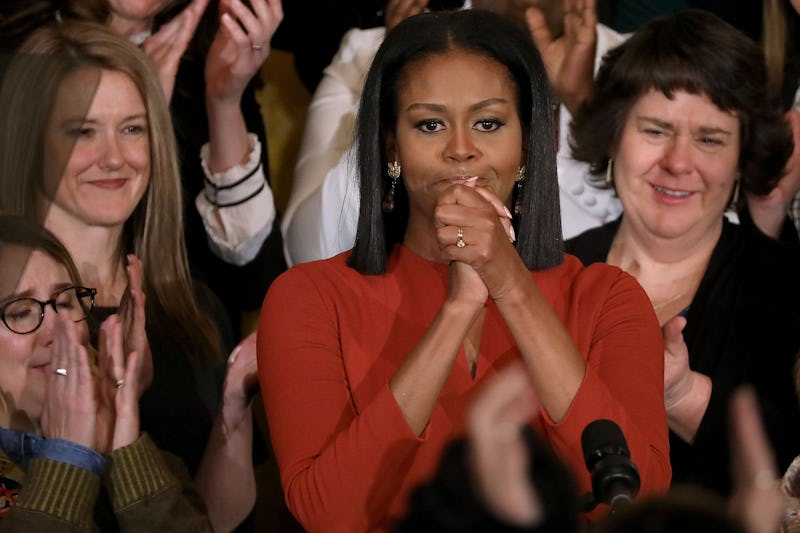 Chip Somodevilla/Getty Images News/Getty Images
It's safe to say the Women's March on Jan. 21 might be attracting more celebrities than Donald Trump's inauguration itself. And celebs aren't the only ones refusing to partake in the inaugural festivities. In fact, no less than 60 Democratic congress members have boycotted Trump's swearing-in. The Obamas, however, are standing by tradition and attending the event respectfully. Will Michelle Obama attend the Women's March too, though?
As it turns out, the soon-to-be former first family has big plans of their own they must tend to. And after eight years of making the sacrifices that come along with leading an entire nation, it's difficult to blame them. Soon after Trump's swearing-in comes to a close, the Obamas' long-awaited vacation begins.
On Tuesday, White House press secretary Josh Earnest told CNN that the Obamas will be jetting out of D.C. after the inauguration and traveling to sunny Palm Springs, California. He said of President Obama:
He and his family have enjoyed the time they spent there in the past, and they're looking forward to traveling there on Friday.
Needless to say, this means Michelle will not be attending the Women's March — at least not in Washington D.C. Since there are hundreds of "sister" marches happening across the nation, however, she has options. Conveniently, there happens to be a march right in Palm Springs the day after she arrives there. Though she's been cordially invited, it remains to be seen whether or not she'll accept.
Michelle hasn't been vocal about the massive Women's March movement, but she's been a feminist voice in Washington for the past eight years. Most recently at the DNC, which seems like it happened ages ago now that Trump has been elected, she stood on the stage in support of Hillary Clinton and gave a speech that continues to be quoted today. She said:
That is the story of this country, the story that has brought me to this stage tonight, the story of generations of people who felt the lash of bondage, the shame of servitude, the sting of segregation, but who kept on striving and hoping and doing what needed to be done so that today I wake up every morning in a house that was built by slaves. And I watch my daughters, two beautiful, intelligent, black young women playing with their dogs on the White House lawn. And because of Hillary Clinton, my daughters and all our sons and daughters now take for granted that a woman can be president of the United States.
And just as Michelle spoke about furthering progress, Women's March participants will stand up for inclusivity and women's rights. Though Michelle likely won't be in attendance at the march, many Women's March signs will likely include her words.