Is Mike Pence's Son Still in the Military?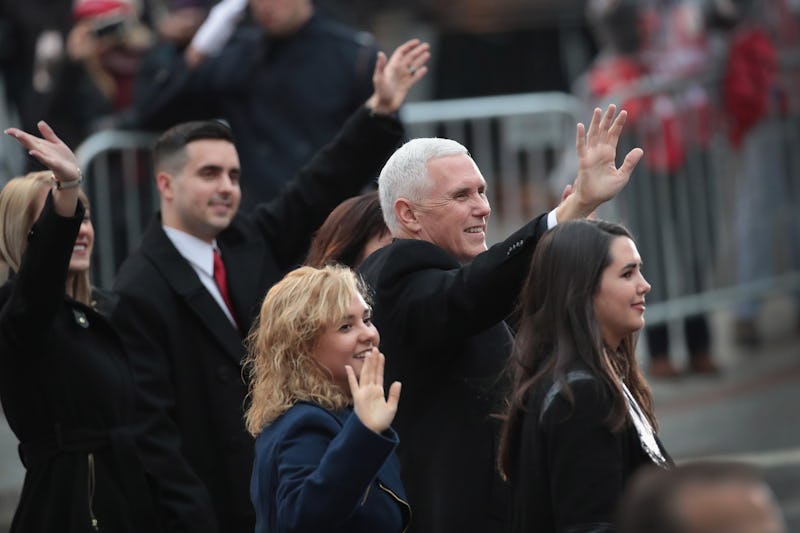 Scott Olson/Getty Images News/Getty Images
As he begins his role as vice president, Mike Pence is facing new attention — as is his family. While youngest daughter Audrey may have gotten the most for her (relatively) liberal stance, many have wondered about the vice president's one son. Michael J. Pence is a Marine. Although Michael attended his father's inauguration in Washington, D.C. last weekend, Pence is still a member of the Marine Corps, where he is a second lieutenant. He was previously stationed in Pensacola, Florida, at the Naval Air Station, where he was receiving flight training to learn how to fly a T-6 B Texan II plane. The younger Pence, a graduate of Purdue University in his native Indiana, is currently stationed in Mississippi, at the Naval Air Station Meridian. His parents spent Thanksgiving visiting him in the Magnolia State.
Even if Trump had lost the election, the vice presidential family would still be a military one. Former Democratic vice presidential candidate Tim Kaine also has a son in the Marines. In July, Hope Hodge Seck at Military.com speculated that their military connections might make either vice presidential candidate "more circumspect about deploying troops and more in tune with the needs of fighting forces." The previous vice presidential family also had a close connection with the military — Joe Biden's son Beau served in Iraq.
Michael Pence also attended an interfaith service the weekend of the inauguration along with his parents and fiancee, Sarah Whiteside. Pence met Whiteside in 2013 in a political science class at Purdue.
Michael Pence's two sisters, Audrey and Charlotte, attended Hanover College and DePaul University, respectively. As mentioned above, Audrey reportedly considers herself to be socially liberal, but voted for her father during his gubernatorial campaign.
Though the vice president has long served as an elected official for the state of Indiana, the Pence children did not always grow up there. The family moved to Washington, D.C. for a while when Pence was serving as a congressman — a "decision [Mike Pence's wife, Karen] never regretted," according to the Southern Indiana News & Tribune. In 2013, Michael told WHTR that he and his sisters have "seen some cool things in D.C." but that they otherwise had a normal life.
The vice president seems proud of his son's service. After Michael earned his U.S. Marine Corps commission, then-Gov. Pence posted on Twitter, "So proud to see our son 2nd Lt Michael J Pence earn his @USMC comm & join the fine men & women of US military today."
Michael Pence appears poised to continue his military service throughout his father's time as vice president.