These Trailblazers Helped Pave The Way For 'Valor's Fierce Female Pilot, Nora Madani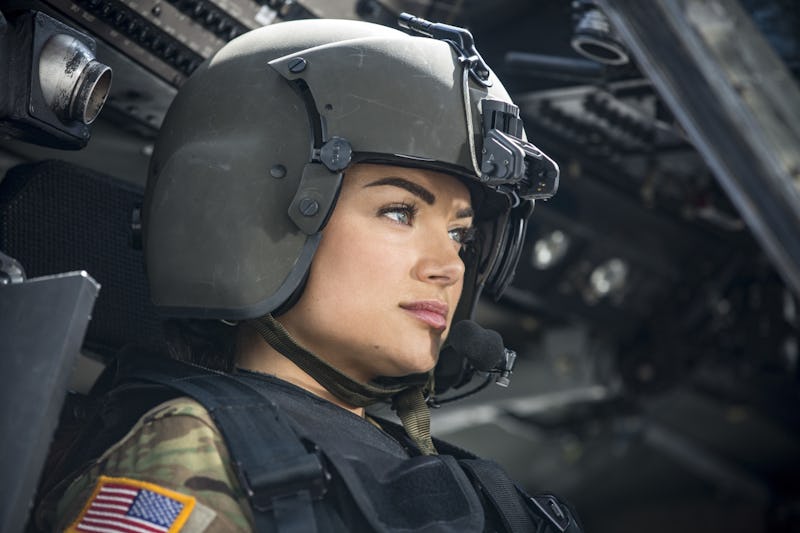 Erika Doss/The CW
The fall TV slate may be uncharacteristically packed with military-themed dramas, but The CW's Valor has one key difference: It's female-driven. The show is anchored by Nora Madani, one of the first female pilots in the military's helicopter division — a role that should have clear-cut ties to the real-life women who paved the way off-screen. So, is Nora Madani is based on a real person, or is she simply a fictional amalgamation of the women who came before her?
Given that series creator Kyle Jarrow and star Christina Ochoa (Animal Kingdom, Blood Drive) have yet to reveal any direct inspiration, it's safe to assume the latter, but there are certainly plenty of IRL role models they could have drawn from when it came to crafting the character. According to the Air Force Personnel Center, women first entered pilot training in 1976, navigator training in 1977, and fighter pilot training in 1993. In 1974, Sally D. Murphy became the army's first female helicopter pilot; Two decades later, in 1997, Jennifer Murray became the first woman to pilot a chopper around the world; and in 2011, Mary Jennings Hegar — a former helicopter pilot for the U.S. Air National Guard — became the second woman to receive the Distinguished Flying Cross with a Valor Device, after Amelia Earhart in 1932. Thanks in large part to these pioneering women — and countless others — the U.S. Air Force is now roughly 20 percent female, according to the Personnel Center.
That tenacity shines through in Nora, an intensely driven junior pilot eager to prove herself within the Army's testosterone-fueled boys club. "She belongs in helo, and she's fought very hard to be a part of that unit and be piloting those birds. So for her, it's very important to be part of the mission," Ochoa said in a promotional video for the series.
But, because it's television, she's not without her baggage. After a botched mission in Somalia, Nora and her commanding officer, Captain Leland Gallo (Matt Barr) are the only two to survive, while the whereabouts of their comrade Jimmy Kam (W. Tre' Davis) remain unknown. Now back in the U.S., Nora and Gallo are the only ones who know the truth about what happened, and they must work to keep the secret under wraps. Meanwhile, Nora is still nursing a gunshot wound she incurred while in the field, as well as managing PTSD stemming from the mission, and — from the looks of the trailer — a burgeoning romance with Gallo.
"She's also suffering from PTSD and is on painkillers and medication, and she struggles a little bit with the balance between dealing with her wound and her potential emotional scarring as well," Ochoa continued in the promo clip. "She struggles with who she's being loyal to. Is she being loyal to her squadron, her partner, her country, her duty, her sense of patriotism?"
Nora's boyfriend, First Lieutenant Ian Porter (Charlie Barnett), suspects she's not telling him the full story, and Jess Kam (Corbin Reid), Jimmy's wife and Nora's friend, is exasperated and angry that she's being kept in the dark. Initially, Nora is grounded from flying as she recovers, but when it's discovered that Jimmy is still alive and being held captive by a group of ruthless terrorists, she's fiercely determined to rejoin Gallo in the cockpit and rescue the friend they left behind.
So, Nora may not be based on a real person, but from the sounds of it, her spirit will embody the female trailblazers that came before her. See how things pan out when Valor premieres Oct. 9 at 9 p.m. ET.