Paris Hilton Is Basically A Brunette Now & The Change Will Make You Do A Double Take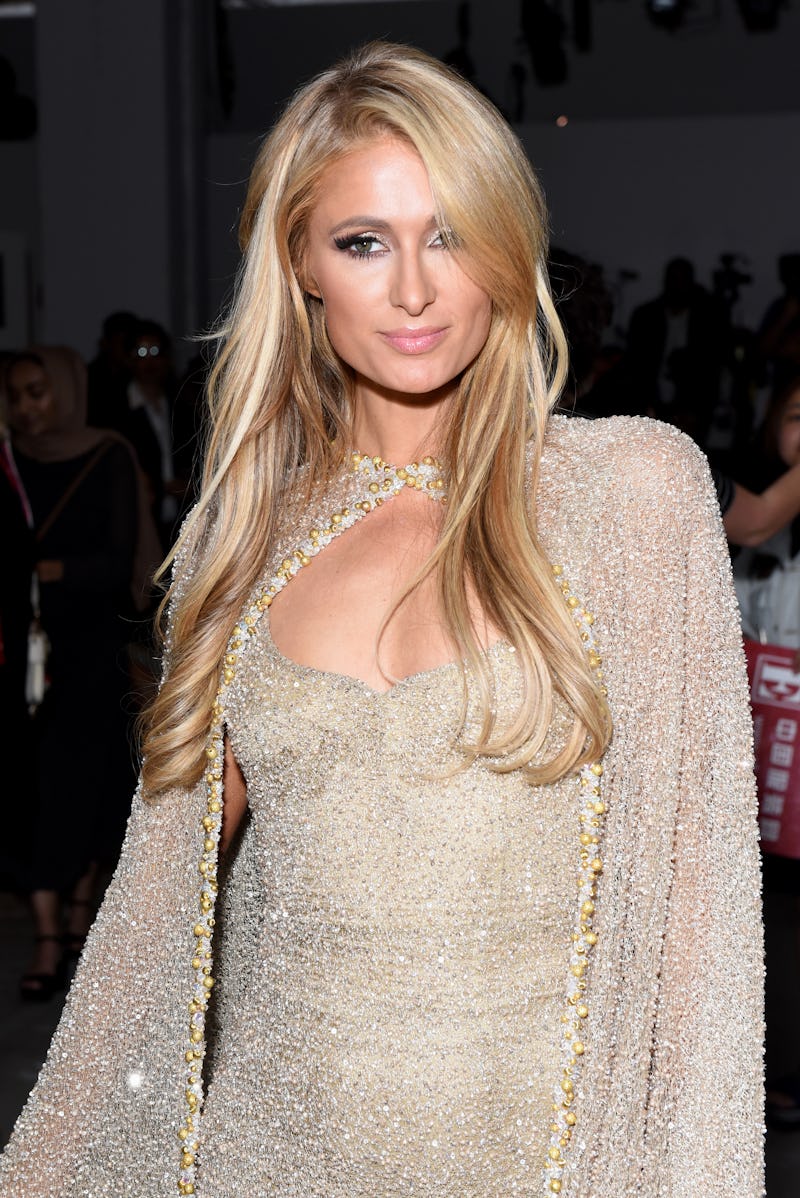 Presley Ann/Getty Images Entertainment/Getty Images
While there is a list of iconic blonde, perhaps none stand out as much to millennials as Paris Hilton. While the New York socialite turned DJ may not be quite as iconic as say Marilyn Monroe, she's still just as defied by her light locks. However, has Paris Hilton gone brunette? The early 2000s icon may not have totally lost her blonde, but the hair change definitely marks a departure from her memorable platinum blonde of your childhood.
On Wednesday night, Hilton walked the red carpet for the Make A Wish Foundation and debuted markedly darker locks. The look definitely leans more toward the bronde — brown and blonde — trend, the ends of Hilton's hair are totally brunette, and it looks gorgeous. Considering that Hilton's hair is one of her most defining features, the new deep blonde and brown combination is eye catching for her fans.
This isn't the first time that Hilton has been brunette, though. Back in June, the star debuted much darker locks than her current style, but according to Teen Vogue, the hair was a wig for a movie she and her boyfriend were filming. Considering that a truly blonde Paris Hilton may cement the lose of millennial's childhood, infinite praise emojis to the universe for Hilton not losing her blonde completely.
While blonde Hilton will forever be iconic, there's little doubt that the new 'do looks incredible on her.
Of course, her original turn as brunette was undeniably memorable, and the internet was shook over it.
Many would place Kim Kardashian as the iconic brunette from Hilton's friend group. Now, however, it appears as if the pair are switching roles. With Kardashain West now killing it with platinum hair and Hilton going darker with her locks, the world may actually be ending and millennials everywhere will be thrown into a tailspin. Whether or not Hilton is exploring whether or not brunettes have more fun instead of blondes, whatever she finds out, there's little doubt that her new bronde hair is on trend and stunning.
Of course, Hilton isn't the only celebrity with an iconic 2000s hairstyles. These looks of yesteryear will never lose their nostalgic quality even if no one will ever rock again — hopefully.
Lindsay Lohan's Red
Hilton's former friend Lindsay Lohan's red hair was iconic, and it's still one of the things that she's most well known for. While she's been blonde, brunette, and a deeper shade of red, her auburn locks will always be how millennials remember her.
Christina Aguilera's X-Tina Highlights
X-Tina's hair is so engrained in millennials' mind that even Kylie Jenner dressed up as the star for Halloween last year. The costume was so incredible, that Aguilera herself ask Jenner to attend her birthday costume while wearing it. Now, that's iconic hair.
Kelly Clarkson's Chunky Highlights
Clarkson balanced on the line between blonde and brunette with her ultra chunky blonde highlights. Fresh off her American Idol win, she was rocking one of the most popular styles of the time.
Kelly Rowland's Red
Rowland's vibrant, red highlights in her hair wer insanely popular in the early 2000s, and honestly, no one could rock them like her.
Clearly, while Paris Hilton may have been the most well-known blonde of the early 2000s, she certainly wasn't alone in the iconic hair department. While it wasn't all bad, it certainly wasn't the best time for everyone's tresses. Now, however, Hilton's signature platinum has been replaced by a more toned down bronde, and while it's a bit sad to say goodbye to the golden girl of yesterday, hair is just hair, right? Who knows, perhaps tomorrow fans will see her rocking blonde once more.