RBG's Dislike Of Trump Is Notorious, But ...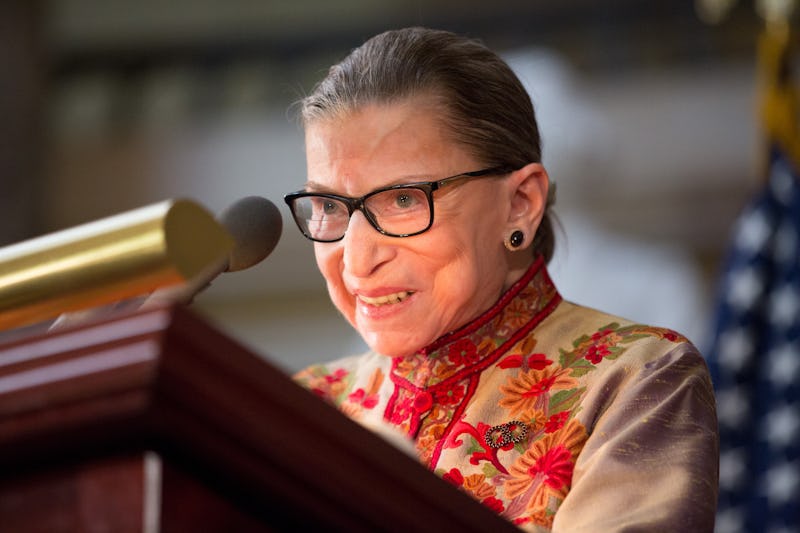 Allison Shelley/Getty Images News/Getty Images
The Notorious RBG is one of the last hopes for the Democratic party as Donald Trump's presidency approaches, so her choices in the next four years will undoubtedly be intensely watched and debated. One of the earliest choices she'll make will be before he even technically becomes president — whether or not to show up to his swearing-in. Is Ruth Bader Ginsburg at the inauguration? She isn't a Trump fan, but that doesn't mean she's going to sit this one out. All eight Supreme Court justices will reportedly be at the event.
Update: According to WSB-TV in Atlanta, among the many outlets streaming the inauguration live, Ruth Bader Ginsburg has arrived at the inauguration, along with her fellow Supreme Court Justices.
Earlier: No one is legally compelled to go to the inauguration except the incoming president, but justices are always invited to attend. The late Justice Antonin Scalia, who famously disagreed with President Obama on nearly everything, still showed up to the 44th president's second inauguration, albeit sporting a really funny hat that nearly stole the show. There's obviously a difference between Obama's comportment and Trump's, and if Ginsburg chose to skip it, she'd be well within her reasonable rights. However, it's also perfectly respectable for her to attend the inauguration with the rest of her fellow justices — it is, despite all the controversy surrounding it, an important moment in history and she deserves to go without any judgment.
Ginsburg did not made her disdain for Trump a secret during his campaign. In July, Ginsburg bashed the then-presidential candidate, calling him "a faker" who "has no consistency about him." And though she later apologized for inserting herself into the election, she at least confirmed that she feels as much derision for Trump as many who share her political beliefs.
But, like the true professional she is, she's most likely going to work hard to make amends with Trump. As the ranking liberal on the court, it's up to her to try and keep its ideological balance somewhat reasonable. Trump will be able to appoint a justice as soon as he takes office, and he could appoint two more if Justices Anthony Kennedy and Stephen Breyer decide to retire within his term. Attending the inauguration is an important step toward making that balance happen, so realistically, it was a smart move for Ginsburg to brave the cold and show up.
Ginsburg technically isn't a politician, but she's going to have a big effect on politics during Trump's presidency. Her SCOTUS seat is one of the last advantages that the Democrats have in the federal government, and she's proven that she doesn't necessarily mind speaking out against Trump. Her attendance at the inauguration isn't a symbol of conformity; it's a sign that she's just as dedicated to fighting him as ever.