Sasha Obama Is Missing From The Farewell Speech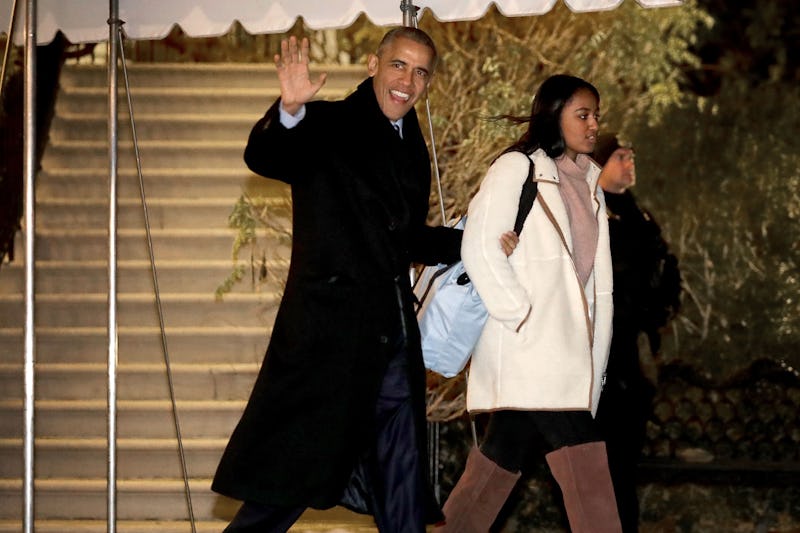 Chip Somodevilla/Getty Images News/Getty Images
During President Obama's emotional farewell speech in Chicago tonight, one face was notably absent from the crowd when cameras panned to the First Family. Obama's youngest daughter, Sasha, was not visible in the crowd, and did not appear on stage after the end of the president's address. Update: According to CBS News reporter Mark Knoller, there was a big reason Sasha couldn't attend. A White House official reportedly told Knoller that Sasha stayed in Washington, D.C., because she had an exam at school the morning after the speech. Sasha attends Sidwell Friends School, and a screenshot posted by Josie Duffy Rice of the Daily Kos asserts that travel is not an OK excuse for an absence from an exam.
First Lady Michelle Obama could be seen in the front row, with her arm wrapped around Malia, as both fought back tears. But 15-year-old Sasha was nowhere to be seen — and Twitter was quick to notice, as the hashtag #WhereIsSasha began trending moments after the president concluded his remarks.
There's no official comment from the White House about why Sasha wasn't at the farewell address, and there was no indication ahead of time that she would not be in attendance. But that didn't stop Twitter sleuths from speculating on a whole host of explanations.
It's a School Night
Does Sasha Have an Exam Tomorrow Morning?
She Didn't Want to Cry on Camera
It Was Teenage Angst
She's Home Prepping the White House for Trump
She Had the Flu — Like Everyone Else
She Was Watching the LiveStream With Her Squad
This Is A Job for Investigative Journalists
The Most Important Question of the End of The Obama Era:
Regardless of what eventually emerges as the answer to this burning question, it's clear that the entire Obama family exuded grace, poise, and class throughout eight years under the most intense spotlight in the world. And more than once, the Obama daughters perfectly encapsulated what we were feeling:
So here's to you, Malia and Sasha Obama, wherever you are. I have a sneaking suspicion we haven't seen the last of either of you. (At least, I sure hope we haven't.)