Summer Zervos Plans To Attend The Women's March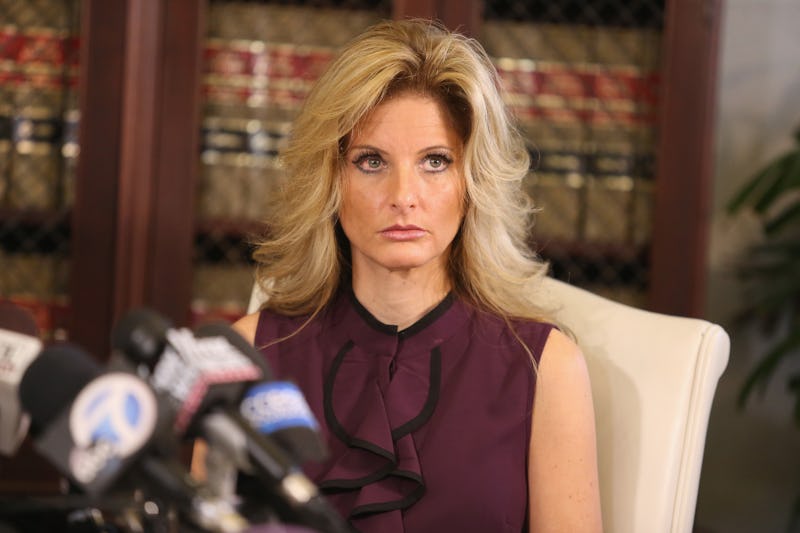 Frederick M. Brown/Getty Images Entertainment/Getty Images
It's a busy week for President-elect Donald Trump as he prepares to take the highest office in the land at his inauguration Friday. His ascent to the presidency hasn't come without criticism. The organization of the Women's March on Washington has served as a force to oppose the attitude toward women Trump displayed throughout his campaign, which was wrapped up in allegations of sexual misconduct — allegations Trump vehemently denied. Summer Zervos, one of the women who accused him of misconduct, is taking the next step following his electoral victory by suing him for defamation, allegations Trump's spokesperson say have no merit. But will Zervos attend Trump's inauguration?
When Zervos announced the lawsuit Tuesday, her lawyer Gloria Allred also announced that they both plan to attend the Women's March on Washington Saturday. So, the chances of Zervos being at the inauguration are likely slim to none. Plus, considering she's suing him, she's probably not interested in attending an event where he's sworn in as the 45th president.
Back in October 2016, Zervos accused Trump of sexual misconduct. Zervos claimed that in 2007, Trump kissed and groped her, CBS reported. Trump has denied the incident, as well as accusations from other women during his campaign. Trump said he never met Zervos at a hotel and never touched her inappropriately.
Zervos was a contestant on Trump's show, The Apprentice season five, and was the first person fired. Afterward, she said she asked to meet with Trump in New York to inquire about working for the Trump Organization, according to CBS, and when they did she claimed he kissed her on the lips. She also claimed they later met at the Beverly Hills Hotel in Los Angeles, where she alleged he kissed her and put his hand on her breast.
Trump released a statement about Zervos's specific accusations, saying,
I vaguely remember Ms. Zervos as one of the many contestants on The Apprentice over the years. To be clear, I never met her at a hotel or greeted her inappropriately a decade ago. That is not who I am as a person, and it is not how I've conducted my life. In fact, Ms. Zervos continued to contact me for help, emailing my office on April 14th of this year asking that I visit her restaurant in California.
The lawsuit claims that Trump "knowingly, intentionally, and maliciously threw" the women who had accused him of misconduct "under the bus," and labeled them "liars," according to Variety. In response to the defamation suit, Trump spokesperson Hope Hicks told NBC News, "More of the same from Gloria Allred. There is no truth to this absurd story."
During the press conference announcing the lawsuit Allred said, "we are going to fight this fight, we are going to fight this battle, because Ms. Zervos is the right one to fight for."
It's probably safe to say that none of the women who Trump referred to as liars will be attending his inauguration.