Taylor Swift Might Have Written A Diss Track About Kanye Based On This Theory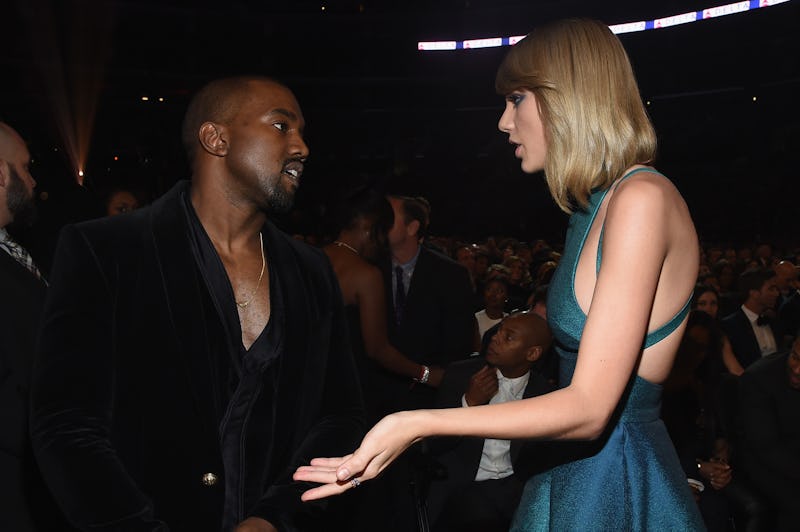 Larry Busacca/Getty Images Entertainment/Getty Images
Another day, another drama drama. On Thursday, Swift announced "Gorgeous" on Instagram, a new song that's sure to get her a lot of attention. But there's a chance that "Gorgeous" might diss Kanye West. I know, at this point, it seems inevitable that Swift will diss West on her upcoming album, Reputation. After all, fans quickly found clues that "Look At What You Made Me Do" was aimed at West and his wife Kim Kardashian. But really, hear me out with this one.
The teaser for "Gorgeous," which officially drops on Oct. 19 at midnight, doesn't give much away. In fact, all you hear is the voice of a young child saying the title over a spacey beat. But, what you see is the word "Gorgeous" over and over again in the same font as her Reputation album cover, which looks a whole lot like the font West used for his last album, Life Of Pablo. A coincidence? Her fans definitely think not.
But, there's an even bigger clue that Swift's upcoming single has a Kanye connection, and it has to do with the song's title. A year after the infamous 2009 MTV VMAs incident, in which, as if you don't remember, West interrupted Swift's acceptance speech for Best Female Video to praise Beyoncé's "Single Ladies," West released a song called "Gorgeous."
No one thinks this song off West's 2010 album, My Beautiful Dark Twisted Fantasy is about Swift, but there is a slight connection. The album, West's fifth, is about fame — how hard it is to get and even harder to hold on to. At the time when West was working on the album, there was talk that the Swift incident was going to ruin his career. This album, which he went into a "self-imposed exile" to record, was supposed to be his comeback.
And, it was. The album was a hit with critics and fans and seven years later, many consider My Beautiful Dark Twisted Fantasy to be a masterpiece, not to mention, West's best album. It didn't make people forget about the Swift incident, but it became a footnote in his career and not the be all, end all that some thought it could be.
Now, what's interesting about this song, is that the chorus, sung by Kid Cudi, ends with the line: "I will never ever let you live this down, down, down." Now, maybe Swift doesn't know about this song, but, if she does, that line feels like one that would stand out. Especially to someone who sang "I've got a list of names and yours is in red, underlined" on "Look What You Made Me Do," a song that implies revenge.
So, maybe on "Gorgeous" Swift is looking to remind West that even if some people have forgotten what he did in 2009, she certainly hasn't. This is a way of reminding him, forcing him to think back to that time that he may rather forget. She likely won't ever let him live this down.
If this ends up being the case, it's an interesting tactic, being that last year when she was involved in a different feud with West and Kardashian over whether she had approved the line where West calls her a "b*tch" on his song "Famous," she released a statement saying, "I would very much like to be excluded from this narrative, one that I have never asked to be a part of, since 2009."
And, if a recent Us Weekly story is to be believed, she will continue the Kanye narrative with Reputation, out Nov. 10, which just so happens to be the 10-year anniversary West's mother's death. (Swift's label Big Machine denied that this was intentional.) A "Swift source" told the magazine that the singer will be delving further into her feuds with her new album, not just the ones with West, but Katy Perry and ex-boyfriend Calvin Harris, too.
"It will be across multiple songs, somewhat cryptically," this source said about the singer, who has always been known to include her personal life into her work. So, when you listen to "Gorgeous" later, look for the Kanye West signs and you just may find them.