Why 'Lost' & 'House' Fans Will Love 'The Good Doctor'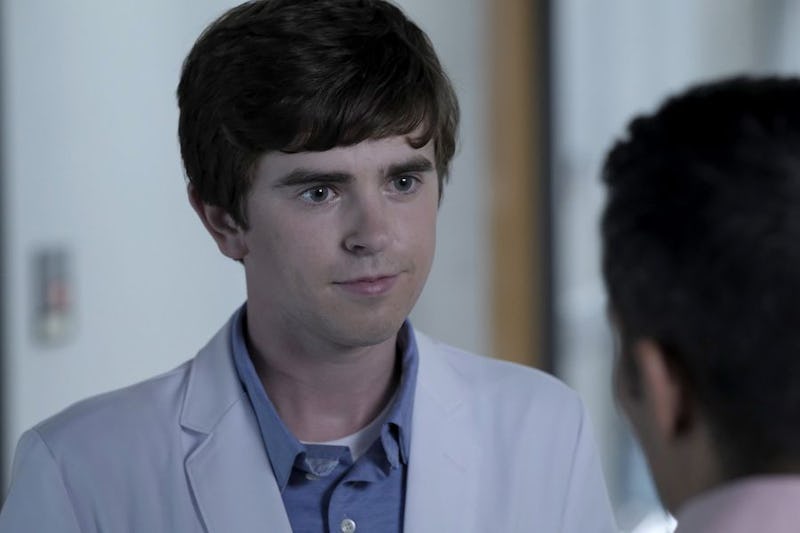 ABC/Eike Schroter
Audiences love a good medical drama and ABC has delivered with The Good Doctor. Besides bringing with it fascinating medical conundrums each week, this new series also examines how its main character, Dr. Shaun Murphy (played by Bates Hotel's Freddie Highmore), is proving his capabilities to a skeptical hospital staff — though he shouldn't have to, they're just very close-minded. Diagnosed with autism and savant syndrome, Shaun's level of genius is incredible, and he proves himself every episode. So, is The Good Doctor based on a true story?
While this particular character and his life are not based on any specific true story, Murphy's savant syndrome is real. According to an Autism Speaks review of the series by Kerry Magro, who is on the autism spectrum, this aspect of the show is well-portrayed in The Good Doctor. Magro wrote:
It's a razor's edge. Trying to avoid producing "inspiration porn" but also making the programming meaningful to those in the autism community ... The Good Doctor does a fine job of navigating this razor's edge. [Highmore] does well in his debut, showing several characteristics that can accompany an autism diagnosis.
Savant syndrome is a rarer condition within the autism community itself, according to a Wisconsin Medical Society article exploring the myths and realities associated with this syndrome. Another notable portrayal of someone on the autism spectrum who also has savant syndrome is Dustin Hoffman's character in Rain Man. This particular character was based on a real life person named Kim Peek, who had savant syndrome but wasn't on the autism spectrum according to Psychology Today. So, this particular syndrome is very real and, as the Psychology Today article states, occurs not only in conjunction with some cases of autism, but also with a wide array of brain injuries, it is still widely misunderstood.
As with any lead character who is a representation of a larger community, it's imperative to write the character respectfully. For their part, it seems that showrunner David Shore and his crew of writers tried to do their due diligence when it came to handling the character of Shaun with respect. Per TVLine, from the Television Critics Association press tour, Shore explained the research for Shaun's character on The Good Doctor, saying, "We saw a lot of documentaries. We consulted with people. We have people on the spectrum who we're working with."
Although Shore believes they did their homework, he added that Shaun is "a very specific character. He's not there to represent autism." Shore also said that viewers will see the character struggle a bit with protocol within the hospital, mainly on the communication side of things. Shore said that Shaun's cognitive abilities are superior, but he will deal with other professional struggles. "His fine motor skills will prove to be quite capable. The real challenge will be his communication skills … He can be right, and fail in communicating the information, which is crucial. There will be consequences for him not following protocol," said Shore.
Although The Good Doctor isn't based on a real person or a real story, it is based on another television show from the other side of the globe. As Deadline reported, Daniel Dae Kim, whom you may remember from Lost and Hawaii Five-0, adapted the American series from a South Korean hit television show called Good Doctor. Along with a great base format to work with, the series has Shore as a show runner, who is responsible for one of the most beloved medical dramas, House. So, fans can be assured that this genre is Shore's wheelhouse.
The Good Doctor may not be based on a true story but it definitely takes a magnifying glass to the realities of life on the autism spectrum. By all accounts, the series and its showrunners dedicated time to get Shaun and his diagnosis right and treat it with respect. And, that's the most important thing of all.