Kris Jenner's Makeup Collection Might Just Be The Most Anticipated Launch Of 2018 So Far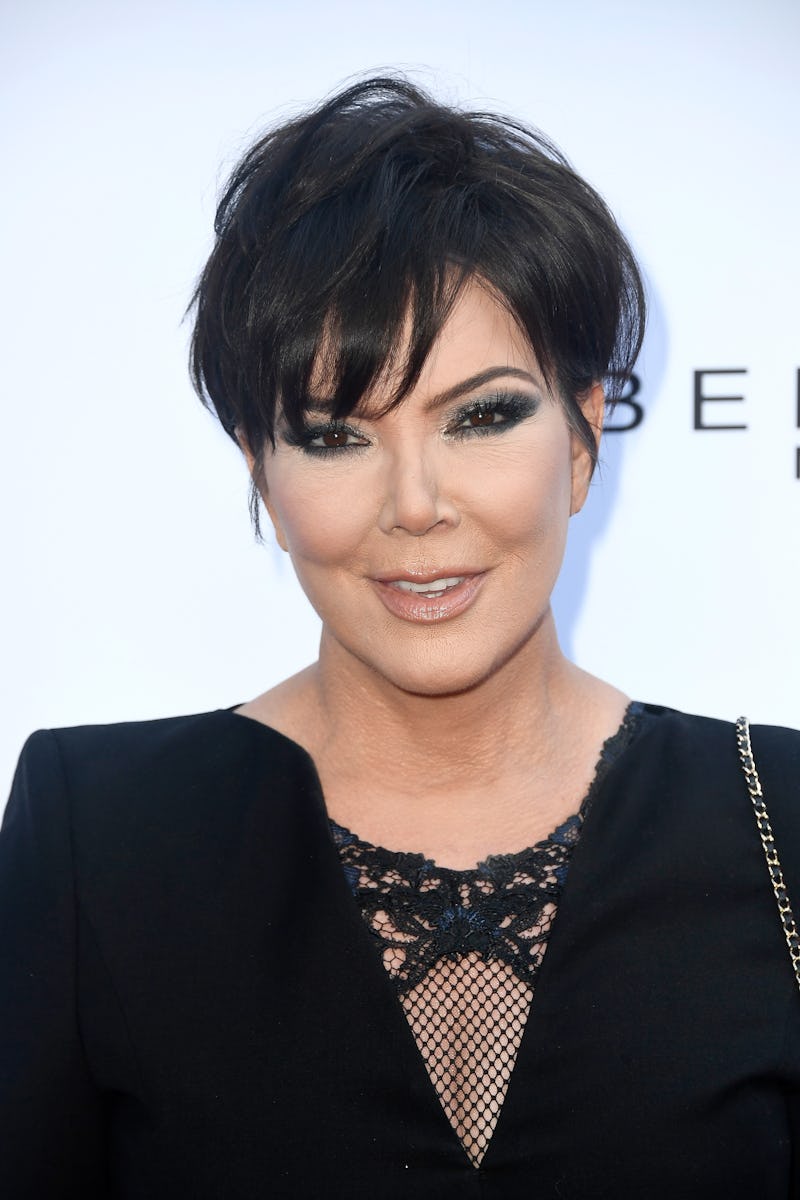 Frazer Harrison/Getty Images Entertainment/Getty Images
The beauty world is abuzz over a recent hostile takeover of a well known cosmetics brand. Kris Jenner just hacked Kylie Cosmetics and turned it into Kris Cosmetics, in honor of her first Kris Jenner x Kylie Cosmetics makeup line that will launch on Mother's Day. But is the Kris Jenner makeup collab limited edition? You might have some wiggle room when it comes to buying the products.
As far as marketing tactics go, this has been one of the most creative and playful beauty launches in recent memory. The takeover was announced a couple of days ago, when fans noticed that Kylie's beauty brand avatar was replaced by a fur-wrapped, sunglasses-wearing photo of Kris. Then a video explaining Kris's intentions appeared on followers' feeds, where she pulled up to what we can assume are the offices of Kylie Cosmetics, and crossed out her daughter's name in a red marker. She then walked into a warehouse and stepped in front of a camera like she was an action movie villain, presumably to create a ransom video to send to her daughter. Hilarious, clever, and so very Kardashian, it was the most innovative way to share the announcement.
But it's not just the marketing that has us hyped — the products themselves look beautiful and worthy of the fanfare.
The whole collection comes in a black and white motif, which is Kris's signature color scheme. Rarely do we see her in an outfit that's not swathed in black. The line comes with a wide range of products, from a liquid lipstick kit, to a face palette, to creme lipstick tubes, to an eyeshadow palette.
The liquid lipstick collection is hilariously dubbed "Momager" and includes eight different lippies, ranging from matte lipsticks to shiny glosses. The face palette is called "You're Doing Great, Sweetie" and has four pans that span across blush, bronzer, and highlighter. Each of the hues have fun names like "Your Sister is Going to Jail" and "I Raised You on Mac N' Cheese."
Then there is the eyeshadow palette, which cheekily has an image of Kris printed on it with "10%" flashed across her sunglasses, which is the cut she gets of her daughters' money. The names of the shadows are just as great, where she has shades like "I'm Watching You" (a gunmetal grey,) ""Payback's A Bitch" (a peachy transition hue,) and "Does It Come In Black" (an inky black.)
But will the Kris Jenner collab be limited-edition, or will you have ample time to pick up the products at your own pace? While there's no official word yet, one can assume it will sell out quickly but won't be limited-edition, just like the sister collabs. Which means if you miss getting your palette or lipstick bundle on Mother's Day, you will have to wait until the restock.
For example, the recently released Kourt x Kylie collaboration that dropped on April 24 — which has bright new summer lipstick shades and eyeshadow and lip bundles — wasn't labeled as limited-edition and is still available on the Kylie Cosmetics website since it has been restocked.
The same thing happened with the KKW x Kylie collab, which launched back in April 2017 and completely sold out in two hours. But if you check under the "Collections" tab of Kylie Cosmetics today, all the products are back in stock.
The KoKo Kollection of November 2016 followed the same equation, where it sold out in a record breaking five minutes, and was then restocked again. A year and a half later and it's still available for purchase on the website.
Following that same logic, the Kris Jenner collection will probably sell out on Mother's Day, but you will be able to grab the items you didn't get to nab when it restocks a few days later. Which means all of us can eventually add Kris Jenner's genius branding to our makeup bags.