Don't Look For Any Similarities Between 'The Mayor' & Donald Trump's Presidential Campaign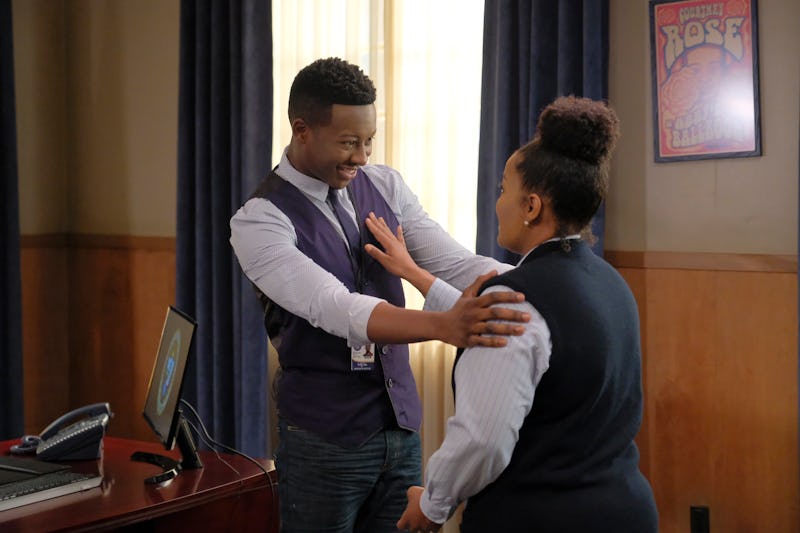 Tony Rivetti/ABC
ABC's new political-themed comedy aims to do something difficult: make an audience laugh at the idea of an ill-prepared elected official learning on the job. And while it might sound like The Mayor could be based on a true story, the show isn't inspired any real small town — or national — election.
Courtney Rose (played by Brandon Micheal Hall) was running for the office essentially because it offered him a chance to promote himself and his music. But the residents of Fort Grey, California wind up responding to Courtney's words and his love for his community, so he's unexpectedly elected as his town's mayor. While the idea of an inexperienced person landing in an influential position may sound tragically familiar, according to producer Jeremy Bronson's comments at the Television Critics Association panel for the show as reported by USA Today, The Mayor is not based on Donald Trump's presidential bid in 2016. "It's given us a lot of, I would say, inspiration for the show," Bronson said. "But it's not tackling the issue or the week, or a satire."
But there are some other, subtler similarities to real life. Consider how many hip-hop artists are also social advocates, from The Mayor producer (and Courtney Rose's rap ghostwriter) Daveed Diggs; to Diggs' Hamilton costar and creator Lin-Manuel Miranda's tireless fight on behalf of Puerto Rico to Chance the Rapper's advocacy for his native Chicago and his fundraising efforts for Chicago public schools. (Chance in particular was an inspiration for the series, according to The Chicago Tribune.) It's not uncommon to hear rappers making arguments on behalf of marginalized people, so Courtney Rose isn't as much of an unlikely candidate as he might seem.
Bronson explained at the TCAs, "This is a guy who didn't want to win, but who deeply, deeply loves his city and wants to help." And his inherent desire to make change may remind you of how activism has found a home in music, lot like the activism of many rappers right now, from the political stumping of JAY-Z, to Kendrick Lamar's provocative performances, which have referenced mass incarceration, Black Lives Matter, and other issues affecting people of color.
But even though Courtney Rose might have the passion and the local expertise that propels him into office, he'll have to do a lot of learning on the job with his mom (Yvette Nicole Brown) as his support system. "With mom's help, he's really going to be that maverick politician who is using tools he has that other politicians don't have," Bronson said at the TCAs. But in reality, it doesn't really seem as though that approach always pans out.
But putting aside national politics for a moment, smaller stories about inexperienced people being elected to local office have been a little more positive. In 2011, 22-year-old Alex Morse was elected mayor of his hometown, Holyoke, MA, with literally no practical political experience. (Aaccording to MassLive, he was still a student at Brown University when he began his mayoral campaign).
But, six years later, Morse has become a success story, getting reelected twice. (He was sworn in for his third term in January 2015.) According to the Morse's website, under his tenure, "Property rates have gone up, the unemployment rate has gone down, and the City's emphasis on community policing has led to a drop in the crime rate." Not bad for a young person who hadn't worked in local government before. The site goes on to say, "As a result of his administration's efforts, the national publication Popular Mechanics recently named Holyoke the 6th best "Startup City" in the nation, recognizing our efforts to create a climate for turning innovators into entrepreneurs."
So it's possible that The Mayor will have a happy ending, with Courtney Rose leaving his dreams of hip-hop stardom behind in favor of becoming a dedicated public servant. But even if the series sends this mayor a lot of challenges, this mostly fictional story could still encourage citizens to get directly involved, no matter their background.