There's No "Golden Shower" Allegation Video So Far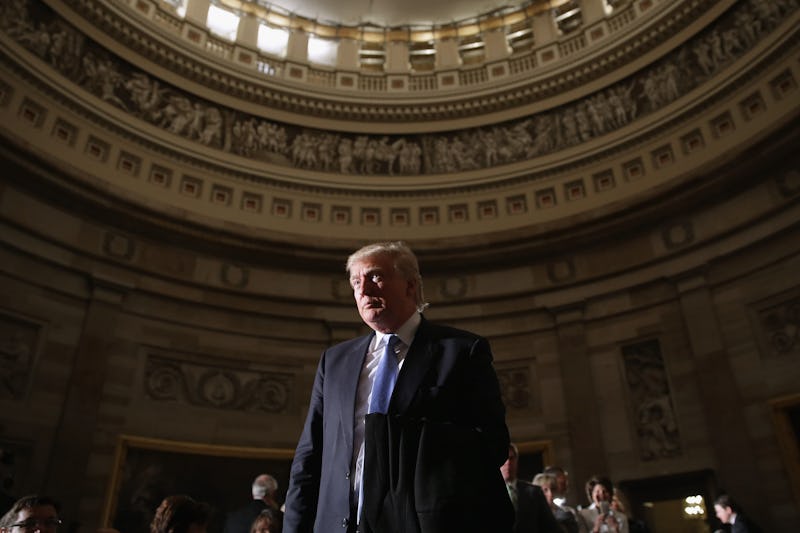 Chip Somodevilla/Getty Images News/Getty Images
CNN broke news on Tuesday that President Barack Obama and President-elect Donald Trump were presented with unverified documents last week alleging that agents of Russia have potentially compromising personal information about Trump in their possession. One of the many shocking allegations included in the unproved report, which was later published by BuzzFeed News, is that while on a trip to Moscow, Trump allegedly had prostitutes perform a "golden shower." Update: On Wednesday morning, Russia denounced the unverified report involving supposedly compromising allegations against Donald Trump as an "absolute fabrication."
Whether or not these allegations, compiled by an individual who claims to be a British former intelligence operative, are true is under FBI investigation. It seems the only way to know for sure would be if a video of Trump's alleged "golden showers" party were to surface. Only naturally, people are wondering if such a video exists. Currently, however, it's unclear whether or not Trump's supposed Moscow "party" even occurred in the first place.
While people generally want to know if this rumor about the President-elect is true, it's safe to say demand for seeing such a video is pretty low. Still, millions of Americans will unfortunately go to bed tonight with the words "Trump" and "golden showers" fresh on their minds, wondering what the truth of the whole matter is.
Again, the report is unverified, and the allegations are unproven. But Trump has already taken to his favorite social media platform to denounce them entirely. ‌
His all-caps tweet may be enough to convince some that the allegations are unfounded, but others aren't so easily convinced.
The report claims that the alleged "golden showers" party took place in the presidential suite of Ritz Carlton Hotel where Barack Obama stayed on an official visit. If the alleged event happened, evidence could have been captured covertly by microphones and cameras installed in the rooms by the FSB, or Russian state security.
Besides details of the President-elect's alleged sexual history perhaps being used to blackmail him, the report also alleges a conspiracy between the Kremlin and the Trump campaign and allegedly damaging information about his business dealings overseas. Kellyanne Conway denied the allegations in the unverified report on Late Night with Seth Meyers on Tuesday evening.
The entire report is eyebrow-raising, but the alleged "golden showers" detail takes the cake by far as the most X-rated portion. If anyone wasn't convinced that this transition of presidential power has been the most shocking and unconventional in American history, this latest news may finally convince them.