'RHOC's Vicki Gunvalson Sets The Record Straight On Any Engagement Rumors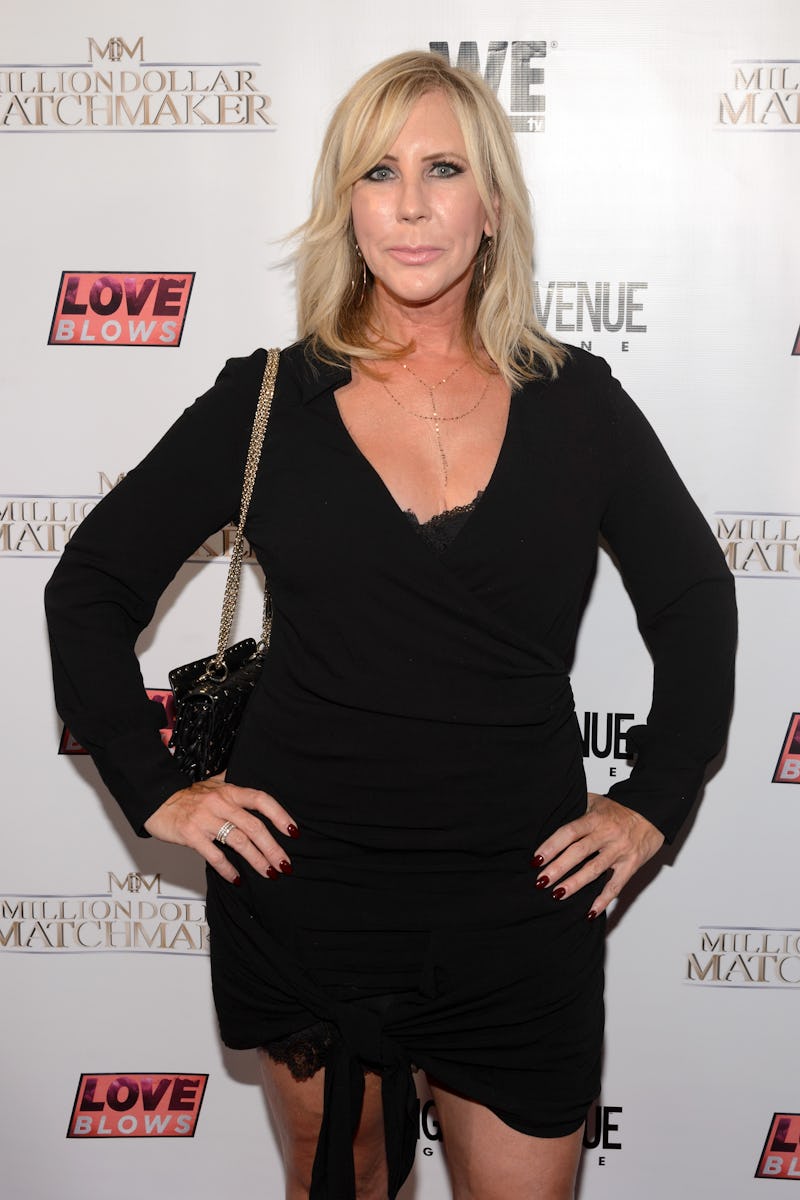 Daniel Boczarski/Getty Images Entertainment/Getty Images
With 12 seasons of The Real Housewives of Orange County under her belt, not much regarding Vicki Gunvalson's personal life has been left off limits. When it comes to her relationship woes, fans of the Bravo reality series have watched the OG housewife go through a divorce from her ex-husband Donn Gunvalson and jump right back into the dating scene. Season 12 introduces viewers to her relationship with new beau, Steve Lodge. The couple's picture-perfect romance recently left some fans questioning if Vicki Gunvalson is engaged, but the reality star was quick to address the rumor on Friday with a response that really couldn't have been any more direct.
Gunvalson and Lodge were recently guests on Bravo's The Daily Dish podcast with Megan Segura and Rachael Roberts. The show's hosts asked if there was any truth to those engagement rumors. "No it's not," Gunvalson responded while showing off an empty ring finger. Lodge chimed in a moment later saying, "There's nothing on that finger."
The 55-year-old Housewives star joked afterward, "Is there something you're going to tell me tonight? Are you surprising me on Watch What Happens Live?" Lodge hasn't proposed just yet, and their answer to the question proves that fans shouldn't be expecting an engagement announcement coming from the two any time soon. But at least they're enjoying spending the meantime together.
Just last week, Gunvalson shared a photo via Instagram of the two lovebirds having a nice, romantic date night out in New York City, and they look as happy as can be, regardless of whether or not they're getting married.
For the past week, Gunvalson has been in New York doing press for Season 12 of RHOC, and since Lodge is a part of the current season, he's been accompanying her. She visited The Wendy Williams Show on Monday and sat down for an interview with E! News just a day later, where she (obviously) gushed about her relationship with Lodge and brought up how he's brought about a different kind of energy in her life.
"For me, it was time for some peace in my life and so I've been really proud of that," she said. "It's been good for me to kind of get out of the drama of fighting with ladies and just really show what a solid, good, healthy relationship has brought in my life."
And when asked about the possibility of the two getting married, Gunvalson gave an answer that makes a pretty solid point:
"When the time is right we'll talk about it. If the time isn't right, then no. We've only been together a year and a half, we both have some divorces under our belt and we want to be sure it's forever."
It's definitely easy to see where they're coming from. Dating after a divorce doesn't exactly sound like the easiest thing to do, especially considering the emphasis that society puts on marriage. So with all the pressure that's being put on the both of them to tie the knot, it makes sense that they'd want to be very careful about their current relationship after going through a few divorces.
And even though Gunvalson and Lodge have no plans on getting engaged soon, that's not to say that the couple doesn't see themselves exchanging vows at some point. During their time on The Daily Dish, Gunvalson revealed that if Lodge does happen to pop the question in the near future, she's not opposed to the idea. "I will say yes, honey. I adore him," she said.
Their engagement will be an exciting thing to hear about when and if it happens, but right now, it's nice that Gunvalson is just focused on having a happy and healthy relationship.