Issa Rae & Melania's Spokesperson Trolled Each Other On Twitter Over 'Insecure'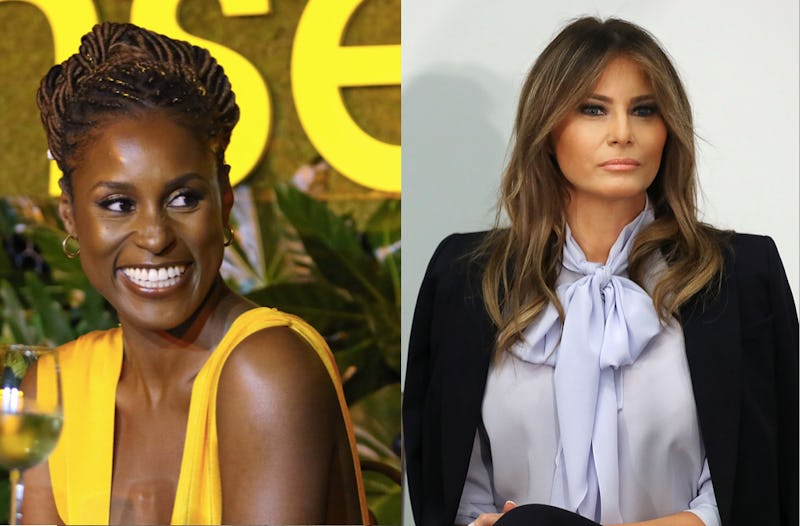 Peter Forest/Getty Images Entertainment; Chip Somodevilla/Getty Images News/Getty Images
Yesterday, the internet was abuzz after reading a Glamour profile wherein Insecure creator Issa Rae said she'd cancel her show if she found out the current first lady was a fan. In a relatively unexpected turn of events, the first lady's spokesperson responded to the interview, tweeting that Melania Trump is a fan of Rae's Insecure, and tagging a number of accounts including HBO, Glamour, and Rae herself.
"Alert: FYI @IssaRae, @FLOTUS likes your show! 📺@HBO @PageSix @glamourmag @theinquisitr," Melania spokesperson Stephanie Grisham tweeted Wednesday morning.
Clearly, Grisham had gotten wind of coverage surrounding Rae's profile, and she chose to publicly respond. And so did Rae, who quote-tweeted Grisham's remark and asked, "Melania or the double?" — a joking reference to an ongoing conspiracy theory which purports that Melania has been replaced with a body double. (Grisham has emphatically denied that Melania uses a body double, describing the theory as a "ridiculous non-story" that distracts from other work that the first lady engages in.)
When reached by Bustle for comment regarding her tweet to Rae, Grisham responds that her "tweet speaks for itself."
As for the profile in question, Rae had gushed about feeling honored when she learned that former first lady Michelle Obama enjoyed her program.
"She had just finished watching the finale, and she was like, 'That fakeout — how could you do that? I thought you and Lawrence were going to live happily ever after,'" Rae told Glamour , recounting a conversation that took place in 2017. "I was like, 'You really watch it?' She was like, 'Yes. Sasha and Malia put me on to it.'"
Rae recalled feeling a familial connection with Michelle. "It was like talking to my auntie. It bums me out that I will never have that feeling again of the First Family f*cking with us so hard and getting us."
As the interview went on, Rae mused about the differences between Michelle and Melania, and how she might feel differently if Melania were to pay a similar compliment regarding her work. "If Melania [Trump] said that to me, I would be like, 'Well, I guess it's canceled. We're not making this show. It's not ours anymore,'" Rae said.
At a later point in the interview, Rae explained that Insecure is meant to explore blackness. Challenges around that goal sometimes manifested, she said, in the writer's room.
"Sometimes the white writers will be like, 'I didn't even know what that line meant until I watched the show,'" Rae said. "And I'm like, 'That's OK. There are some things that are just for us.'"
Many of the responses to Rae's "Melania double" tweet suggested that users found her quip to be quite funny. In the replies, laughing GIFs abounded.
"FLOTUS apparently likes @insecurehbo; @IssaRae had the perfect response; I'm just wondering who's paying for the White House @HBO subscription," wrote writer R. Eric Thomas.
Given that Rae had said she would cancel her show if she found out Melania watched it, it's not entirely clear what response Grisham was hoping to evoke by saying the first lady did, indeed, like it. One definite consequence, however, was offering Rae the perfect opportunity to crack a very well-received joke.