It's Time We All Admit That It's Cool To Buy Makeup Just For The Packaging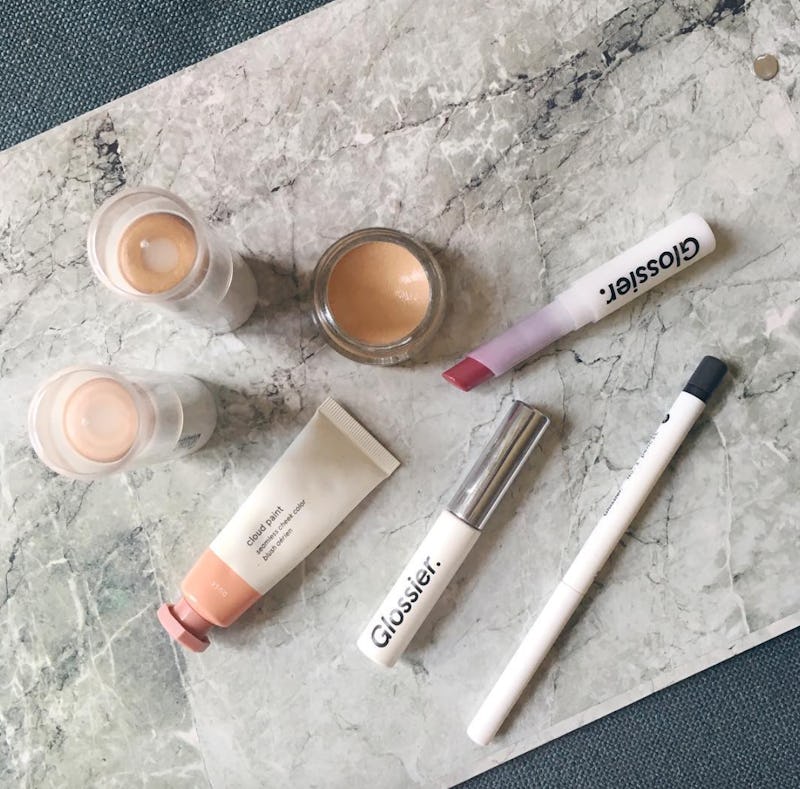 Erin Mayer/Bustle
Sometimes, I visit the Glossier showroom when I know I'm not going to buy anything. I just like how it smells in there, like a spray of fresh roses (more specifically, like Byredo "Burning Rose"). I like the pink jumpsuits the employees wear, and the limbless busts that decorate the room. I like playing with the products, even the ones I already own.
I also spend a lot of time reading about makeup and skin care via online communities like Reddit, MakeupAlley, and Instagram. Glossier is often hotly debated on these channels in terms of whether the products are actually worth the hype or only popular because of the cute bottles and smart marketing. The common refrains go something like this: But Balm DotCom is just petroleum jelly in a fancy tube! The products are made for people with perfect skin! They are overpriced and unoriginal!
It sounds silly, but I used to get defensive reading comments like these about brands I love. I don't take issue with some people thinking my holy grail staples are overrated — everyone has different preferences when it comes to makeup, after all. No, the issue I have is with the substance of many of the critiques, which largely fault brands like Glossier for having damn good marketing.
I'm not defending any particular brand, but rather the idea that people shouldn't choose makeup or skin care, at least in part, because it comes in a nice bottle or jar. Pretty products are fun to use, and what is makeup about if it's not about fun? You can make the argument for a similar, cheaper, or better alternative to just about any lipstick, eyeshadow, moisturizer — as Mark Twain once said, "There is no such thing as a new idea. It is impossible. We simply take a lot of old ideas and put them into a sort of mental kaleidoscope. We give them a turn and they make new and curious combinations." So it goes with lip balm as well.
With that in mind, why wouldn't you buy from a company that embodies a lifestyle you covet, especially if you love how the products perform? We make these purchases to try and inch ever closer to the idealized version of ourselves that we hold in our minds. It can indeed be hard to distinguish style from substance, but at the end of the day, makeup and skin care are about enjoyment (except SPF, which is about health — go apply some from the nearest bottle, whatever it looks like). You should use what you gravitate towards.
Besides, there's a good reason why more attractive items catch our attention. "The packaging is the first interaction you have with a personal care product, and it's often the reason you buy it the first time," Karen Young, founder of marketing agency Y Group, told Glamour. "Today — given the power of social media — if a product is 'Instagrammable,' that may be enough to help build the brand. If the packaging looks great and also contributes to the function of the product, it's a double win."
The way your beauty products are packaged can make or break the entire experience. There's even a thread on Reddit called "How Much Does Packaging Influence the Makeup You Buy," where beauty enthusiasts talk about the items they specifically gravitate towards or avoid because of the container. It's not all about looks either — product packaging can have a large impact on functionality as well. My favorite powder (from Glossier, surprise!) is beloved in part because the jar is smartly designed to prevent the product from spilling when you travel — I'm more likely to toss it in my carry-on, but also to grab it daily.
Meg Clark, Senior Engagement Editor at Food & Wine, agrees that packaging has an impact on her feelings on certain products, even if it's not the be-all, end-all. "[I]t definitely influences how much i love a product that already is great," she says. "[I] also am a sucker for packaging that has like... a real tactile appeal as well as visual [...] like the texture of NARS compacts and the way that Bite lipsticks twist and snap closed, or the way [S]hiseido lipstick snap[s] shut."
"Packaging influences me if I'm in a store," freelancer writer and editor Regina Lizik adds. "Stores make me more susceptible to impulse buys. If I'm shopping online, packaging will make me click on an item, but then I read reviews and that often deters me. "
I love to look at all of my favorite beauty products on the shelf, although that's not why I love them — it simply adds to the experience. Bite Beauty's Amuse Bouche lipsticks are creamier and more comfortable than any other formula I've tried, and the grey rubberized tubes happen to look lovely on my vanity. The Too Faced Chocolate Bar eyeshadows are pigmented and blendable, but it doesn't hurt that they smell like dessert. Glossier Milky Jelly Cleanser is the only face wash that doesn't sting my eyes, and it comes with stickers to decorate the already adorable bottle.
Kailey Flyte, Editor-in-Chief of Powderdoom and founder of Mermaidens, agrees. "There will be products that preform [sic] just as well as a similar counterpart, but I find myself enjoying the process of applying the product more when it's housed in a pretty or unique way," she tells me. "I cherish my beauty products, and the ones that are especially pretty I consider to be a keepsake and have lined up on my vanity — sometimes I find myself just admiring them."
As Quartz reports, the ingredients in your favorite beauty products typically make up only about 15 percent of the final cost, which means that you are often paying mostly for the brand name and, yes, the packaging. Whether this factoid makes you want to switch to exclusively dollar-store finds or helps you justify your urge for an $80 blush palette housed in marbelized casing, it's undeniable that this is an industry of aesthetics.
What I'm trying to say is this: you should spend your money however you want to spend it. Some of us love bargain finds, others live for the splurge, and most of us fall somewhere between the two. I love a good drugstore lip balm, but I also relish every moment I get to pull my Glossier Birthday Balm DotCom out of my purse and massage it onto my lips. It's like a small act of meditation that I get to repeat several times throughout the day.
I've never convinced myself that a product I don't like is great just because it comes in a cute bottle, but I find it genuinely difficult to tell how much influence packaging has over something I already enjoy using. To return to my standard example, I've driven myself into a frenzy trying to figure out if Glossier lip balm is actually better than any other salve. The differences I've noticed are admittedly negligible — Glossier's iteration clings to my lips longer than most balms, leaves a nicer finish, feels a bit more comfortable.
But eventually, I kind of stopped caring about why I loved that lip balm more. I just knew it made me happy to look at in my makeup bag and worked just as well, if not better, than any other lip balm I'd used before. The world is a tough place, and I'll gladly shell out $18 for a product that puts a little more spring in my step — even if I'm mostly paying for the tube.