Ivanka & Jared Kushner Attended John McCain's Funeral In Trump's Absence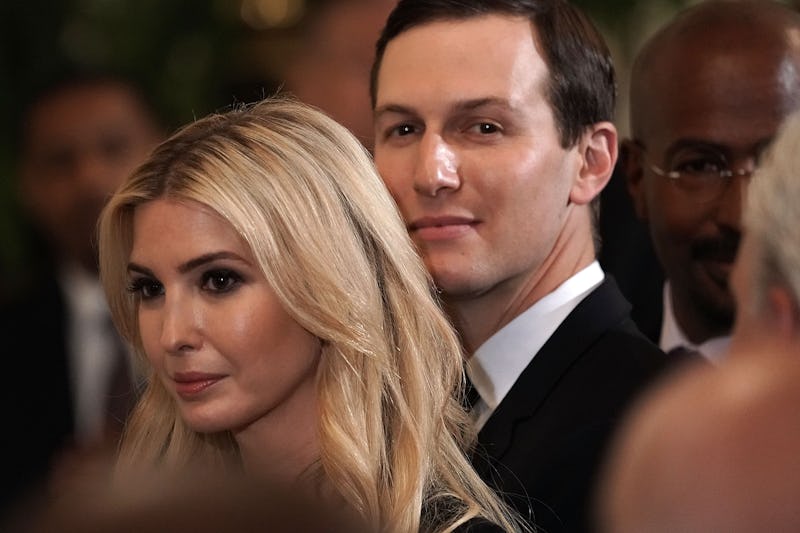 Alex Wong/Getty Images News/Getty Images
While President Donald Trump was reportedly not invited to Sen. John McCain's invitation-only memorial service in Washington, D.C., it seems invitations were extended to his daughter and son-in-law. Ivanka Trump and Jared Kushner attended McCain's memorial service at the Washington National Cathedral on Saturday. The couple were spotted entering the cathedral shortly before the late Arizona senator's casket arrived for the service.
Ivanka and Kushner mingled briefly with other guests at the service before the president's daughter approached Sen. Lindsey Graham, a close personal friend of McCain's, and greeted him with a hug. The couple were later spotted by reporters for the Washington Post talking with another one of McCain's close friends, former Sen. Joe Lieberman before the service began.
While it's unclear what kind of relationship Ivanka, or even Kushner, may have had with McCain, President Trump's strained and sometimes combative relationship with the Arizona senator likely cast an awkward shadow over their presence at the memorial. At one point during Saturday's service Meghan McCain, one of the late senator's daughters, delivered an emotional eulogy in which she took a few subtle swipes at President Trump.
"The America of John McCain has no need to be made great again, because America was always great," Meghan said to a ripple of applause, The Washington Post reported. Her comment was a direct reference to Trump's popular campaign slogan "Make America Great Again."
At another point in the service, Meghan said her father had represented "American greatness," noting that it was "the real thing, not cheap rhetoric from men who will never come near the sacrifice he gave so willingly, nor the opportunistic appropriation of those who lived lives of comfort and privilege while he suffered and served."
In the days immediately following McCain's death CNN reported that the Arizona senator told multiple people he did not want Trump to attend his funeral, and instead asked former Presidents Barack Obama and George W. Bush to deliver eulogies. Although members of the same political party, the two men had often clashed, disagreeing on a range of policy issues.
When McCain criticized Trump's immigration rhetoric in 2015, Trump retaliated by publicly disparaging McCain's military service. Trump, then a candidate in the Republican presidential primary, asserted that the senator, who was captured and tortured for more than five years during the Vietnam War, was "not a war hero." The two men would continue to clash throughout the 2016 presidential campaign and well into Trump's presidency, with the president often responding to the Arizona senator's criticisms with personal attacks on Twitter. In 2017, McCain further frustrated Trump when he cast the vote that officially killed the president's efforts to repeal Obamacare.
Following news of McCain's death, CNN reported that Trump had rejected a proposed White House statement recognizing the senator's public service and instead opted to tweet his condolences to McCain's family with no mention of the late senator's legacy.
Although Ivanka and Jared were certainly the most prominent members of the Trump administration to attend McCain's service Saturday, they weren't the only ones who showed up to pay their respects and honor the late senator. White House Chief of Staff John Kelly, Defense Secretary Jim Mattis, and Transportation Secretary Elaine Chao were also spotted at the services, Axios reported. National Security Adviser John Bolton was also in attendance, according to the New York Times.