Ivanka's Labor Day Tweet Paid Tribute To A Very Specific Kind Of Worker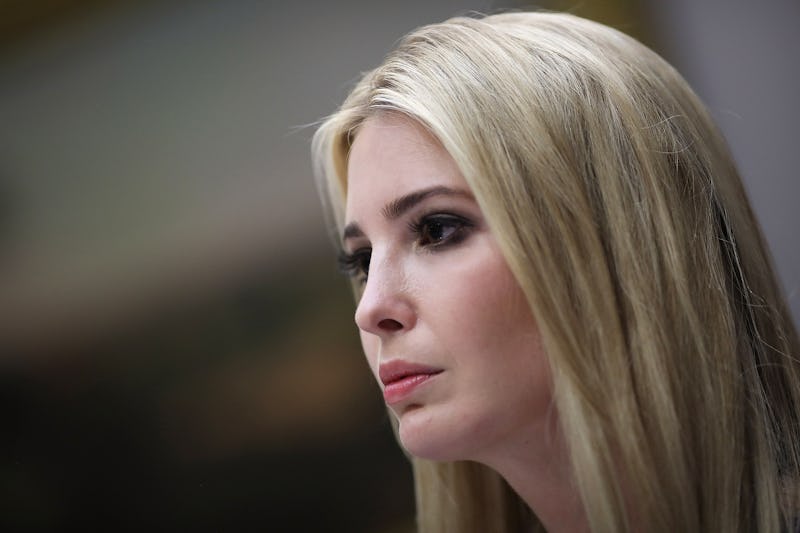 Win McNamee/Getty Images News/Getty Images
On Monday, like many prominent people in both the private and public sectors, Ivanka Trump tweeted about Labor Day. The first daughter and presidential advisor sent out two messages about the holiday, including one tweet that raised a few eyebrows.
"Today, on #LaborDay, let's also recognize the amazing stay-at-home parents across America, who seldom receive the credit they deserve for the invaluable work that they do, as they nurture and raise the next generation of American workers! Thank you! #HappyLaborDay," Trump wrote.
Though innocuous at face value, Trump's holiday message was not immune to criticism. Some responses to the tweet argued that her father's administration wasn't doing enough to support social programs that can relieve the financial stress of staying at home to raise children. Others responded with historical facts about labor unions and the ways that they have influenced American working culture. Still more questioned where Trump's messaging was coming from, pointing to the role that nannies have played in her life over the years.
Trump's stay-at-home-parents tweet was the second Labor Day tweet she sent on Monday. Earlier in the day, she paid tribute to the American worker more broadly.
"On #LaborDay we honor the American worker, past and present, who built our great country and celebrate the many accomplishments of the people (a record 156 million!!) who make up today's American workforce!" she wrote.
Trump's two Labor Day tweets touch on two policy initiatives that the first daughter has historically promoted: paid family leave and bolstering the American workforce.
Earlier this summer, Trump was spreading word about the new National Council for the American Worker, which President Donald Trump established via executive order. The council aims to help fill 3.7 million jobs by encouraging employers to hire American workers, as well as by promoting job training, NBC reported at the time.
"This is about really thinking holistically about skills development, vocational education, apprenticeships, through the arc of one's career," Ivanka Trump told KCRG at the time. "And we're going to take it across the country so it's called the 'Pledge to America's Worker' and we are hoping that companies large and small join with us."
The first daughter has also long-campaigned for a federal paid family leave policy. As part of her endeavor, she has historically backed an idea put forward by Sen. Marco Rubio, which would essentially allow new parents to tap into their retirement in order to offset a certain amount of paid parental leave. Many Democrats and other critics have argued that such a plan puts working parents in a bad position, needing to choose between immediate needs and long-term financial planning.
In a way, Trump's Labor Day tweets were a confluence of policies she has promoted for quite some time, meaning that they weren't exactly out of character. Still, in this political moment, very little — if anything — avoids criticism and debate, and this is especially true for the first family and their immediate associates. On Labor Day this year, Trump was no exception to that trend.