A Sick Jameela Jamil Left The Emmys Early, But Has A Message For Her Costars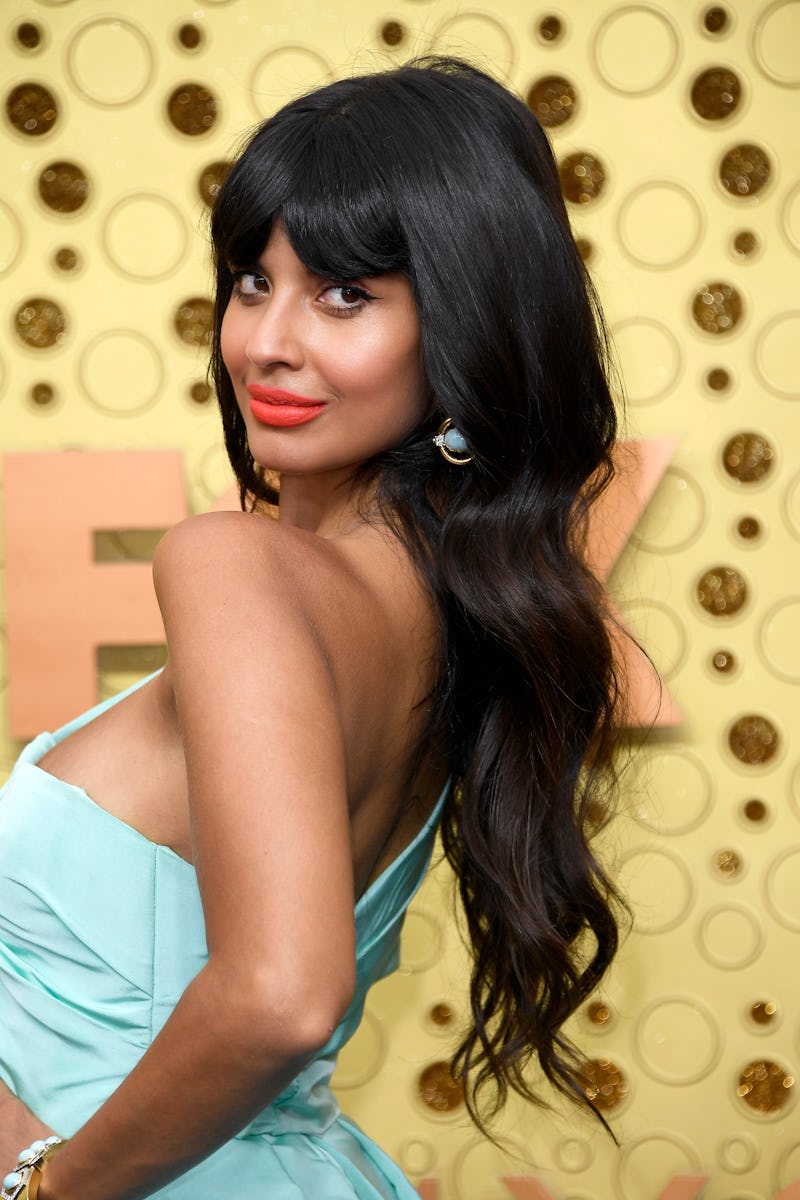 Frazer Harrison/Getty Images Entertainment/Getty Images
Not long after stunning on the purple carpet in a Monique Lhuillier gown, Jameela Jamil left the 2019 Emmys early because she was feeling sick. "Had to leave and get back into bed, because the fever and nausea caught up with me," the actor tweeted alongside a photo of her curled up in bed. However, she added that she'll be cheering on her costars from afar. "I had a lovely time and I wish my cast the best tonight. I hope we win, but we already won just by being on this wonderful damn show. Love to everyone."
Jamil stars as Tahani Al-Jamil on The Good Place, which is up for four awards at Sunday night's ceremony: Outstanding Comedy Series and Outstanding Writing for a Comedy Series, as well as Outstanding Lead Actor in a Comedy Series for Ted Danson (who plays Michael) and Outstanding Guest Actress in a Comedy Series for Maya Rudolph (who plays Judge Gen).
Ahead of Sunday night's show, Jamil seemed to be in good spirits. "I'm not turning up here not to be noticed. Why would I bathe?" she joked when E! correspondent Zanna Roberts Rassi complimented her aquamarine blue dress. She also snapped a photo with Queer Eye's Tan France, writing on Twitter, "ALADDIN FOUND HIS PRINCESS JASMINE!"
However, it's been a rough few days for Jamil behind the scenes. Earlier in the week, she posted a video on Instagram revealing she'd underwent oral surgery and had three teeth removed. The next day, she appeared at PaleyFest in Los Angeles to talk about her hosting job on new game show The Misery Index; according to People, she did the whole panel while holding a bag of frozen peas on her jaw. Afterward, she shared an Instagram photo of her onstage warning, "Don't go to work on painkillers without your teeth."
She also tweeted, "I'm so sorry to everyone at the panel yesterday if I didn't make any sense. I was somewhat wasted on pain killers. But I had a BLAST." So, a similar sentiment to her comments about the Emmys — she made the most of the situation, but it, uh, wasn't ideal.
Unfortunately for Jamil, it only got worse from there. She told Access Hollywood on Sunday that she experienced a bout of gastritis and was throwing up just hours before arriving at the Emmys.
"Two hours ago I was on a drip, like lying on my bathroom floor, throwing up, but this is what makeup and hair [can do] ... that's why I went so hard today with my look," she said. "I feel as good as anyone could, given what is going on with me right now."
Ultimately, it was her devotion to The Good Place that motivated her to push through. "[It was a] bad reaction to antibiotics, I've been sick for days, but I'm still here, that's how much I love this show."