This Trump Nominee Canceled A Confirmation Hearing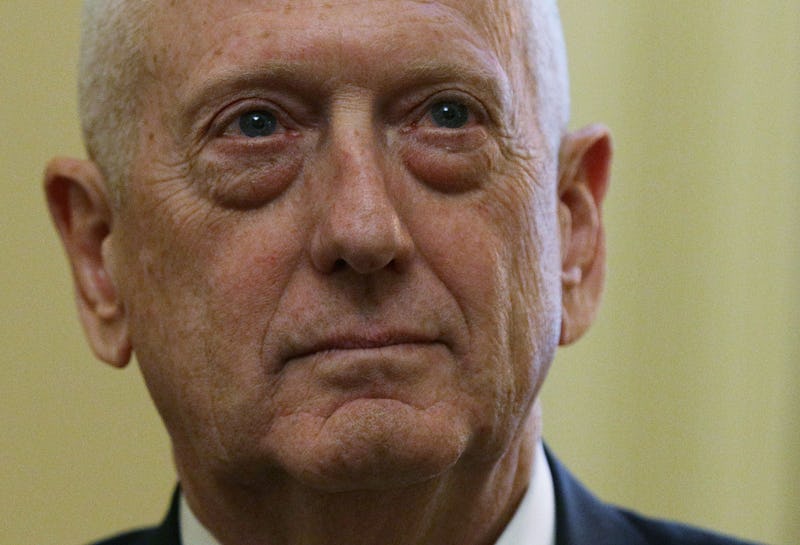 Alex Wong/Getty Images News/Getty Images
On Wednesday, James Mattis, the retired Marine Corps. general nominated by Donald Trump to lead the Pentagon, canceled a scheduled hearing with the House Armed Services Committee. The meeting was scheduled for Thursday, as the House of Representatives is expected to take steps toward confirming Mattis on Friday. Mattis' canceled confirmation hearing reportedly has House Democrats concerned, which could put him in an awkward position.
According to CNN, it was President-elect Trump's transition team who decided that Mattis would forgo Thursday's House hearing. His confirmation hearing with the Senate Armed Services Committee is also scheduled for Thursday, and he is expected to still testify in front of that group as planned. Typically, the Senate is the focus of confirmation proceedings, as a simple majority in the Senate is required to approve each of Trump's Cabinet picks. The House typically doesn't play a leading role. With Mattis, though, there's a catch.
Despite canceling Thursday's House Armed Services Committee hearing, Mattis is widely expected to be confirmed as the next Secretary of Defense. But he does have to jump through an extra hoop or two to get there. Mattis retired from the Marines in 2013, after serving dutifully for more than 40 years. His military experience could make him an asset at the helm of the Pentagon, but the law states that the Secretary of Defense must be a civilian at least seven years removed from military service.
According to MilitaryTimes, the seven-year separation requirement is meant to ensure that the military is run by an objective civilian. If the leader of the Pentagon is too close to the military, he could find it hard to objectively approach funding decisions, foreign policy, and other parts of the job.
The issue with Mattis' appointment, then, is that he has been retired from military service for less than four years. In his most recent military role, Mattis served as commander of the U.S. Central Command, overseeing operations in the region of Syria and Iraq. He was appointed by President Obama in 2010 and served until his retirement in 2013.
Now, in order for Mattis to become President Trump's Secretary of Defense, he needs a waiver from the House and Senate. In other words, Congress must approve a piece of legislation that exempts Mattis from the seven-year separation requirement. That's why the House has a big say in Mattis' confirmation — and it's why he would've done well to keep the House hearing on the books. The House is likely to vote on Mattis' waiver on Friday.
The Senate could vote on Mattis' waiver as early as Thursday, following his hearing there. If the waiver passes in both chambers of Congress, the Senate will have the opportunity to officially confirm him as a Cabinet member.
Ultimately, House Democrats may feel snubbed by Mattis' last-minute cancellation, but they might not be able to stop him from becoming the next Defense Secretary.