'Outlander's Reunion Sex Scene Is Awkward, But That's Kind Of The Point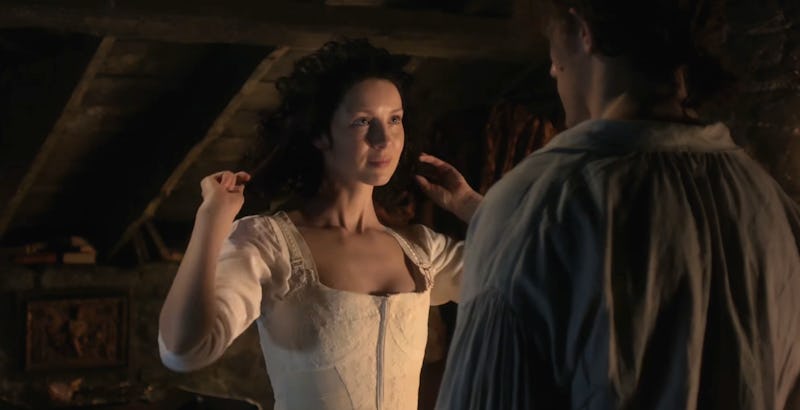 Starz
One of the most integral parts of Outlander is the sizzling chemistry that exists between Claire and Jamie. Spoilers for the episode "A. Malcolm" follow. And although 20 years have passed since they last saw each other, nothing has changed in that department, as the Oct. 22 episode shows. Jamie and Claire passionately reunite on Outlander in an extended scene befitting the extended episode. It's a slow burn since they don't immediately jump into bed together once Jamie awakes after fainting at the sight of Claire. But Outlander provides a realistic look at the intimate moments of two long-lost lovers reuniting like not many shows or movies have done before. By the episode devoting so much time to Jamie and Claire's Outlander reunion sex scene, it resets the series and allows the couple the necessary chance to begin to know one another again — even if every moment isn't completely perfect.
Claire and Jamie spend the beginning of "A. Malcolm" getting reacquainted outside of the bedroom, but this allows the episode to build up to the majorly-anticipated moment of when the couple would have sex again. After an erotic undressing session (including Jamie being mystified by zipper technology), Jamie and Claire do have sex — but with a clumsy start. Jamie whacks Claire's nose as he goes to put her on the bed and his recovery is equally unsmooth as he breaks the mood and then pulls her hair. Yet, nothing is going to deter these two from their unstoppable sexual attraction to one another and it is an appreciated display on a television show of the awkwardness that oftentimes accompanies sexual experiences. Plus, even for two people as sexual as Claire and Jamie, there is of course nerves when it comes to rekindling this part of their relationship after 20 years.
Speaking of their time apart, Claire is self-conscious of her appearance, a feeling she had expressed to her friend Joe in the previous episode. Although Outlander is taking no pains to age Caitriona Balfe and Sam Heughan, Claire is still concerned that she is not as desirable as she was 20 years ago. For a character as strong-willed and confident as Claire, this self-doubt shows that no one is immune to being plagued by negative thoughts about how they will be perceived. And it's an example of how trepidatious and uncertain people might feel when reuniting with a long-lost love, even when the attraction is so palpable.
Jamie makes it clear how beautiful he continues to find Claire, so she will hopefully regain her confidence from here on out. However, another hurdle they must overcome is the fact that their reunion takes place in a brothel, which highlights that this is no perfect fairy-tale romance. Claire bemusedly acknowledges that she didn't imagine their reunion would take place being surrounded by prostitutes having sex with customers. It shatters the illusion that when lovers are together, nothing else in the world matters, and that's further demonstrated at the end of the episode when Claire is attacked by a strange man. Because although they have reunited, Claire must adjust to living in Jamie's world again — and it's not always going to be simple or easy, but she wants to do it so she can be with the love of her life.
The couple openly acknowledges that things won't be exactly as they were 20 years ago. Yet, they still choose to be together and this time, it seems like it will be for good. Because even if you don't consider the intense bond they share, real-life long-lost loves who reunite after years apart typically stay together, according to psychologist Dr. Nancy Kalish. And that better be the case for Jamie and Claire.
One reason to feel confident about their future is because although it has been two decades, their sex life hasn't changed much. Claire and Jamie more than make up for the messy start in their subsequent, sultry sex scenes. They have at least three sexual encounters during "A. Malcolm," including the welcome return of Jamie performing oral sex on Claire. Their sex is only made hotter by the emotions that the act conveys. So, yeah, time and space can't put out their white-hot flame.
Thanks to the events of "A. Malcolm," Outlander fans can take heart that the steamy sex scenes between Claire and Jamie are now here to stay. But their sexual reunion holds so much more weight due to their unwavering feelings for one another. So even though Jamie and Claire are surely going to face adversity, their realistic sex scenes should be proof that they are going to try to make the most out of their reunion, regardless of what comes their way.