'Supernatural's On-Set Hazing Is Getting Seriously (& Hilariously) Out Of Control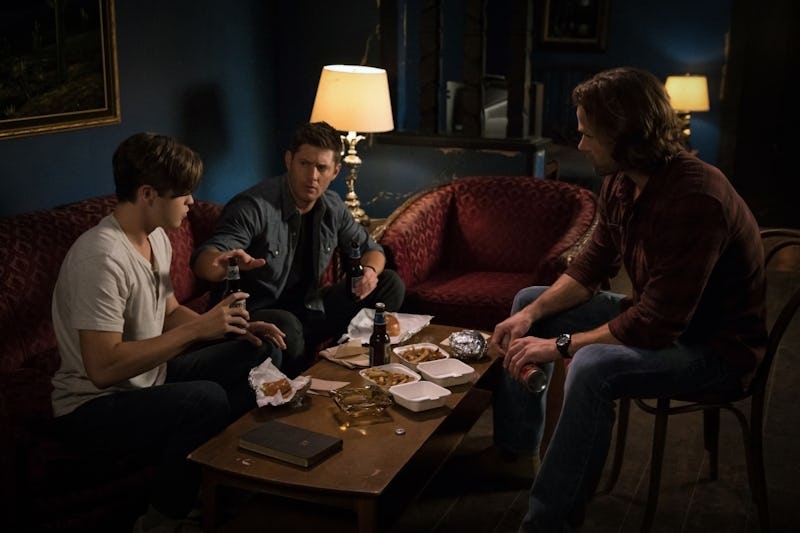 The CW
When it comes to spending time on the testosterone-fueled Supernatural set, all bets are off. The longest-running CW series is infamous for its stars Jensen Ackles and Jared Padalecki messing with their co-stars over the years. After more than a decade of blooper reels filled with them playing funny pranks on whoever they share scenes with (mostly on Misha Collins but not exclusively!), it's no surprise that the newest series regular has become their shiny, new hazing target.
When describing Alexander Calvert — who plays Jack aka the half-angel, half-human son of Lucifer (Mark Pelligrino) — as "fresh blood to f*ck with on set," Padalecki takes on the air of an older brother getting away with a prank while the parents aren't looking. It probably didn't help Calvert's case that for the beginning of Season 13, Collins' character Castiel was dead and so their usual target wasn't around. In no time at all, Calvert was officially a part of the Supernatural family, initiated by being messed with 24/7, especially during filming.
"Alexander has really been a specific, special joy of ours," Padalecki says, cracking a mischievous smirk to a small group of reporters inside The CW's Burbank headquarters after screening an episode of Supernatural. "I think we have like 10 minutes of footage of Ackles and I just messing with him. It's like masterful torture and poor Alex now is getting a lot of it."
It's no secret that Castiel will be back in a few episodes' time, meaning Padalecki and Ackles' former hazing target will return to take some of the heat off Calvert. But that won't stop the guys from messing with the young actor at all.
"We had a scene [recently] — Misha was on set and Alex was on set — and Misha was so thrilled to not be the whipping boy," Padalecki says. "He's kind of just like sitting there smiling [and clapping]. He'll miss it soon [though] — Stockholm Syndrome."
Calvert couldn't be more thrilled to be the object of the guys' hazing though — he's wearing it like a badge of honor.
"The crew keeps calling me Misha 2.0 which is very reassuring," he tells Bustle with a laugh. "It's actually really fun. I was actually concerned for a while, like I was having so much fun on set that I was scared they were going to fire me. I'm laughing too much. It's not supposed to be this fun!"
While he didn't expect this level of hazing when he first joined Supernatural, Calvert wised up fast, learning "some coping techniques to handle it" in what he's been told is "what Misha calls 'survival acting.'" He also quickly learned the two different styles of his co-stars when it comes to messing with him.
"When I have coverage on a scene, Jared will literally just do everything in his power to try to make me crack up. It works way too many times," he says. "Or if I mess up a line, he'll do something. Last night, Jared was acting like he was on CSI: Miami. There's just endless potential there. But Jensen is a little more subtle. He'll just look at you and wink, and there's something about him breaking the Dean façade that just kills me."
But don't worry about Calvert — he's starting to give it right back to the guys and get his revenge slowly but surely in what he calls "the best part so far" of joining Supernatural.
"I have succeeded only like once or twice, and let me tell you it felt pretty good," he says about finally getting his seasoned co-stars to break character. "Slowly I'm getting there. Earlier this week, Jared threw out this line [with] a joke about Tinder and so I responded to it, and he started laughing. I don't know what it was that got him but I was like, 'Yes, I made it! I succeeded!'"
Somehow, in between all the joking around on set, the guys actually find time to end up making an internationally-famous TV show (airing Thursdays at 8 p.m.) with one of "the most dedicated fanbases around." What Calvert is most excited for fans to see from this season is how Jack, a nephilim with essentially no knowledge of the world, his lineage or his powers, changes Sam and Dean as they take him under their wing.
"Jack brings out some interesting sides of both of the guys," he says. "Getting to see Sam and Dean take on a father figure role is bizarre and will be so fun to watch. He'll be learning from both of them, how they see the world, how they handle situations. They're his main points of reference of how to be a human and a hunter."
Sounds like a case of life imitating art, as Calvert continues to find ways to get his revenge on Padalecki and Ackles. Will the student become the master? We'll all have to wait until the Season 13 gag reel to find out.