Grab Some Tissues & Watch Jason Aldean's 'SNL' Tribute To The Las Vegas Shooting Victims & Tom Petty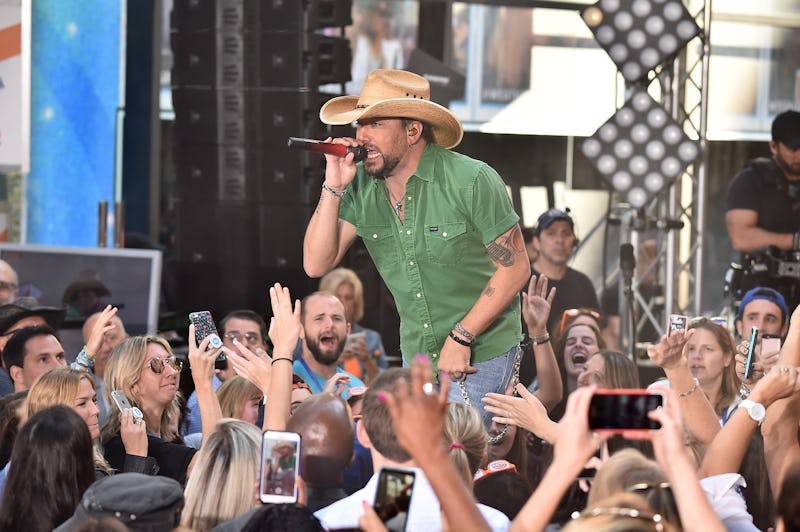 Theo Wargo/Getty Images Entertainment/Getty Images
The Oct. 7 episode of Saturday Night Live did not begin with its usual cold open featuring Alec Baldwin as President Donald Trump. Instead, country singer Jason Aldean appeared on SNL to sing a tribute to the Las Vegas shooting victims and late musician Tom Petty. As a reminder, Aldean was on stage at Las Vegas' Route 91 Harvest country music festival on Sunday, Oct. 1 as gunman Stephen Paddock opened fire on the crowd from the 32nd floor of the Mandalay Bay Resort and Casino. Aldean was captured on video running off stage for cover when the gunshots began.
The Las Vegas tragedy became the deadliest mass shooting in American history, killing 58 people and wounding around 400. On Saturday night's SNL, Aldean took the stage for the first time since the mass shooting and paid tribute to the victims of the mass shooting. In a short speech to the audience, he said:
"So many people are hurting. There are children, parents, brothers, sisters, friends, they're all part of our family. So, I want to say to them: We hurt for you and we hurt with you. You can be sure that we are going to walk through these tough times together every step of the way. Because when America is at its best our bond and our spirit, it's unbreakable."
After his opening remarks, Aldean proceeded to perform Tom Petty and The Heartbreakers' classic song "I Won't Back Down" in a perfect tribute to the Las Vegas shooting victims and Petty, who passed away on Monday, Oct. 2 at age 66. Petty suffered cardiac arrest at his home in Malibu and he was rushed to UCLA hospital, where he died that evening.
"I Won't Back Down" was a touching choice not only because the track is by Petty, but due to the song lyrics' message. The hit tune, which was released in 1989, is about being strong as you face adversity. According to Daily Kos, Petty wrote the song in the late 1980s after enduring a legal battle over one of his songs being used in a B.F. Goodrich commercial without his permission and his housing burning down.
As a refresher, the lyrics include:
Well, I won't back down
No, I won't back down
You can stand me up at the gates of hell
But I won't back down
No, I'll stand my ground
Won't be turned around
And I'll keep this world from draggin' me down
Gonna stand my ground
Before his death, Petty had performed the song during the finale of his 40th anniversary tour with The Heartbreakers at the Hollywood Bowl in Los Angeles. The late musician, a Florida native, dedicated "I Won't Back Down" to "Everybody who is struggling to get it together around the world and across the country: Houston, down in Florida, and we must not forget Mexico."
Aldean's cover of "I Won't Back Down" on SNL was pitch perfect and an incredibly moving way to end a tough week. It's hard not to want to break out the tissues as you realize Aldean did not get to finish his last performance due to the violent attack and, in a sense, SNL has given him a chance to do so.
On Oct. 2, Aldean had posted several tributes to the victims of the Las Vegas shooting on his Instagram account.
In one such tribute, Aldean wrote:
Over the last 24 hrs I have gone through lots of emotions. Fear, Anger, Heartache, Compassion and many others. I truely dont [sic] understand why a person would want to take the life of another. Something has changed in this country and in this world lately that is scary to see. This world is becoming the kind of place i am afraid to raise my children in. At the end of the day we arent [sic] Democrats or Republicans, Whites or Blacks, Men or Women. We are all humans and we are all Americans and its time to start acting like it and stand together as ONE!
You can watch Aldean's SNL performance in the following video.
Aldean's SNL tribute further showed his support for those touched by the Las Vegas tragedy.