Jeff Flake Says He Will Vote For Kavanaugh Unless The FBI Finds Evidence Of Wrongdoing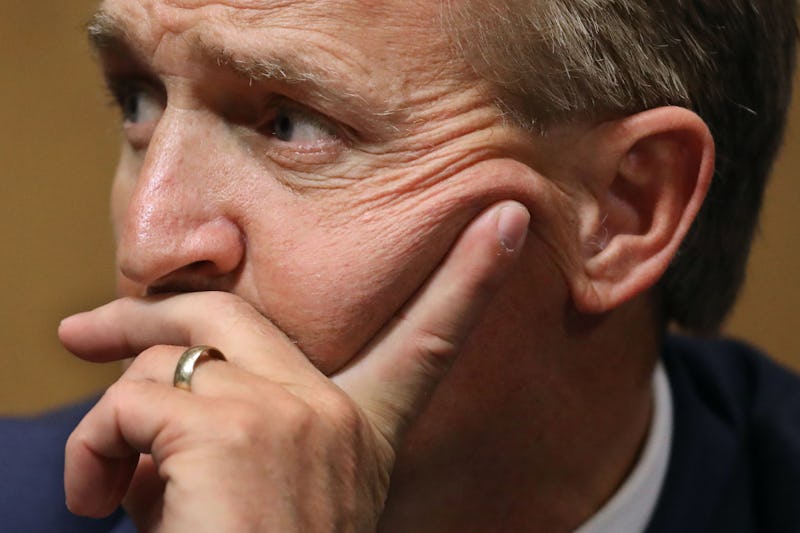 Chip Somodevilla/Getty Images News/Getty Images
Despite the big show of demanding a delay to the Senate vote for a FBI investigation, Arizona Republican Sen. Jeff Flake will vote to confirm Brett Kavanaugh to the Supreme Court "unless they turn up something," according to an interview with The Atlantic published on Saturday morning.
The interview took place on Friday evening with journalist McKay Coppins, who covers Republican politicians. (McKay wrote a roughly 2,600-word profile of Flake in September 2017.) To put the interview in context, on Friday, Flake voted along party lines to send Kavanaugh's nomination to the Senate for a full vote.
First, Flake told Coppins his motivation for calling for a limited FBI investigation into the sexual assault allegation by Christine Blasey Ford against Kavanaugh — thereby delaying the full vote for another week — was to restore some credibility to governmental institutions, particularly the Supreme Court. Kavanaugh has denied all of Ford's allegations. Bustle has reached out to him for additional comment.
Flake also described what it was like to be confronted by sexual assault survivors in an elevator at the Capitol, and how women are writing into the office about their own experiences with sexual assault. But then Coppins asked the critical question: How will Flake vote?
"Yes. I'm a conservative. He's a conservative," Flake told Coppins. "I plan to support him unless they turn up something — and they might."
Coppins then asked what questions Flake hoped would be answered by this FBI investigation, or what witnesses he hoped would participate.
Flake replied, "Well, obviously, Mark Judge. That's the one that sticks out because he was mentioned so much by Dr. Ford, and he might be able to shed some light on her recollection of time and events."
Judge is a close friend of Kavanaugh that Ford said was in the room at the time of the alleged assault she described in her testimony on Thursday. He did not testify; in fact, The Washington Post reported Judge was staying at a beach house at one point.
Coppins asked if Judge pleading the Fifth Amendment would change anything for Flake. To which, Flake said, "You know, all we can do is ask. We've got to try."
Flake then confirmed that former President George W. Bush reached out "a few times in the past few weeks" to push for Flake's "yes" vote on Kavanaugh's confirmation.
To conclude the interview, Coppins returned to Flake's worry about institutional credibility. Coppins asked, "You talked earlier about the crisis of authority facing American institutions. Do you worry that confirming Kavanaugh with these allegations hanging over him will do some damage to the long-term credibility of the Supreme Court?"
Flake said yes, and that the delay will help bolster the nominee. "Obviously," Flake told The Atlantic. "I've felt that this delay is as much to help him as us. My hope is that some Democrats will say, 'Hey, we may not change our vote, but this process was worthy of the institution, and we feel satisfied.' That means something. The country needs to hear that."