Fashion Influencer Jenn Im Thinks She's Made The Perfect Holiday Party Dress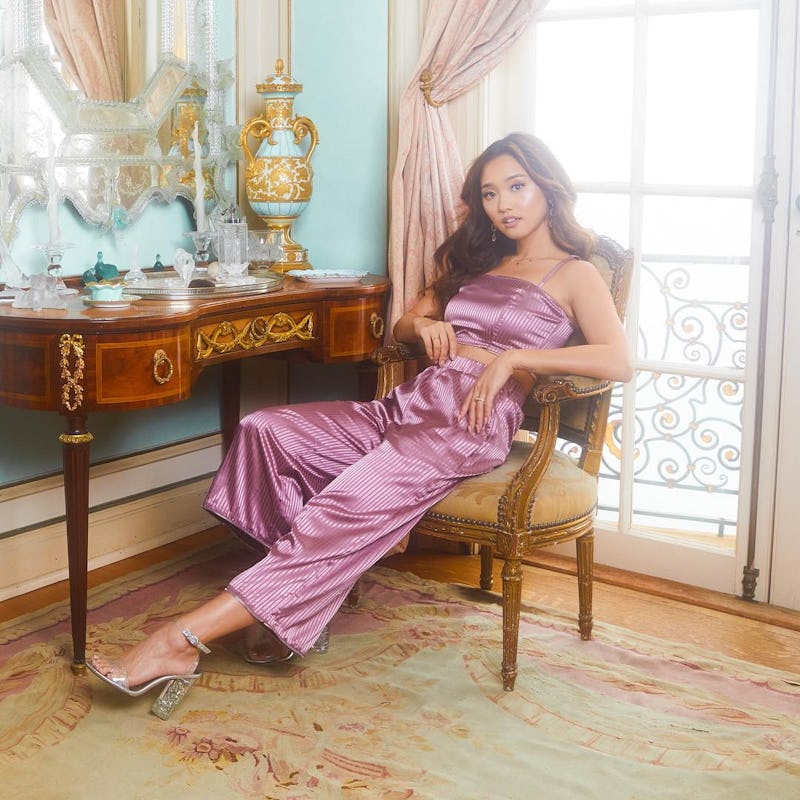 Eggie/Instagram
The holidays are the best time of the year — parties, presents, delicious feasts — but figuring out what to wear to the endless events can be a bit stressful. Fashion and beauty influencer Jenn Im knows the struggle, which is why she created an entire new Eggie holiday collection dedicated to dressing you up festively in the most fuss-free way.
"We basically just wanted to create options that really fit for any holiday occasion," Im tells Bustle of her new collection, which launched just in time for Thanksgiving. "Now that it's November, suddenly [there's] lots of dinners, lots of celebration and parties, so we wanted to create [pieces] that fit everything."
Im would know. Aside from designing clothes for her fashion line and filming tutorials for her YouTube channel, she's also juggling a jam-packed social calendar filled with nonstop dinners, soirees, and beauty and fashion events. Because Im is so busy, she wants to be able to reach into her closet for pieces that are easy wear and can be mixed seamlessly with other items in her wardrobe, all while making a statement. One item in particular from her holiday collection that Im is excited about is a little red number called the Cupcake dress. If you're looking for a go-to holiday party ensemble, she's got you covered.
"I really love the Cupcake dress — it's a really interesting silhouette. It's tight on the top and it flares out [at the bottom]," Im explains. If you're more of a suit kind of gal, Im recommends snagging the blazer from the collection. "I really love our two toned blazer. It's for the girl that always mixes metal. Because for me, I'm always wearing gold, silver, and rose gold all together, so this is gonna be the perfect blazer to really tie into all of that," she says.
Im's holiday collection was really influenced by her fans and followers — the Eggie girl, as she calls it. Im and her designer Angela Yea pulled inspiration from all of the things that Im loves, from current trends to styles from the '50s and '60s. Im says they're constantly on social media and watching old movies to find ideas when designing pieces for the line. Im also draws inspiration from her Korean American heritage, which is super important to her. (If you didn't know, Eggie means baby in Korean.)
"We always try and incorporate some sort of Korean thing, [whether it's] putting something on the graphic tees or [using] images that I have seen on Korean style blogs and... kind of turn it into our own. It's definitely embedded into the collections for sure," Im says.
When Im is celebrating the holidays with her own family, she sometimes wears a traditional Korean dress, called a hanbok, particularly on New Year's Eve, the biggest holiday for her and her parents, she says.
"We do Thanksgiving, we do Christmas, but one holiday that I always have to show up for is New Year's Day," says Im. While she won't be wearing a hanbok to her holiday festivities this year — she grew out of hers and is on the hunt for a new one — Im will be rocking some of the items from her own collection, like one of the dresses (maybe the Tinsel slip?) or a top (like the Vixen top), she shares. But on the days she's not at a holiday party or event, you will probably find Im in something a little more comfortable, like a loose patterned pant and a tube top. "I would say sweater, but it's still not cold in LA. So tube tops and some funky pants — that is my uniform."
Im didn't divulge what Eggie customers can expect from her next collection, but she did tell Bustle what trends she predicts will be big in 2019. "Neon, for sure. I think it's been such a muted couple of seasons and I feel like fashion just always rotates; it's either one extreme or another. I think pops of neon are gonna be super hip," Im explains.
She also foresees fanny packs continuing to dominate over handbags. "Anywhere a fanny pack can be incorporated, that's gonna be dope 'cause I feel like people are enjoying a hands-free life. It's so fun to not have a purse!" Im shares.
Can we bet on a neon-colored fanny pack to grace us in Eggie's spring collection? Only time will tell, but our fingers (heavy from all that purse carrying) will be crossed.