Jenna Fischer Wore A Bath Towel On 'Jimmy Kimmel Live' & The Reason Why Is Priceless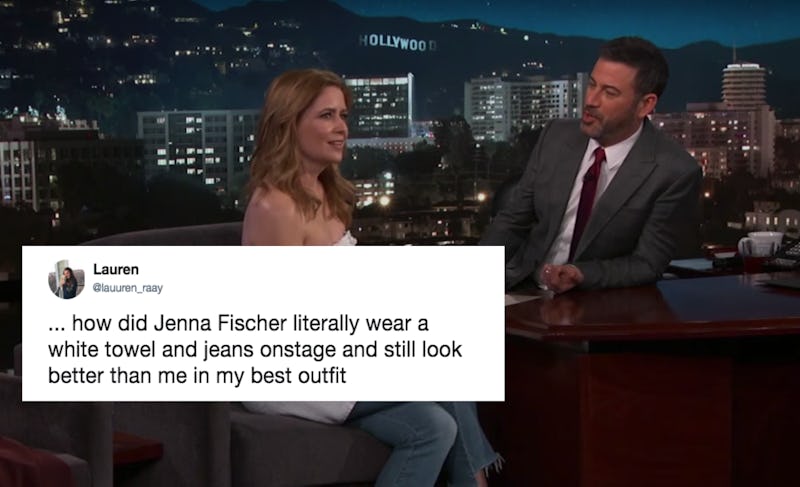 Jimmy Kimmel Live/ YouTube
Bathleisure is the fashion trend we love to love. Pulling inspiration from people who step out of the shower and leave their towel wrapped around themselves for hours on-end, the trend takes that wet-towel look and makes it more Vogue-approved. Instagram photos of women in cat eye sunglasses and chandelier earrings began flooding into feeds earlier last year, where the more flamboyant you accessorize your bathrobe look, the more points you get. But Jenna Fischer showing up in a bath towel on Jimmy Kimmel Live! just might take the cake.
The Office star's bathleisure outfit joins a long list of celebs and influencers who embraced the terrycloth look. For example, Rihanna wore her wet hair in a towel while wearing a sparkly leotard and fur coat. Leandra Medine from Man Repeller wore her towel with stacked gold bangles and layers of tangled necklaces. Rita Ora performed on stage in a floor-length terrycloth robe, a towel wrapped around her head, and an impressive diamond choker. So suffice it to say, Fischer's look isn't anything new.
But the reason she stepped onto Kimmel's stage in a white towel top wasn't because of fashion, but because of necessity. And the reason why is so relatable.
Walking onto the set with a towel wrapped over her jeans like she's still at home and deciding what to wear, she held a purple floor length dress in one arm as she took her seat next to Kimmel. Laughing at the unexpected getup, he asked Fischer what was going on.
"So this was my outfit," she said, gesturing at the plum colored gown sitting next to her. "I waited a little too long to get dressed and my zipper broke and I panicked."
Not knowing what else to throw on, she grabbed a towel, wrapped it around her chest, and had herself a tube top that would have the early 2000s nodding its head in approval. Terrycloth was in back in the day, right?
"I am a Missouri girl, and the show must go on." And in true bathlesiure fashion, she accented the look with heels and diamonds.
"I've never been more comfortable," she shared. "Well yes-and-no comfortable. Mentally, I'm freaking out I'm on a talk show in a towel, but I'm physically very comfortable."
"I feel like I ran into you at the spa," Kimmel laughed. "Like we're at a destination wedding together, and you went to get a massage and I'm waiting to get a massage, and you came out and I'm like 'Hey how's it going!' and it's a little bit weird."
Twitter had a lot of feelings about the makeshift shirt, and most of the comments skewed towards how unfair it was that Fischer still looked stylish while sitting in a MacGyver-ed bath towel.
"Jenna Fischer can wear a damn towel as a shirt and still look like a goddess," one person wrote.
"... how did Jenna Fischer literally wear a white towel and jeans onstage and still look better than me in my best outfit," another demanded.
Other people thought it was so relatable to see, especially considering how often dress zippers snag and break just as you're about to head out the door.
Some dubbed her the new fashion inspiration icon of 2018, which many of us would be so on board with. (Who doesn't want to make bathleisure an actual, real-life thing?)
While others voiced the concern that only celebrities could get away with the look, while the rest of us would be arrested for indecency.
So the next time you don't know what to wear when stepping out of the shower, look down at your soggy towel, shrug, and head out the door. It's been Fischer approved.