This 'Stranger Things' Season 2 Moment Has Already Become A Meme That You Will Absolutely Enjoy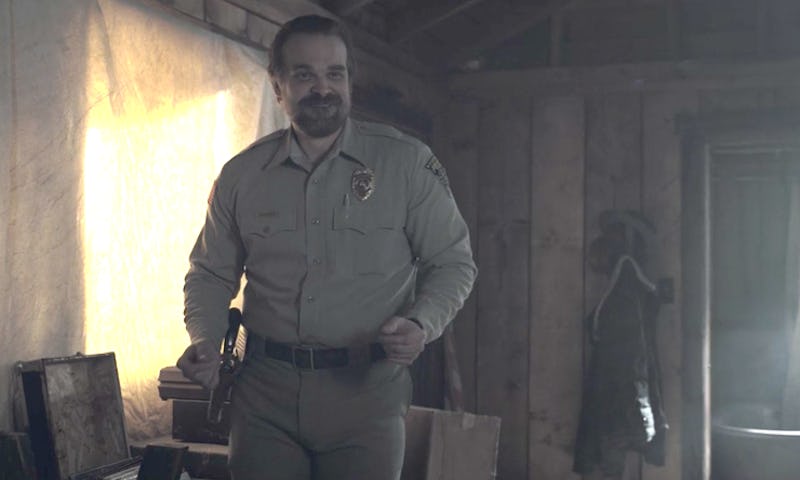 Netflix
We've just watched a season as dark as the velvety depths of a demogorgon's throat, so bow down for Stranger Things' Jim Hopper's dance meme, which will bring a smile to your face. Or at least ease those jitters you've been laboring with ever since the particularly terrifying, penultimate episode "Chapter Eight: The Mind Flayer." The Hopper Dancing To Twitter account is deliciously simple, showing the same clip of the Sheriff getting down, as Eleven watches, with a rotating soundtrack. He dances to everything from Blackstreet's "No Diggity" to the Friends theme song.
It is inspired, obviously, by the one moment of sunshine in "Chapter Three: The Pollywog," when the Chief of Police puts on Jim Croce's 1972 banger "You Don't Mess Around With Jim" and starts getting down to it, all on his own, after telling Eleven, "This, this is music." The girl watches first in fascination and then in confusion, but ignore those thunderous eyebrows, because Hopper's dance is at least as compelling as the track itself. A little bit Drake, a little bit cool dad, he's a hip-swinging, thumb-clicking meme in the making. So no wonder all the clip had to do to go viral was to swap out the track used.
However, the @hopperdancingto account is the only one with a seal of approval from the man himself. David Harbour, who plays Jim Hopper, tweeted, "Whoever created this account has won, not only the internet, but, yes, my stone cold heart. Thank you @hopperdancingto <3 " He's not the only cast member who has pitched in. Noah Schnapp, who plays Will Byers, tweeted, "I have a request, does it work with Bieber's Despacito?" It's no wonder that even the actors are entranced, since the choice of songs on this account is particularly deft, with each hit lining up perfectly or almost perfectly to the rhythmic shufflings of Hawkins' sheriff.
And, honestly, thank goodness for this meme in the first place. While Season 1 of Stranger Things contained plenty of horror, Will's disappearance was made easier for the viewer since they hadn't yet gotten to know him. Much like Laura Palmer's death at the beginning of Twin Peaks, Will's vanishing was sad and tragic, as the disappearance would be, but because of our distance from the character, it was purely abstract. The storyline didn't feel like a sucker punch to the gut. Stranger Things Season 2 proved a darker installment of the franchise because most viewers have already sat through eight episodes and know the characters intimately.
As such, this time round, it feels like there are two horrifying storylines to deal with. There's the supernatural element, which is just as unexpected and creepy as ever. But there's the even harder is the emotional storyline, with most of the major characters going through either a mental health trauma, a family drama or a highly complicated, painful love life. So thank goodness for @hopperdancingto.
It's nice to remember that even in Hawkins, Indiana, characters do get to enjoy brief moments of fun, leisure, heck, even connection. A hardened middle aged cop and a child with psychokinetic abilities can form a familial bond over the joy of dancing like nobody's watching, even when they are. It's even nicer to remember that, in between the 10 minute sequences that had you hiding behind your sofa, there were also moments that coaxed a laugh out of you. This is definitely that moment (though sure, Steve Harrington's confession about how he makes his hair look so perfect ranks a close second).
Still recovering from the trauma of the second season? Give the dancing meme a deep dive. You'll be feeling dancefloor-ready in no time.