Read J.K. Rowling Response To The Global Gag Rule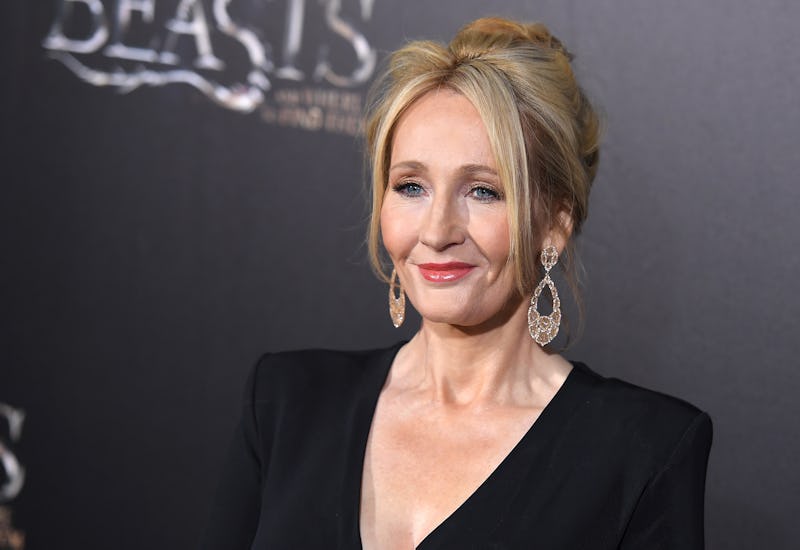 ANGELA WEISS/AFP/Getty Images
Responding to President Donald Trump's decision to reinstate a rule that prevents global health clinics receiving U.S. development funds from even discussing abortion with patients was none other than Harry Potter author J.K. Rowling. The British writer has long been active politically on the social media site. Plus she literally wrote the book on defeating Voldemort, so you might want to listen to Rowling's Twitter response to the global gag rule, which perfectly highlights the danger women around the world now face thanks to the executive order.
The global gag order's reinstatement is an about-face from Obama's policy on the matter. It bans NGOs around the world from using any of their money — not just that provided by the United States — to fund abortion services, provide information, or even give referrals to other doctors for abortion. Doctors, nurses, and other healthcare providers are not even allowed to mention the word, even if a patient specifically asks. If they do, they risk losing all funding for family planning and contraceptive services.
So why would anyone do this? Let alone the supposed leader of the free world. Rowling tweeted out an answer: "Under the mistaken belief that this will stop abortion. It never has. It just makes it more unsafe," the author wrote on Monday. But that was just one of many tweets and retweets that she penned on the topic.
Perhaps the most powerful were those that quoted a report from the Guttmacher Institute that covers what happened the last time the rule was put back into effect, when George W. Bush was elected. Under Bill Clinton, the rule was rescinded, but Bush went back to the Reagan-era order, first announced at an international population conference in Mexico City in 1984. The report is unequivocal:
When the policy has been in effect, health providers have been forced to fire staff, reduce their services or even close their clinics altogether. Thousands of women lost access to family planning and reproductive health services from trusted local providers — sometimes the only provider of these services in their community — putting them at risk of unintended pregnancy and unsafe abortion.
Rowling took screen shots of two examples. One was in Kenya, where after Bush reinstated the rule, the Family Planning Association of Kenya and Marie Stopes International stopped providing some "critical activities." It limited contraceptive supplies and outreach to some of the most rural parts of the country. "Government clinics, exempt from the gag rule, were never able to pick up the slack nor regain the trust of women turned away by the NGOs," the report added.
Another example was Lesotho. U.S. Agency for International Development (USAID) cut off all aid there because the one agency to give out contraceptives was Lesotho Planned Parenthood Association. They went from receiving 426,000 condoms in a two-year period under Clinton to none under Bush. That's terrible. This makes it so much worse: "At that time, one in four women in Lesotho was infected with HIV," the report adds.
Under Obama the situation has improved again — but all that progress could now be gone.
So this move by Trump should really have you worried. Ironically, it may even have the opposite effect of what he and his anti-abortion rights supporters want. Rowling retweeted someone sharing that paper by Stanford University researchers points to African abortion numbers rising while the global gag order was in effect under the Bush administration, compared with the immediately proceeding Clinton years. "Reduced financial support for family planning may have led women to substitute abortion for contraception," it reads. How ridiculously sad.
It's a shame we can't trust our own government to consider these facts and make the best decision for women around the world. But since we can't, it's good to know there are women like Rowling out there who are happy to point out their error.
In times like these, you've got to take notice. Empowerment as exemplified by Rowling may just be your very own Patronus against all these dark muggle arts.