This One Sneaky Clue In Taylor Swift's "Ready For It" Video Is Proof It's About Her Current BF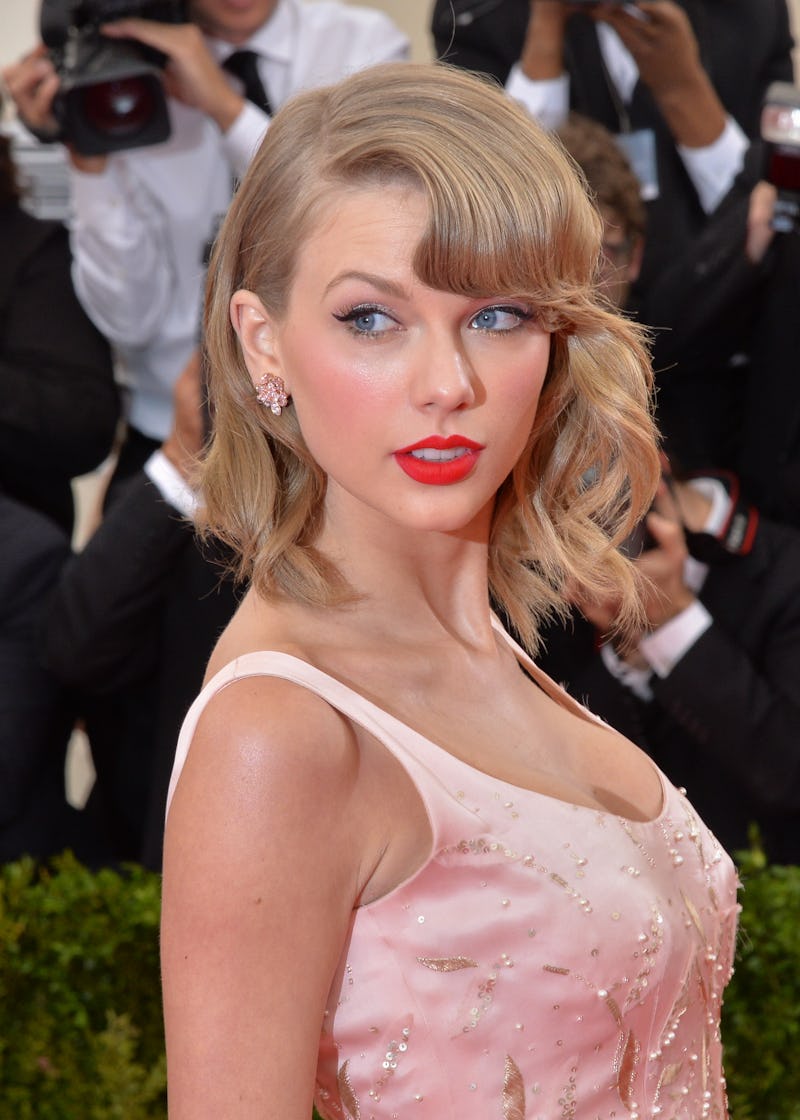 Andrew H. Walker/Getty Images Entertainment/Getty Images
Continuing her trend of dropping new singles and videos leading up to Reputation's official release, Taylor Swift's "...Ready For It?" video premiered on Thursday night. And naturally, her fandom went into a frenzy. That includes trying to piece together all of the references to Joe Alwyn in Swift's "...Ready For It?" video. If you might've missed a clue or two, eagle-eyed Swifties have you covered. Fans were quick to point out that '91 is Alwyn's birth year and it's gratified on the wall alongside Swift's '89. It seems Swifter's actor boyfriend may be the subject of "...Ready For It?" as was suspected when the song was first released.
Even though the video itself appears to be an homage to the sci-fi genre, there's an electrifying love story going on behind all of the robotic shenanigans. "Younger than my exes, but he act like such a man, so I see nothing better, I keep him forever," Swift sings. At 26, Alwyn is definitely younger than the singer's thirtysomething exes like Tom Hiddleston (36) and Calvin Harris (33). More than that, he seems to be a fitting muse for the song, even though the references to Swift's romance with Alwyn are sneaky, to say the least.
One sharp-eyed fan on Twitter pointed out that Swift quickly liked a post full of secret messages that can be found in "...Ready For It?" and unsurprisingly, most of those messages seem to fit the pop star's relationship with Alwyn perfectly. It's all about the graffiti that's scrawled across nearly every surface in the video. To catch all of the references, you'll definitely have to watch the video a few times, but the big ones appear to be hidden in out of the way places — which is fitting, considering how private Alwyn and Swift have kept their relationship so far.
The secret messages painted on the walls include the phrases "UR Gorgeous" and "I Love You in Secret." Both seem to be aimed at someone special, and since Swift's number one guy appears to be Alwyn, it only makes sense that these phrases are about him. There are even more context clues in the lyrics, which hint at a Swift who is enjoying a happy and somewhat private romance.
"I know I'm going to be with you, so I take my time," Swift sings, and the lyrics point to a level of contentment that will no doubt have shippers calling the "Look What You Made Me Do" singer and Alwyn couple goals. And, hey, if the song truly is about him, then the couple's fans aren't wrong.
The biggest clue may be metaphorical. Notice how one version of Swift is wearing black and the one she meets boxed in is wearing white? That seems to track with the whole the old Taylor is dead narrative, but it's not the dark and brooding Taylor who wins the battle. It's the one who's dressed in white, riding a horse, and controlling lightning that prevails. In fact, she destroys the other version of herself completely.
Before Swift enters the room to battle with her other self, she has to put in a code. That code is the number 21, which happens to be part of Alwyn's birth date (Feb. 21). His birth date opens the door to a fresh start for Swift, one where she can let go of the drama and embrace something that makes her happy. It's an amazing way to look at their relationship — as a place where Swift feels safe to be herself.
All signs point to "Ready For It?" being about Swift's romance with Alwyn, and if it is, then it seems that Swift has found something truly special with the actor. And hey, he definitely deserves kudos for (maybe) inspiring one catchy love song.