Biden Isn't Repeating The Mistake He Made With Anita Hill When It Comes To Kavanaugh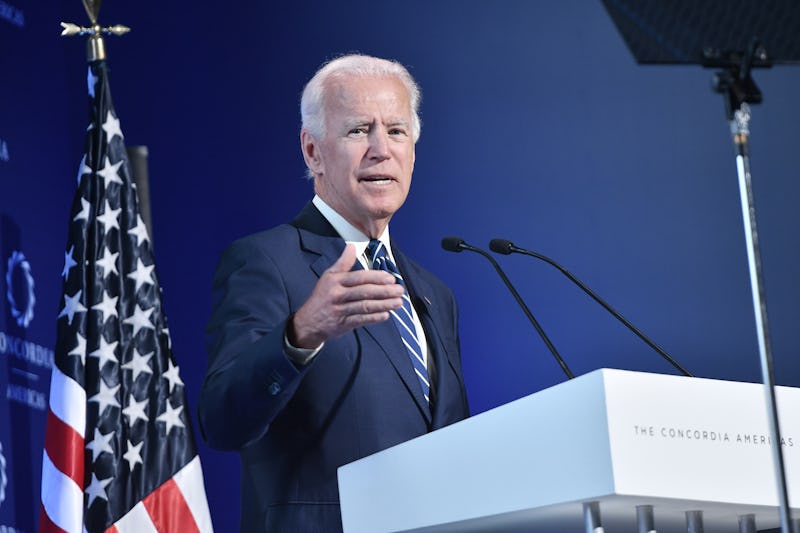 Gabriel Aponte/Getty Images Entertainment/Getty Images
Joe Biden was in the Senate the last time that an allegation of sexual misconduct played a role in a Supreme Court confirmation hearing. Now that Supreme Court nominee Brett Kavanaugh has had an allegation of attempted sexual assault leveled at him, Biden isn't in the Senate anymore, but he's making it clear that he won't make the same mistake twice. Joe Biden's reaction to the Kavanaugh allegations shows that he's learned a different approach since he sat through Anita Hill's testimony at Clarence Thomas' hearing.
On Friday, the New Yorker broke the news that an anonymous woman was claiming that Kavanaugh had attempted to rape her when they were both in high school. Kavanaugh denied the allegation "categorically and unequivocally" in a statement that the White House provided to the New Yorker. On Sunday, California researcher and professor Christine Blasey Ford publicly named herself as the woman in question. And now, the former vice president has put out a statement reacting to all of that news.
"Vice President Biden believes Professor Ford deserves a fair and respectful hearing of her allegations, and that the Committee should undertake a thorough and non-partisan effort to get to the truth, wherever it leads," said a spokesperson of Biden's in a statement, according to the Hill.
"He believes the vote should be postponed to allow this to happen appropriately," the statement continued, "Because this is an appointment for life to the nation's highest court and getting the decision right is more important than getting it done on a rushed timeline."
In saying this, Biden echoes several current senators — both Democrats and Republicans — who have called for a delay in the committee vote to proceed with Kavanaugh's confirmation process. Almost 30 years ago, though, Sen. Biden had a different reaction.
In 1991, the Senate was in the process of confirming then-Supreme Court nominee Clarence Thomas when a woman privately brought her concerns to the group. Anita Hill, a former employee of Thomas', claimed that Thomas had repeatedly sexually harassed her (claims that he denied). According to the Huffington Post's account of the situation, no one seemed to be taking it too seriously until she was named in the media without her consent — and then she got a chance to testify before the Senate.
Biden, then the chair of the Senate Judiciary Committee, would have had it in his power to delay the vote until Hill's story had been properly considered, Huffington Post wrote — but instead, he allowed the vote to go forward, as his Republican colleagues wanted. The Huffington Post also noted that he made two other serious errors in Hill's mind: letting Thomas testify twice, both before and after Hill, and refusing to hear testimony from three other women who could have helped to back up Hill's story.
In December 2017, Biden said that he owed Hill an apology because of the way the hearings went. "I wish I had been able to do more for Anita Hill. I owe her an apology," Biden said in an interview with Teen Vogue. "My one regret is that I wasn't able to tone down the attacks on her by some of my Republican friends."
In November 2017, Hill told the Washington Post that she didn't believe that Biden had truly reckoned with what he had done — and the effects his actions had on women — when he effectively sided with Thomas. Perhaps Biden's statement regarding Kavanaugh's confirmation is another attempt to rectify matters.