Joe Biden Defended Himself In His Apology To Anita Hill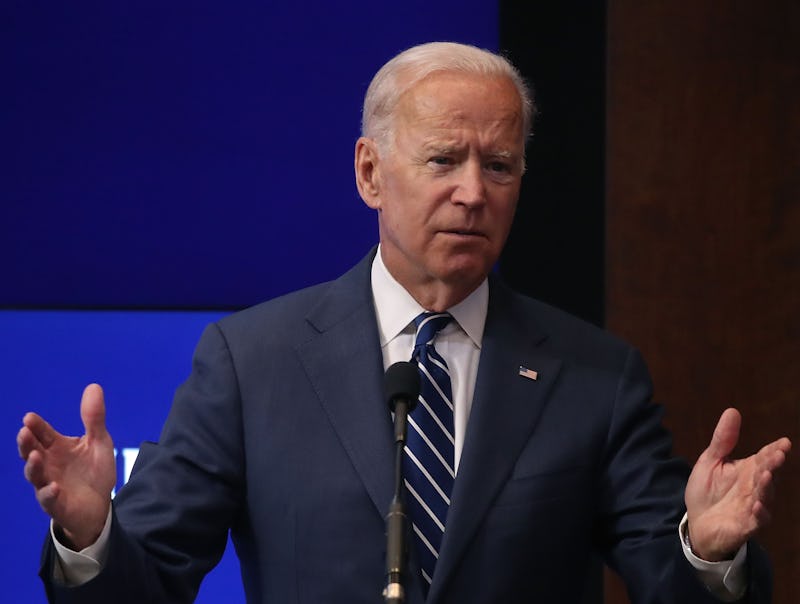 Mark Wilson/Getty Images News/Getty Images
Former Vice President Joe Biden isn't closely involved in Supreme Court nominee Brett Kavanaugh's confirmation process, but his name has frequently been brought up in the discussion surrounding that process. The reason behind that is that Biden led the Supreme Court confirmation hearings in 1991, the last time they involved allegations of sexual misconduct. On Friday morning, Biden apologized to Anita Hill — but he also defended himself in doing so.
In an interview on the Today show, Biden addressed the criticism he's received lately for the way that he behaved towards Hill when he was the chair of the Senate Judiciaty Committee.
"You were chairman of the Judiciary Committee back in 1991, you were roundly criticized for not doing more during that hearing," interviewer Craig Melvin said to Biden. "How do you balance the rights of a woman who's making accusations like this versus the presumption that a person is innocent until proving guilty?"
"The presumption should exist, but the woman should be given the benefit of the doubt and not be abused again by the system," Biden said, before moving on to begin mentioning the Anita Hill hearing. "My biggest regret was, I didn't know how I could shut you off, if you were a senator and you were attacking Anita Hill's character."
Biden then said that he "tried" to stop senators from asking questions that impinged on Hill's character, but was unable to under Senate rules.
"I believed her when I came forward, I encouraged her to come forward, we were in a position where we got the FBI to do an investigation," Biden said. "I hope that [the Senate] understands what courage it takes for someone to come forward and say what they believe happened to them."
"It seems like you get it now, versus in '91," Melvin said.
"Well I think I got it in '91," Biden responded. "People have their own opinion. That's why I wrote the Violence Against Women Act."
Biden then went on to defend his track record of advocating for female senators to step into positions of more power, especially in the judiciary committee.
This isn't the first time since the allegations against Supreme Court nominee Kavanaugh emerged (allegations that Kavanaugh has roundly denied) that Biden has gone on the record taking the side of survivors of sexual misconduct. However, that doesn't erase what he asked Anita Hill during the confirmation process of Clarence Thomas, around allegations that Thomas denied.
For example, Biden pushed Hill to be more graphic in describing what had happened to her at multiple times in the hearing, asking questions that she visibly reacted to negatively, as BuzzFeed described.
"Did he just say, 'I have great physical attributes,' or was he more graphic?" Biden asked Hill.
"He was much more graphic," Hill said in response.
"Can you tell us what he said?" Biden then Hill, effectively forcing Hill to repeat a line that had already been embarrassing when she claims that Thomas said it to her.
This time around, Biden has made it very clear that he's not the same senator who asked Hill those questions — but this interview in Today is another example of how he has not taken full responsibility for having been a part of the problem.