Joe Biden's Plans Are Geographically Perfect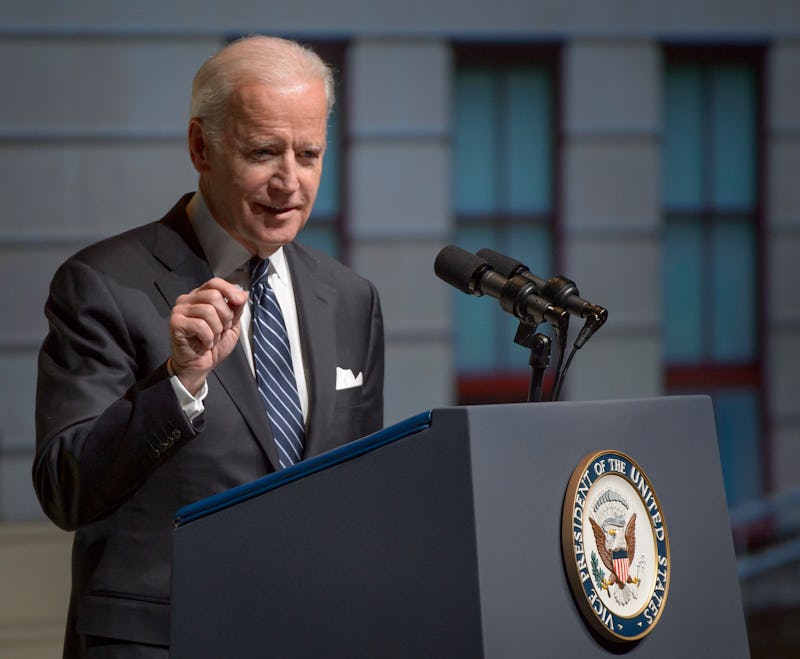 Bill Ingalls/NASA/Getty Images News/Getty Images
In classic Joe Biden fashion, he let slip his plans for after the White House by accident. After swearing in the new Senate, he started to chat while the C-SPAN microphone was still hot. Someone who was at the swearing-in with Senator Kamala Harris asked him about his future plans, and he had an answer. It seems likely to confirm the rumors that he will be working in partnership with two universities — the University of Delaware and the University of Pennsylvania. That proves that Biden's plans after the White House make total geographic sense.
If you ever have heard Biden give a stump speech, you know that he's from Scranton, Pennsylvania. The small city in the northeast of the state is always mentioned not just because he's from there, but also because it's emblematic of the fairer deal that working people used to get, at least in his mind. "It used to be a basic bargain," he argued on the campaign trail for Clinton about the idea of work providing for a middle-class life. And for him, that was seen in the life of his parents in this Pennsylvania town (or at least, that's how the official version goes).
So it makes sense that he would want to partner up with the University of Pennsylvania, the premiere Ivy League university in the state, located just two hours away from his boyhood home. According to what an aide told the Associated Press, his still-unannounced affiliation with the school will house "activities on foreign policy and global engagement initiatives."
Another important place to him is Delaware. He was a senator representing the state for 36 years, during which he often commuted on Amtrak to and from his home each day. It was only when he became vice president that he finally moved to D.C. If the job hadn't come with the expectation of living at the Naval Observatory, who knows if he wouldn't have tried to continue as usual? His family remained in the state; his now-late son even served in office there as attorney general.
So the University of Delaware — Biden's alma mater — is also a clear choice. He visits regularly and just attended the swearing-in of the new president. His work there will be focused on "economic and domestic policy."
The final project is likely to be connected to the "cancer moonshot" effort to find a cure for the disease. He became more passionate about the need and began his work to streamline data sharing among cancer researchers, with President Obama's blessing, after his son Beau Biden passed away from brain cancer. Biden references that on the hot mic:
I'm going to be setting up this thing called The Biden Trust to continue the cancer work. And it's not so much about raising money or philanthropy, though there will be some of that. But it's more about keeping these guys cooperating and changing the culture.
With these three projects, America's favorite vice president will have the opportunity to continue making a difference in public policy. This will be his first stint in 45 years that he is not serving in federal office, so becoming a private citizen could be quite the challenge without initiatives like these.
And it's nice he can do them in places that have meant so much to him over the years.