Dustin & Steve From 'Stranger Things' Are The IRL Friendship You Didn't Know You Needed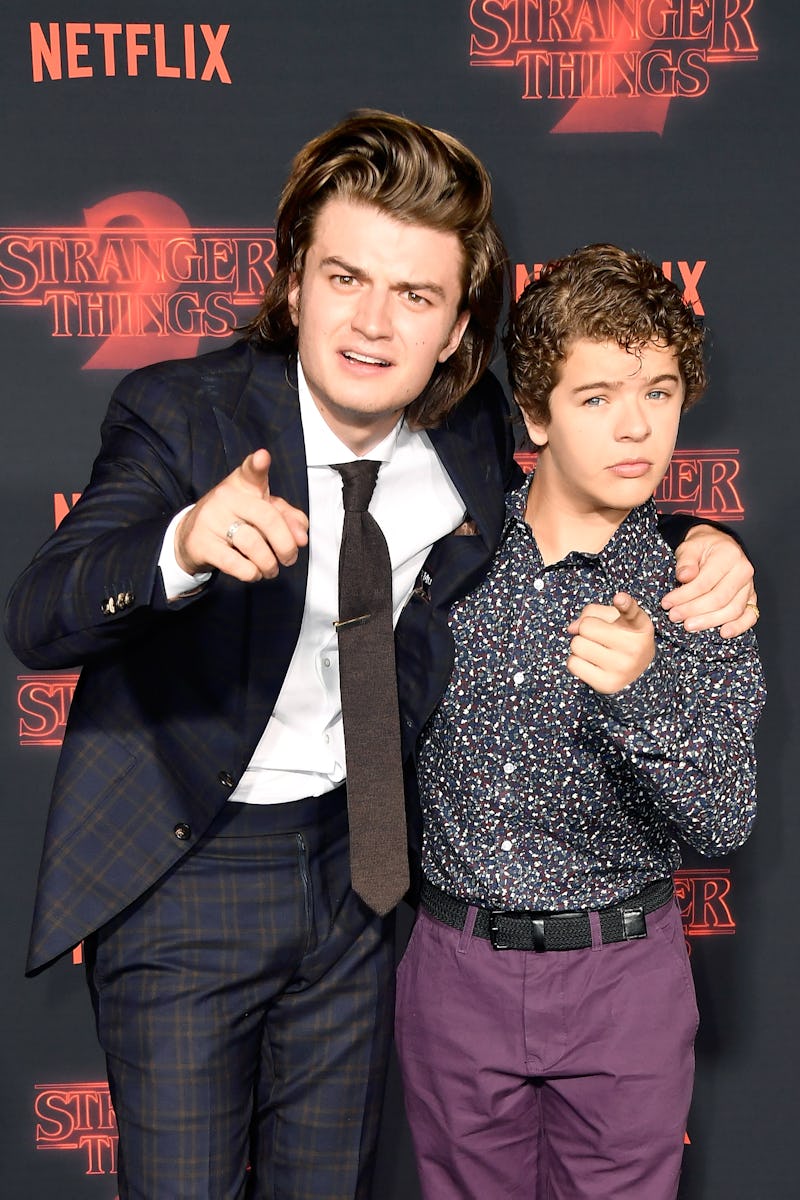 Frazer Harrison/Getty Images Entertainment/Getty Images
The second season of Stranger Things dropped on Oct. 27, and by now, many fans have streamed all the episodes. The cast of the show is known for their hilarious antics, but Joe Keery and Gaten Matarazzo's friendship is a special one. This season, Steve offers Dustin some important advice (and reveals the secret to gravity-defying hair), but Keery and Matarazzo clearly became close pals off screen, as well.
The cast of Stranger Things often post their hangouts to social media, and Keery shared an extra special thread on Twitter in which two stars pretend to be on a quest for the right restaurant. The whole saga unfolds with pictures taken on set, and, as the story goes, they are unable to make their reservation and eventually settle on some cereal. Relatable.
It was a big week for Stranger Things on Twitter. The show broke records as the most tweeted about streaming series during an opening weekend. The popularity of the series online isn't too surprising since the show is so massively popular, and as the cast of the show have become true social media stars, too. David Harbour's dancing as Sheriff Jim Hopper has become a popular meme, Finn Wolfhard posted some pretty hilarious thoughts from abroad, and, of course, Keery took a family photo that went viral.
The actor hasn't been the most active on Twitter in the past, but Keery's recent tweets prove that he's one of the funniest members of the whole Stranger Things crew. His recent posts with Matarazzo are especially funny.
When They Tried To Make A Reservation at Outback
The looks here might look familiar to anyone whose finished the second season of Stranger Things, but Keery jokes that they're not concerned about intergalactic creatures. The tweet reads, "Late for our reservation at @Outback gotta #hurry and be #quick if we want our meal." The reason for the concerned faces is not that their entire Indiana town might be devoured by a monster from the upside down, but rather that they really need to make it to this restaurant chain if they're going to get their meal. Matarazzo's "Steve Hair" moment from the show makes this picture extra funny.
When They Also Tried To Make A Reservation At IHOP
The saga continues. This time, they might miss their reservation at IHOP. The caption reads, "Gonna miss our reservation at @IHOP had this #res for months hope the don't #giveaway r seat. #hurry #hotcakes." The official Stranger Things Twitter account also chimed in with some thoughts on the matter:
When They Just Ate Cereal Instead
They were really committed to this narrative. The Twitter thread ended with another captured moment from set, and Keery wrote, "Couldn't get a table at @CrackerBarrel had to #settle 4 #cereal don't worry, we're ok we can #rebound #anyonehavemilk?". In the pic, Matarazzo is seen holding some of the retro cereal boxes from the show. It sends an important message: Chain restaurants may let you down, but cereal is always there for you. Amazing.
The meaning behind this bizarre Twitter story isn't exactly clear. It's possible the failed reservations are an inside joke or a way to poke fun at sponsored posts, or the stars just thought it was a silly way to share some pics of their friendship. Either way, fans can be grateful for more captured behind the scenes moments, and for letting fans in on their IRL friendship.
These Funny Red Carpet Pics
At the Stranger Things Season 2 premiere, Keery and Matarazzo posed for some normal pics, but, of course, couldn't help striking a couple funny poses, too. As seen above, the two cast members pointed angrily at the camera, just for good measure.
The recent Twitter content from the cast of Stranger Things is good news for fans. When you finish watching the show, you can check out all the funny memes, pictures, and thoughts from the cast. If you need more content to hold you over until Season 3, following the whole crew online is the perfect way to keep from falling into an upside-down like void.