This Former CIA Director Praised Colin Kaepernick After Nike Boycotts Started Over Him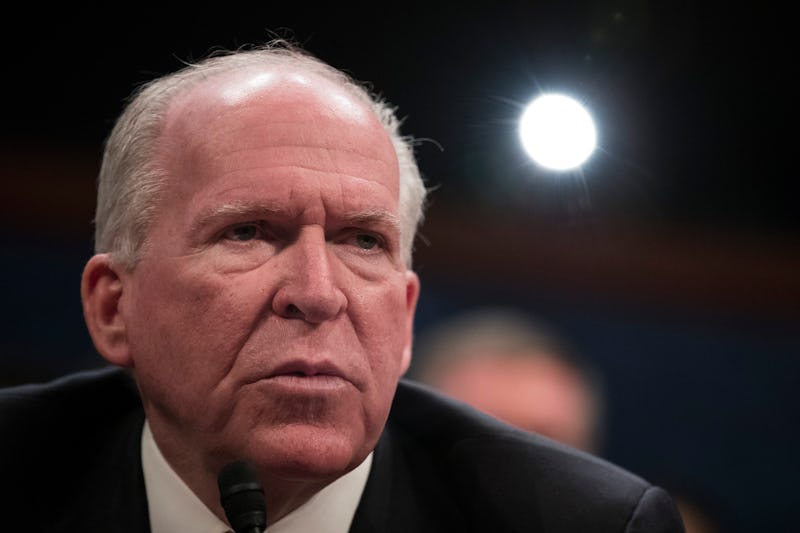 Drew Angerer/Getty Images News/Getty Images
While people cut Nike logos off their socks and shoot their branded sneaks, former CIA Director John Brennan is lauding Colin Kaepernick. The NFL player who started the protests to take a knee during the national anthem in protest of racial injustice is the star of the company's 30th anniversary "Just Do It" campaign. Kaepernick, like Brennan, has been a frequent target of President Donald Trump.
Brennan, who has criticized Trump regularly on Twitter, took to the same medium to praise the football player. "Colin Kaepernick drew our collective attention to the problem of continued racial injustice in America," Brennan tweeted on Sunday. "He did so not to disrespect our flag but to give meaning to the words of the preamble of our Constitution—'in order to form a more perfect union.' Well done, Colin, well done."
Kaepernick has been at the center of Trump's attacks on the NFL players' protests and has faced the biggest consequences. In 2016 he became a free agent. Since then, he hasn't signed a contract and is headed to court to accuse the NFL owners of colluding to keep him off the field.
Nike, though, has maintained its endorsement deal with the player that was signed in 2011. "We believe Colin is one of the most inspirational athletes of this generation, who has leveraged the power of sport to help move the world forward," Gino Fisanotti, Nike's North American vice president of brand, told ESPN as the ad campaign launched.
The tweet that Brennan quote tweeted from Kaepernick featured a picture of the player and one of the slogans from the new campaign. "Believe in something, even if it means sacrificing everything," Kaepernick tweeted on Sunday with the hash tag #JustDoIt. It has been retweeted some 230,000 times and liked more than half a million times.
Trump has suggested that Kaepernick should have been suspended in interviews and said at a rally in September 2017, "Wouldn't you love to see one of these NFL owners, when somebody disrespects our flag, to say, 'Get that son of a bitch off the field right now, out. He's fired. He's fired!'"
Brennan has also been targeted by Trump for speaking out. Most significantly, Trump revoked Brennan's security clearance in August, saying that Brennan's criticism of the Trump administration was "inconsistent with access to the nation's most closely held secrets and facilities, the very aim of our adversaries, which is to sow division and chaos."
The former CIA director, supported by former top national security officials in an open letter, did not back down, and threatened to sue in response. "I am going to do whatever I can to try and prevent these abuses occurring in the future and if that means going to court I will do that," Brennan told NBC's Meet the Press.
Trump responded on Twitter:
I hope John Brennan, the worst CIA Director in our country's history, brings a lawsuit. It will then be very easy to get all of his records, texts, emails and documents to show not only the poor job he did, but how he was involved with the Mueller Rigged Witch Hunt. He won't sue!
With his support of Kaepernick, Brennan may once again find himself the target of Trump's wrath. It seems he'd be just fine with that.