John Legend's Muslim Ban Speech Is So Powerful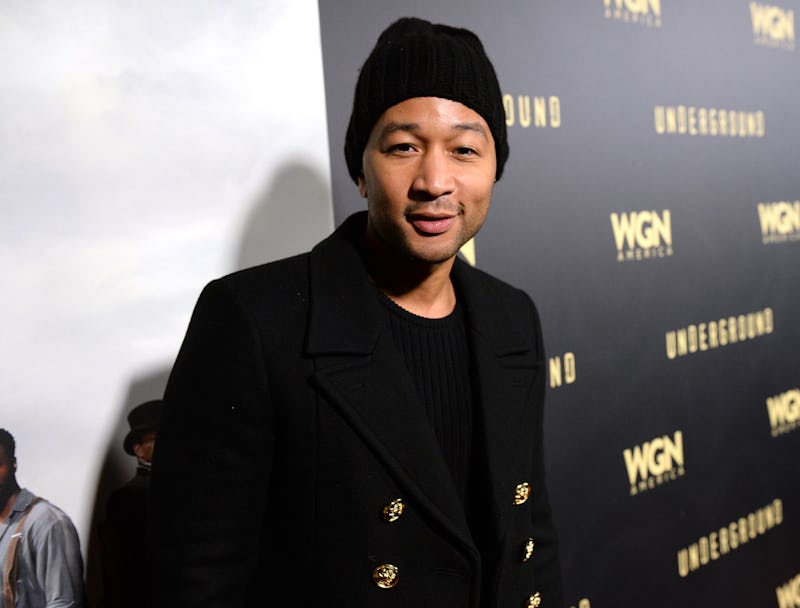 Gustavo Caballero/Getty Images Entertainment/Getty Images
John Legend and Chrissy Teigen have proven themselves to be the celebrity couple at the front lines of political activism during Donald Trump's presidency. Their status was solidified at Saturday night's Producer's Guild Awards, where Legend's speech about Trump's Muslim ban (his executive order prohibiting people traveling to the United States from seven predominantly Muslim countries) was heard by audiences. Legend have the speech as he was presenting La La Land, the movie that ended up winning the night's big award and which he appears in, and the star admitted on-stage that his political speech was "something [he] wasn't even supposed to do." Yet it's great he did, as Legend's speech was truly powerful to hear.
In the speech, the musician tied Trump's executive order into the theme of achieving your dream, which imbues La La Land. "I won't pretend that La La Land is a political film, but I do want to take a second to talk about what's happening in our country right now," Legend began. "This is a film about love, about dreams and about this lovely city we call home, Los Angles, California."
He went on to say that Trump's executive order prohibited dreams for many groups of Americans and would-be Americans. "Our America is big, it is free, and it is open to dreamers of all races, all countries, all religions," Legend said. "Our vision of America is directly antithetical to that of President Trump. And I want to specifically tonight reject his vision and affirm that America has to be better than that."
Legend also described his hesitation to attend the ceremony that night, but suggested that those in attendance at the high-end gala should donate to the ACLU and other organizations fighting against the immigration ban. He also referenced the protests that erupted in airports across the United States in response to the executive order.
It's not the first time that Legend, as well as Teigen, have publicly denounced Trump. Both have explicitly criticized the president's character, policies, and cabinet appointees on Twitter, and they've donated to organizations like Planned Parenthood that the Trump team has threatened.
Other celebrities have expressed their outrage about the president's ban, too. Sia promised to match ACLU donations up to $100,000, and celebrities including Judd Apatow, Rosie O'Donnell, and Jack Antonoff have followed suit. The ban has even affected members of the entertainment industry, including Iranian director Asghar Farhadi, who is nominated for an Academy Award but might not be able to travel to the United States for the ceremony due to the ban (he has now expressed that he won't come, regardless).
If the first week of the Trump presidency is any indication, it looks like this is just the beginning for celebs getting involved and making their voices heard when it comes to discriminatory policies.