John McCain's Former Chief Of Staff May Run For The Senate — But Not As A Republican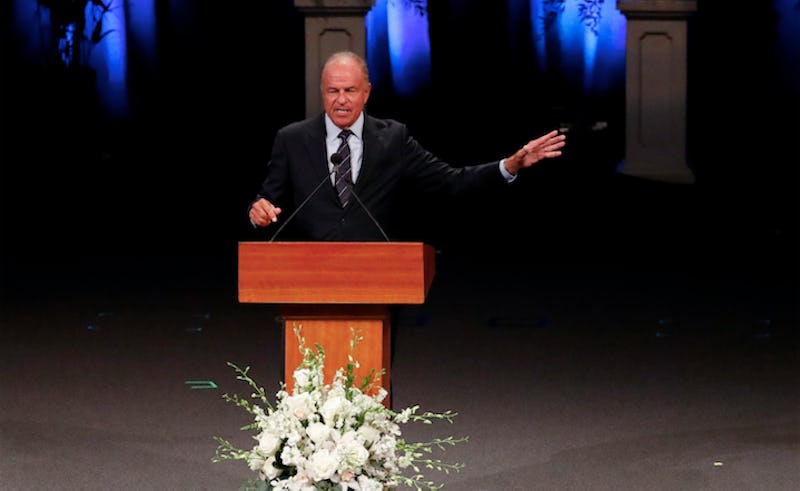 MATT YORK/POOL/EPA-EFE/Shutterstock
One of late Sen. John McCain's closest professional allies may run for Senate as a Democrat. Grant Woods, McCain's ex-chief of staff during his time in the House, said that he was mulling over "whether I need to step up at this point in time," according to the Washington Post on Wednesday. With the senator's death on Aug. 25, Woods — who served as Arizona's attorney general from 1991 to 1999 — is reportedly switching from his historically red affiliation to blue.
According to The Washington Post, Woods said, "What's changed for me is the passing of John McCain. It's challenging for me be so involved in everything that we did to honor him over the last week and then think of staying on the sidelines as we face a world without John McCain."
The Post reported that Woods said he had spoken with Senate Minority Leader Charles E. Schumer about his plans to run on a Democratic ticket to the Senate. This possible switch won't be unexpected for Woods as he voted for Hillary Clinton in the 2016 presidential election, according to The Post.
Democrats are eyeing McCain's empty Arizona seat as an opportunity for the party to gain more ground in the Grand Canyon State. At the moment, Republican Jon Kyl has been sworn in to take McCain's empty seat. It's a temporary development as Kyl will only serve until the end of the congressional term.
Senate Majority Leader Mitch McConnell had showered praise on Kyl saying, "Our friend and former colleague, Sen. Jon Kyl, is one of the most serious, most expert, most effective legislators with whom I've had the pleasure of serving."
Although he did not hint at the possibility of running for Senate as a Republican-turned-Democrat during his memorial speech for McCain on Aug. 30, Woods did highlight the need for bipartisanship and unity. "When it's all said and done, this Republican [or] Democrat thing is not that important, is it? We're all Americans," Woods said. "And you've got to get to the point where we can work together as Americans."
Reminiscing about his friendship with McCain, Woods said that the late senator had a profound fondness for Arizona. The former attorney general said, "[McCain] fell in love with Arizona. He loved the people, our diversity, our Native American community, our Hispanic culture, and he loved the place. In particular, the Grand Canyon, the Colorado River."
It's difficult to say how successful Woods will be in winning the hearts of locals in Arizona if he runs for Senate — especially as a Democrat. As The Post reported, his Republican background may cause him trouble while running against longtime Democrats in the Copper State.
When it came to running as a Republican, the former Arizona attorney general said no to the idea, per The Post. As long as Donald Trump is president, it won't happen. "I'm not going to hold my breath on Trump," Woods told the paper, "because I'm not going to pass out."