John Stamos' New Show Will Give You All The Nostalgic Feels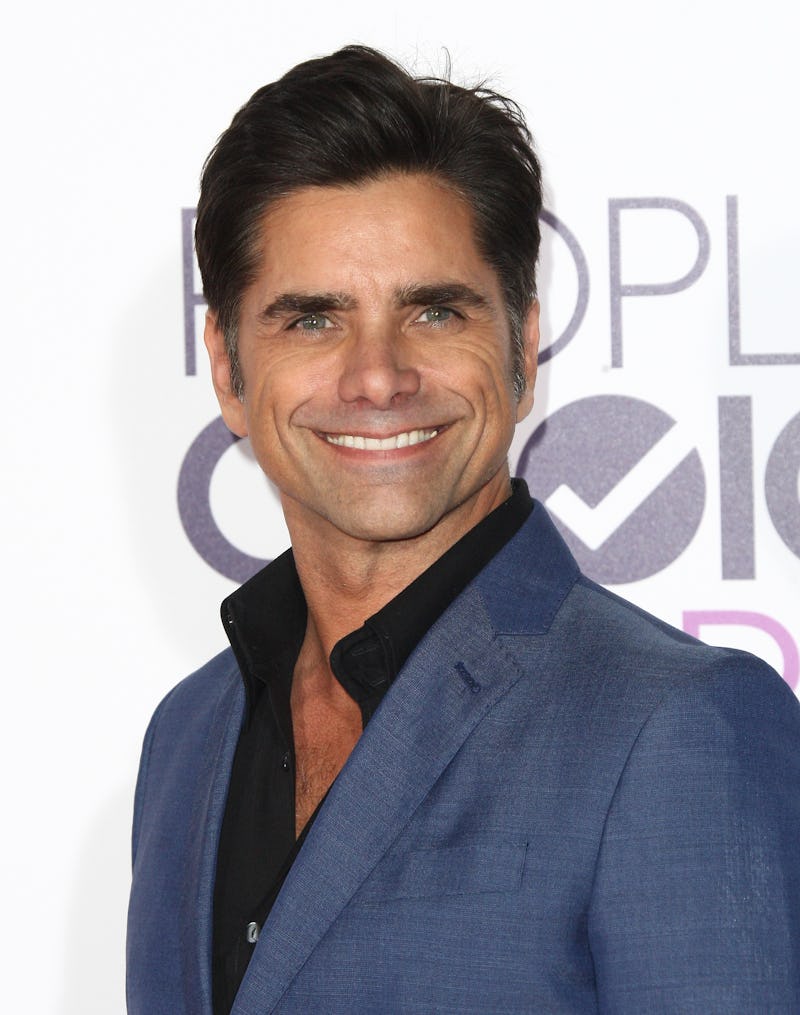 TOMMASO BODDI/AFP/Getty Images
Many may be surprised to learn that long before gaining notoriety for his beloved role as Uncle Jesse on the late '80 sitcom Full House, John Stamos was once a major heartthrob on the daytime soap opera, General Hospital. Whether you were too young or just unaware of the beginnings of his acting career, John Stamos' new show is sure provide more insight into his life before his break into Full House fame.
Deadline indicates that Stamos' forthcoming series, which is being developed by Amazon, will be inspired by his personal experiences of breaking into the world of acting and will be loosely based on his first major role as Blackie Parrish, which he played on the widely popular daytime drama, General Hospital from 1982 to 1986. Soap Central describes Parrish as a streetwise teenager who was taken in as a foster son by Dr. Rick and Lesley Weber after he was found living on the street following his biological mother's passing. Much like Stamos in real life, Parrish was a musician, more specifically a drummer in the band, Frankie and the Riff Raff. The character would ultimately find himself imprisoned after taking responsibility for his part in his girlfriend Lou Swanson's death, ending Stamos' two year run on the drama for which he received a Daytime Emmy nomination in 1983.
Slated to be set in the early 1980s, Stamos' yet to be named Amazon series is reported to explore the ins and outs of the soap opera genre through the eyes of an 18-year-old actor from Orange County who suddenly finds himself amidst fame and temptation after being thrusted into the Hollywood limelight, according to Deadline. The show's writer and executive producer Adam Stein describes the project as "Boogie Nights in the soap world." Stamos will reportedly also serve as co-producer on the project alongside Stein and previous collaborators, Craig Zadan and Neil Meron with whom he joined forces with to produce the 2000 Emmy-nominated miniseries Beach Boys: An American Family and the TV movie, Martin and Lewis, according to Deadline.
The revisitation into Stamos' origins will certainly offer fans a glimpse into a perspective quite different than his role as Uncle Jesse on Full House as it will seemingly chronicle some of the real life events that he faced while breaking into soap genre when it was at its height of popularity. During his time on daytime TV, Stamos became one of the more popular characters on General Hospital, so it will be interesting for viewers to see how his rise to fame will translate on the small screen.
Since his time on the soaps, the now 54-year-old Stamos has enjoyed a long career starring in television series, commercials and stage productions to include: ER, Glee, Grandfathered Scream Queens and most recently, the Netflix reboot Fuller House, which he also executive produces. Amid his many endeavors, Stamos also periodically appears with The Beach Boys, playing both the drums, guitar and singing during various performances alongside the legendary band.
Dedicated fans of Stamos will certainly revel in the fact that they'll get to, perhaps, learn a little bit more about the early years of the hunky actor who melted many hearts as America's most adorable uncle – Jesse Katsopolis. The role, which he played from 1987 to 1995, would ultimately establish him as a primetime star and solidify his position as an icon of the sitcom generation. However, it would be his portrayal of Blackie Parrish on GH that would give America its very first introduction to the handsome entertainer and his many talents that fans have come to know and love.