Read Rep. Judy Chu's Moving Speech On HR7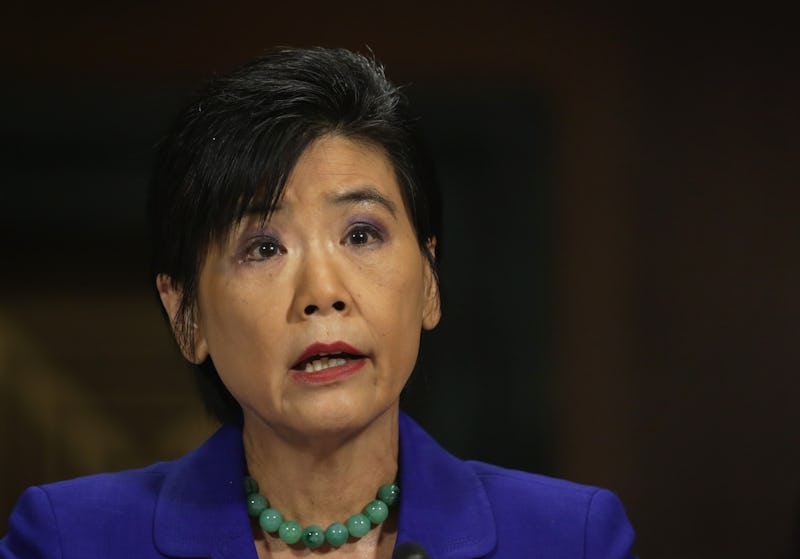 Alex Wong/Getty Images News/Getty Images
On Tuesday, the GOP-led House passed an anti-abortion bill that's sparking outrage among Democratic legislators and Americans who care about preserving a woman's right to choose. If HR 7 is passed, ultra restrictive caveats will be tacked onto that right, rendering it nearly useless for women insured by federally funded programs who can't afford to pay over $1,000 for an abortion out-of-pocket. This is exactly the point that California Rep. Judy Chu made about HR 7 during a speech posted to Facebook on Tuesday.
Her speech was short and to the point, explaining how HR 7 would disproportionately affect low-income women. She said:
On Saturday, millions of people took a stand against the assault on women's rights. Today, I stand with them once again to say we have had enough. Only two days after these historic marches, Republicans in Congress have introduced HR 7 to silence women by limiting their constitutional right to make personal choices about their reproductive health without undue government interference.
HR 7 is a women's health catastrophe. Not only would it codify the discriminatory Hyde Amendment, it would penalize employers who offer healthcare plans with comprehensive coverage and prevent the 80 percent of ACA enrollees who receive subsidies from purchasing plans that cover abortion services.
In effect, it makes abortion an option only for the wealthy. The law of the land does not say that only some women have the right to choose, it says that all women have the right to choose. I urge my colleagues to oppose this reckless legislation.
Chu's last two sentences, which explain in a nutshell why HR 7 is nothing short of discriminatory, stick out most in her speech. These lines are a reminder that ultimately, overturning Roe v. Wade isn't the only way a woman's right to choose can be seriously compromised. Countless other factors, such as state abortion clinic laws, can be detrimental to a woman's access to safe abortion. And after the Women's March, it's clear that Americans recognize when their rights are being stripped indirectly, but still severely, via pieces of legislation like HR 7, the Hyde Amendment, or the so-called heartbeat bill.
In the upcoming days, it's likely that Chu will continue to stand up for women's reproductive rights. On Inauguration Day, in fact, she refused to attend Trump's swearing-in, citing his personal attacks on Rep. John Lewis and emphasizing the concept that dissent is patriotic.
"I will continue to focus on my efforts to ensure a more just and equal country for ourselves and future generations of all Americans - regardless of race, religion, ethnicity, or orientation," Chu said in a statement about her decision.
And it seems as though that's exactly what she's been doing. However, not all legislators are like Chu, and it's important that you contact your lawmakers — especially if they're Republican — and let them know you oppose HR 7.