The Woman Who Was Fired After Flipping Off Trump's Motorcade Is Now Running For Office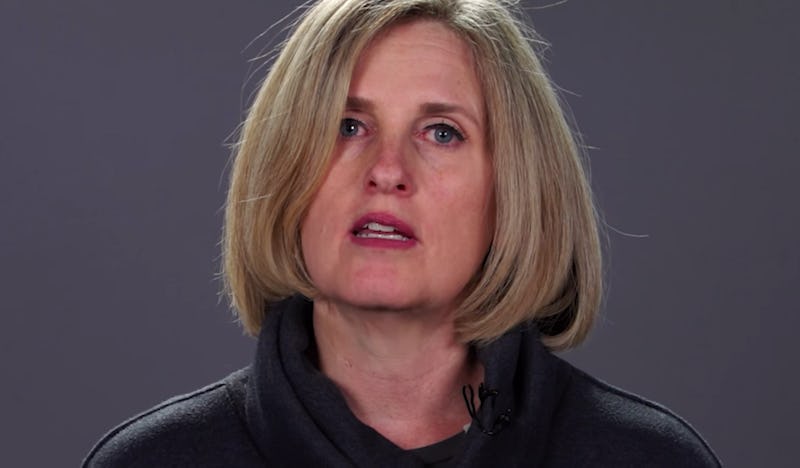 Photo: YouTube/Washington Post
Last October, a cyclist who flipped off the president's motorcade was later forced to resign from her job. Now, Juli Briskman is running for office, a move she told The Washington Post directly inspired by that experience.
On her campaign fundraising website, Briskman says she is not "one to sit idle."
"Whether it's standing up for a cause, such as our First Amendment rights to peacefully protest the policies of the Trump administration, or working to ensure our children and teachers are given every opportunity to succeed, I do not back down when I see something is not right," she wrote. "And now is one of those times."
Briskman is slated to challenge Republican Suzanne M. Volpe in a race to represent the Algonkian District on the Loudoun County Board of Supervisors in 2019, according to the Post. The Board of Supervisors governs the county, overseeing and managing issues like adopting ordinances, appropriating funds, and zoning issues. While Republicans maintain control of the board, constituents also have a reputation for voting for Democrats in state and federal elections, per the Post.
"After lots of conversations I decided I would be more effective on the board," Briskman told the Loudon Times-Mirror about her decision to run for a county position.
Briskman sued her former employer after she left her job at a government contracting firm and won her severance claim, but her wrongful termination suit was dismissed. In lieu of continuing through the appeals process, the Times-Mirror reported, she opted to combat the issue "legislatively."
Briskman maintains that she didn't do anything wrong when she raised her middle finger to the president's motorcade, explaining that she believes she was well within her rights when she chose to do so.
"I've gotten some feedback that folks say you should respect the president. Even if you don't like what they're doing, you shouldn't show this sort of disdain," Briskman told the Post. "And I simply disagree, and I think the Constitution grants me that privilege."
Volpe has served on the board since 2012, per the Post, and told the outlet that she will focus on the challenge when the time comes.
"Right now, I'm focused on doing the job that my constituents elected me to do: improving our transportation, making our community safer, creating jobs, being fiscally responsible," she said. "Needless to say, I'll focus on the race at the appropriate time."
Briskman told the Post that she plans to run on a platform that emphasizes funding the county's schools, checking developers, and promoting governmental transparency.
"I am running to serve as Supervisor for the Algonkian District where I have worked, volunteered, organized and raised my kids in public schools. I have launched my campaign on @Crowdpac because... if not now, when? Let's Do this!," she wrote on her Twitter account on Wednesday.
Briskman appears to have embraced her reputation as someone willing to raise a middle finger to authority — both her profile and header photos on Twitter show her flipping off Trump's motorcade. And Briskman is not alone in her bid for office, either. Women are signing up to run at a record rate, meaning that, while she may be new to politics, she is certainly not the odd one out.