Julia Louis-Dreyfus Latest Breast Cancer Update Will Make You Cry With Laughter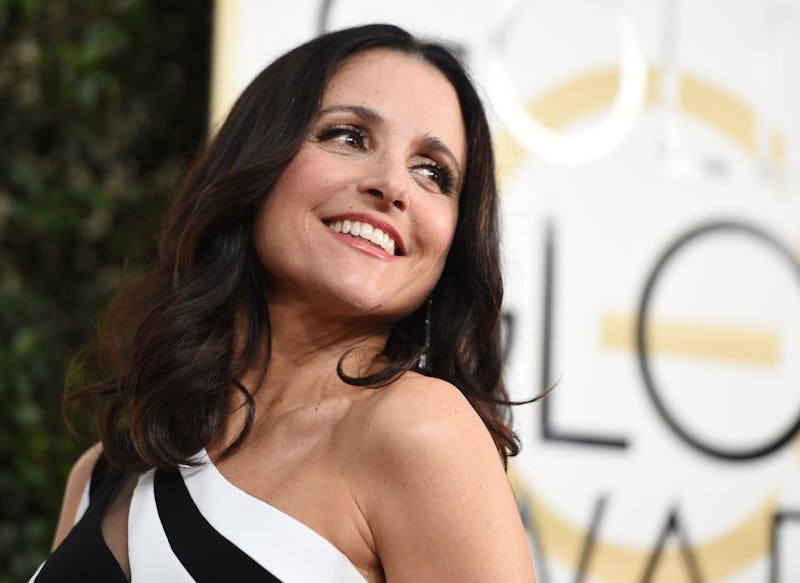 VALERIE MACON/AFP/Getty Images
This comedian is fighting breast cancer with help from one of her best qualities — her sense of humor. On Instagram Thursday, Julia Louis-Dreyfus gave a breast cancer update with a photo of herself in a hoodie, a pair of sunglasses, and a drawn-on mustache. The Veep star looks like the badass that most everybody knows she is and as detailed in the caption accompanying the photo, Louis-Dreyfus makes it clear that she's battling the disease with everything she's got.
Update: On Friday, Louis-Dreyfus tweeted a video (see below) of her Veep co-stars, Tony Hale and Timothy Simons, supporting her by singing Katy Perry's "Roar" and showing how she's not going to let breast cancer knock her down.
Earlier: She wrote,
Chemo #2: finito. We are NOT f*cking around here. "I've got the eye of the tiger. The Fighter dancing through the fire cuz I am a champion and your're [sic] going to hear me ROAR." Thanks to @mrtonyhale & @timothycsimons & @katyperry for their hilarious and loving inspiration.
As her fans know, Louis-Dreyfus is one of the funniest women in comedy, which has been proven time and again at award shows. She has won 11 Emmys, with six of those wins for her lead role as Selina Meyer on Veep. All of those wins for the HBO series means she hold the record for the most Emmy wins for the same role — and not just for a woman, but overall. So, yeah, her ability to make people laugh certainly hasn't gone unnoticed, and her comedic talent is also something that she's channeling through her cancer fight.
At the end of September, the former Seinfeld actor revealed her breast cancer diagnosis on social media. "1 in 8 women get breast cancer," her note read. "Today, I'm the one. The good news is that I have the most glorious group of supportive and caring family and friends, and fantastic insurance through my union. The bad news is that not all women are so lucky, so let's fight all cancers and make universal health care a reality."
As you can see, like the amazing human being she is, she announced her illness in a way that also shed light on the problems that currently exist in the United States' health care system. That's just who Louis-Dreyfus is — and always has been. She uses her voice to highlight important issues, even when she, herself, is facing a serious health scare.
As soon as Louis-Dreyfus announced she had cancer, she received an outpouring of love and support from fans and fellow celebrities. Former Vice President Joe Biden even reached out to her. Next to an image from Veep of Biden and Louis-Dreyfus as Selina Meyer walking down a hallway, he wrote, "We Veeps stick together. Jill and I, and all of the Bidens, are with you, Julia."
Her New Adventures of Old Christine co-star Wanda Sykes also commented on her friend's diagnosis. "I mean, she's a fighter. She is just an incredible woman," she told People. Sykes also reflected on Louis-Dreyfus' "strength and her generosity, and [ability] to give of herself — and about something so personal." She added, "She knows that it will do a lot of good for a lot of people."
That is definitely the truth. It's a beautiful thing to watch the Golden Globe winner empower others during what has to be such a difficult time. Also, her strength and ability to raise awareness in a humorous way is powerful, to say the least.
The fact that Louis-Dreyfus is now using comedy to shine a light on her breast cancer journey shows that she isn't going to let the disease take away her personality. Rather, she's going to fight it with what she knows best — humor and her love for "Roar." It's truly inspiring to see someone who is dealing with a serious illness to be able to keep it light and funny. That's doesn't mean she isn't scared or not taking it seriously, but for her to push through it in a positive way is absolutely uplifting.