Julia Louis-Dreyfus Made It Crystal Clear Where She Stands On The Kavanaugh Allegation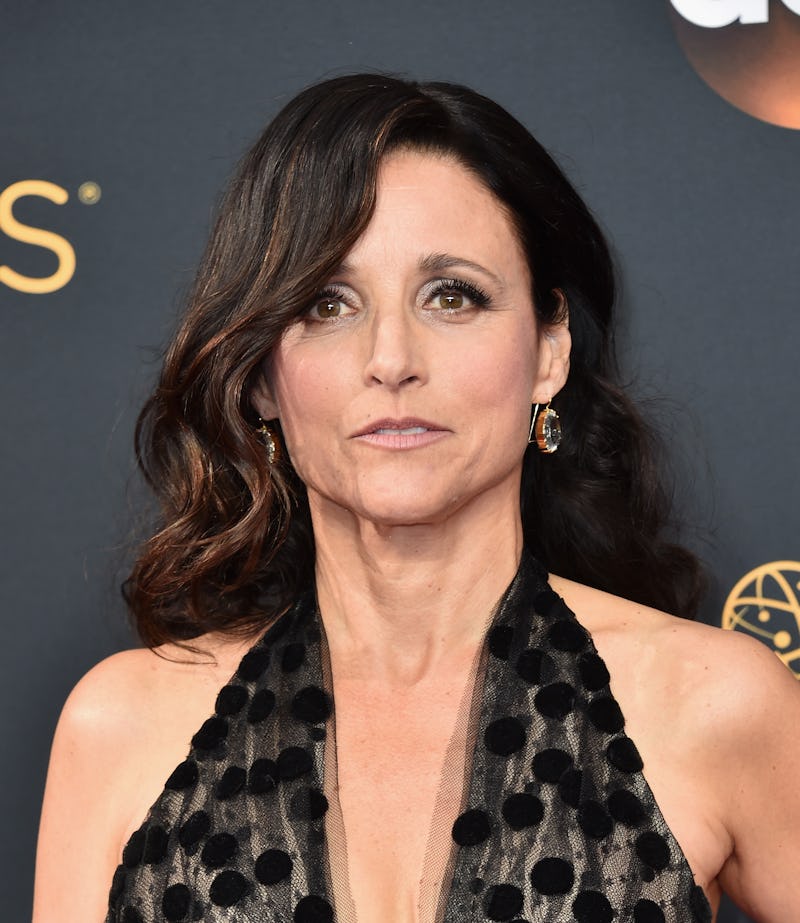 Alberto E. Rodriguez/Getty Images Entertainment/Getty Images
Supreme Court nominee Brett Kavanaugh's confirmation hearings were thrown into chaos earlier in the month when California professor Christine Blasey Ford accused Kavanaugh of attempting to rape her while in high school. In the wake of her coming forward, the California professor has had scores of defenders — including Julia Louis-Dreyfus, who supported Ford by signing a letter saying that she believes her claims.
Ford says that in 1982, a drunken Kavanaugh pinned her to a bed at a party and groped her, attempting unsuccessfully to remove her clothes and pressing his hand against her mouth when she attempted to scream. Kavanaugh categorically denies all of the accusations, which have thrown a wrench in Republicans' plans to confirm him to the Supreme Court before the end of the month.
After Ford went forward with her accusations, over 200 women who attended her alma mater, Holton-Arms, signed a letter proclaiming that they believe her story, which they say is "all too consistent with stories we heard and lived while attending Holton."
On Monday afternoon, Louis-Dreyfus revealed that she is one of the signatories of that letter. The Veep and Seinfeld actress graduated from Holton-Arms in 1979, she wrote in a tweet.
"We believe Dr. Blasey Ford and are grateful that she came forward to tell her story," the letter reads. "It demands a thorough and independent investigation before the Senate can reasonably vote on Brett Kavanaugh's nomination to a lifetime seat on the nation's highest court."
The outpouring of support for Ford came as conservative media, supporters of President Trump and mainstream Republicans sought to discredit her story and defend Kavanaugh.
After Ford went public, conservative news sites focused on an old foreclosure case that briefly involved Kavanaugh's mother and Ford's parents, or attempted to connect her to the infamous "Steele dossier" about Trump's alleged Russian connections. Republican Senate candidate Chris McDaniel dismissed Ford's allegations outright, claiming without evidence that "99 percent" of sexual misconduct accusations "are just absolutely fabricated." In a CNN interview Tuesday, the policy director of a conservative judicial group said that Kavanaugh may have merely been engaging in "rough horseplay."
The Wall Street Journal, long considered a bellwether for mainstream conservative thought, ran an unsigned editorial calling Ford's accusations "a calculated political ambush" and incorrectly asserting that there are "are no other witnesses to call" to testify regarding the accusations; in actuality, there is one alleged witness, but Republicans have not asked him to testify before the Senate Judiciary Committee.
However, several associates of Ford have said that she told them about Kavanaugh's alleged assault long before he was nominated to serve on the Supreme Court. She described the incident in 2012 during couples' therapy with her husband, according to therapists' notes she provided the Post. The notes in question describe Kavanaugh but do not name him; in an interview with the Post, Ford's husband Russell says that she did identify Kavanaugh by name during the sessions.
Rebecca White, a friend and neighbor of Ford, told the Mercury News that Ford told her in 2017 that a man now serving as a federal judge attempted to rape her when she was a teenager, and several other friends of her say she discussed the incident before going public. Ford has also taken and passed a lie detector test regarding the incident.
Both Ford and Kavanaugh are scheduled to testify about the accusations publicly before the Senate Judiciary Committee on Monday.