Justin Hartley Just Got Married & You'll Love How His 'This Is Us' Family Supported Him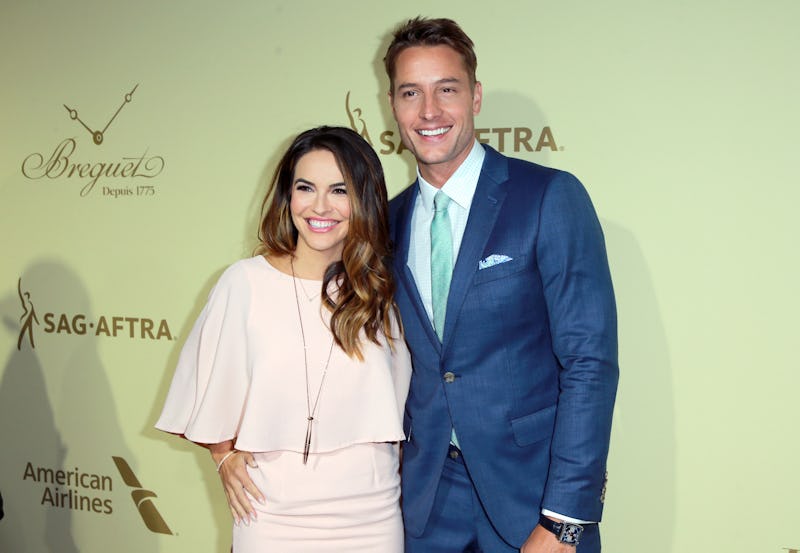 Rich Fury/Getty Images Entertainment/Getty Images
It's been a tumultuous season for Kevin Pearson on NBC's This Is Us, but the actor who plays him, Justin Hartley, is doing quite well. On Saturday, Oct. 28, Hartley married Chrishell Stause, his longtime partner, in a small outdoor ceremony at Calamigos Ranch in Malibu. The entire core cast of This Is Us was in attendance, including Mandy Moore, Milo Ventimiglia, Sterling K. Brown, Susan Kelechi Watson, Chrissy Metz, and Chris Sullivan. The familial relationships on the show clearly transcend the screen, and the 40-year old's cast mates were by his side while he tied the knot. Strause, 36, is also an actor and has appeared on popular series like Days of Our Lives and All My Children. The couple first started dating four years ago, and Hartley proposed last summer.
According to E! News, the couple confirmed their relationship after appearing on the red carpet together in 2014. The two actors have often appeared side-by-side for awards shows and other events in the years since. In 2017, This Is Us snagged a handful of Emmy nominations including Outstanding Drama Series, Outstanding Lead Actor, and Outstanding Supporting Actress. Sterling K. Brown ultimately took home the Lead Actor award for the show. Hartley was in attendance in support of the series and his costars, and the newly-weds yet again proved they are a power couple on the red carpet. Stause wore a stunning pink gown, and Hartley a traditional tuxedo.
According to People, Hartley and Stause's wedding day was also a stylish affair. Hartley reportedly wore a navy tuxedo and bow-tie, while Stause donned a custom gown with a dramatic feathered skirt from designer Monique Huillier. On the big day, the couple exchanged handwritten vows, according to the report. In one funny moment, Stause joked that she would always be there for her husband like the Dodgers in the World Series. After all, Hartley's love for the team is well documented on his social media. In an exclusive interview, the bride told People that the day went well. "They don't make them any better than Justin, and I could not be more thrilled to officially be Mrs. Hartley!" Stause told the publication. "The wedding exceeded anything I could have ever imagined."
The This is Us star and Stause reportedly hit it off on the first date four years ago, and the connection lasted. "We haven't been apart since," Hartley told People in the wedding exclusive. This is Hartley's second marriage; the star was previously wed to actor Lindsay Korman, but the two split in 2012. They have a 13-year old daughter, Isabella Hartley, who also attended the wedding. The actor's family appeared by his side to wish him well as he entered this next chapter of his life.
In early October, Hartley told Us Weekly that he anticipated his closest friends would attend the ceremony as well, and that this might include his This Is Us cast mates. When asked if the whole team would be at by his side on the big day, the star stated: "I hope so, yeah. I hope so, God willing, yeah," Hartley told the publication. He also shared what he anticipated most about the upcoming nuptials. "I'm looking forward to — I love the fact that she's going to be my wife. I love the fact that I will have a wife and we'll be husband and wife and live together," Hartley also told Us Weekly. "I love that, but I'm actually really looking forward to the wedding day. I'm going to have friends coming in from out of town that I haven't seen in a few years. It's going to be great."
According to E! News, Mandy Moore was one of the first guests to arrive, but near all of the star's This is Us appeared not long after. The cast attended both the wedding and reception, where Hartley and Stause's first dance was to The Contour's "Do You Love Me". The song's question was already answered - this couple seems super happy.