Justin Timberlake's Anniversary Post For Jessica Biel Puts Other Relationship Instagrams To Shame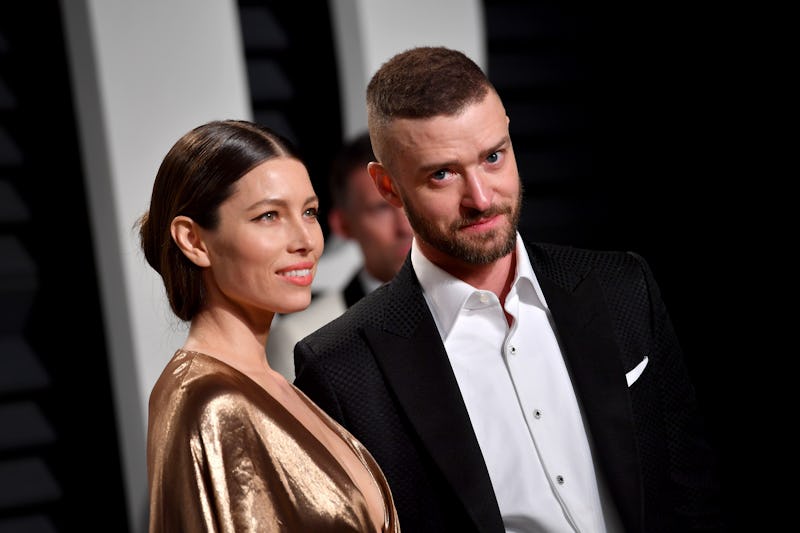 Pascal Le Segretain/Getty Images Entertainment/Getty Images
In a year filled with celebrity breakups, it's nice to see some celeb couples who are out there thriving. Case in point: Justin Timberlake and Jessica Biel. Justin Timberlake wrote a love note for Jessica Biel on social media and it's the sweetest thing you'll read today.
Timberlake wrote the lovely post on Instagram to celebrate the couple's fifth wedding anniversary (they were married on October 19, 2012). He gave fans a glimpse of himself back in the studio and working on some music. Timberlake's "freestyle session" is so sweet because the song he's singing, "A Song For You" by Donny Hathaway, was the couple's first dance as a married couple. And if the song wasn't enough of a romantic gesture, the singer wrote an amazing caption for the series of videos in honor of his wife. He wrote, "... today is even more special for me because five years ago, on this day, I became the luckiest man in the world when I exchanged vows with my best friend."
Timberlake continued,
"To my beautiful @jessicabiel : You have taught me so much about what a true love means. I can't put into words what these last five years have meant to me, so... 'Listen to the melody 'cause my love is in there hiding...'"
More music stylings from Timberlake and a romantic love note to his wife all in the same Instagram post? It's almost too much adorableness!
This isn't the first time that Timberlake's taken to Instagram to gush about Biel. In May 2017, Timberlake celebrated Mother's Day by writing a beautiful caption for his wife accompanied by the picture below. Timberlake and Biel are parents to their 2-year-old son, Silas.
Timberlake wrote,
"I marvel at you. It's so hard to put into words EVERYTHING a Mother does. And, you do it with such grace. Thank you for giving me the amazing gift and continuing to show him what it means to be a good person in the world."
Timberlake also celebrated Biel's birthday by writing a sweet note to her in March 2017, in addition to posting the cute pic below.
He captioned the snap, "You make me laugh. You make me smile. You make me LOVE. You make me want to be BETTER. Speaking of, it doesn't get any BETTER than you...". Could Timberlake be a more adoring husband? All of these social media posts show that he truly cares for his wife. And it's nice to see this kind of lovely positivity out there.
Biel doesn't exactly have Timberlake's penchant for writing lengthy love notes on social media, but she does still share some details about her amazing relationship with her husband. Biel gushed about Timberlake to Extra in an August 2017 interview and talked about how he's not only a great partner, but a great father, as well.
Biel told Extra, "He's the best!" And if Timberlake's social media posts didn't already show that he can be an incredibly supportive partner, Biel also let everyone know that her husband is her biggest fan. She said that while she was busy working on her TV series The Sinner, her husband was, "My biggest supporter throughout this entire experience." Biel said that Timberlake stepped up his parenting game while she took on the time-consuming gig, even calling him the "diaper king". So, basically, these two are perfect for each other.
All of these social media posts and kind words show that not only are these two totally in love, but they just seem like a genuinely great, down-to-earth couple. They really do give new weight to the phrase "relationship goals".